Now a days GIS data is used in business and everyday life of individuals and organizations. It helps in understanding spatial patterns. In this Blog you get the link of United States – Connecticut Gis data – Shapefile, kml, csv, Geojson.
United States – Connecticut GIS Data – Shapefile
Connecticut is located in New England reason of the northeastern United States of America. Hartford is the capital and Bridgeport is the largest city of United States. The state named for Connecticut river which bisects the state in two parts. Click on the below link and download the Connecticut shapefile of United States. It covers Litchfield county, Fairfield County, New Haven County, Middlesex County, New London County, Hartford County, Tolland County.
Download Connecticut State Outline Shapefile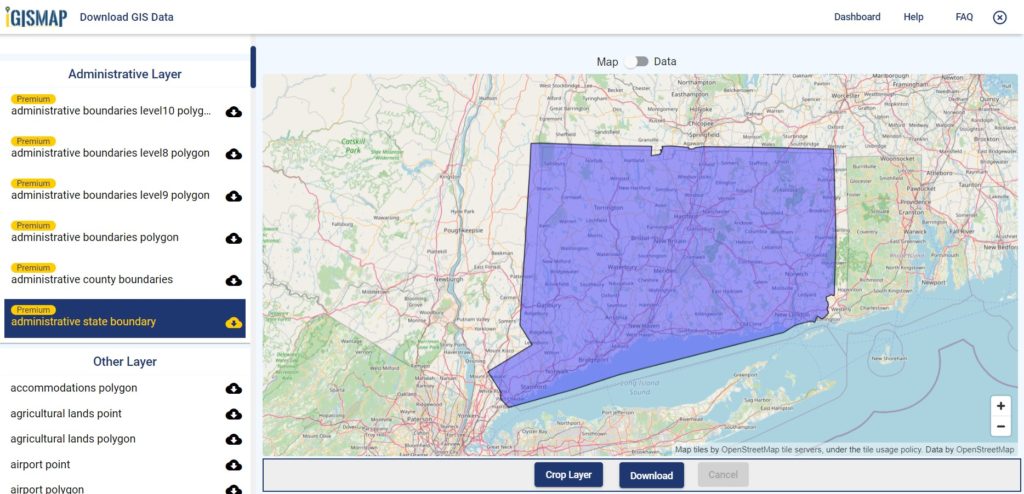 You can check data before download by switching Map to data. Shown in above screen. For download click on download button placed near the name of layer. You can download GIS data of United States – Connecticut in Shp (Shapefile), Kml, CSV, GeoJSON, Mapinfo file and PostgreSQL.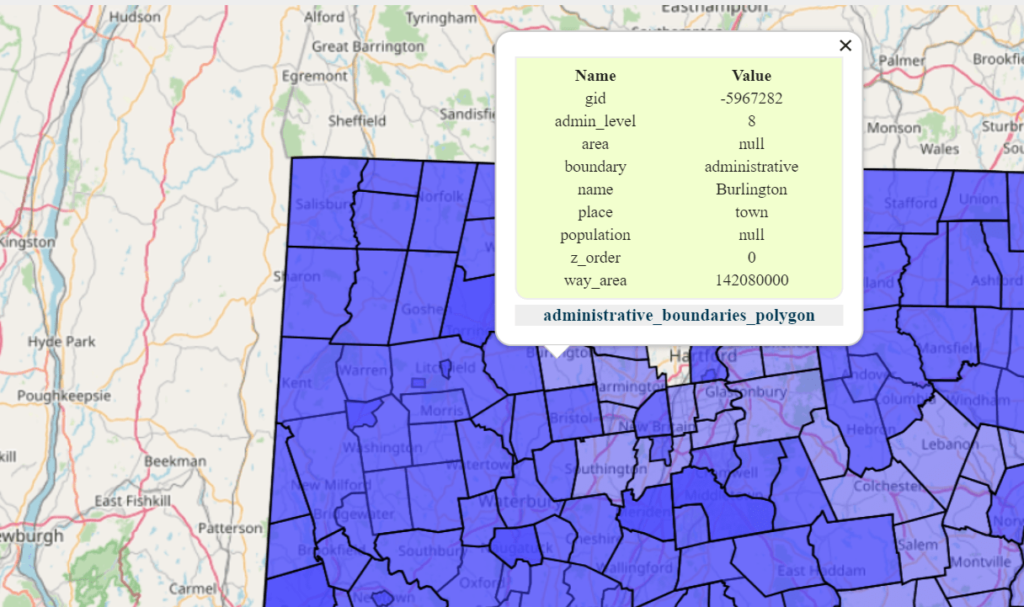 You can view data table just by clicking on map location. In the above you can see the data table of the desired location.
If you want to GIS data in any other format then please have a look on GIS Converter Tool of IGIS Map.
Connecticut States Airport Point GIS Data
For Airport Point of Connecticut States click on link provided below. Make sure to check data table before downloading GIS data. Similarly, you can download other gis data just by clicking layer name given in left hand side.
Airport Point Shapefile of Connecticut States

After download if you want to analyze and create map try IGIS Map Analysis & Share Tool . Y ou can share your work with clients (others) using Create and Share Custom Maps – Add on Website, Social Sites Share.
For more GIS data Click the on GIS Data.