Arkansas is located in the south-central region of the United States. The capital and most populous city of Arkansas state are Little Rock. Here in this blog, we have provided of United states – Arkansas GIS data – shapefile, kml. State boundary, County, highway, rail line is provided below. For other gis data click on GIS Data.
Arkansas GIS data – Shapefile
Arkansas GIS data can be used for spatial analysis of data in social, corporate, and agricultural research & development. Links are provided down in the blog where a multiple layer list is given to choose the one you want. The download button is located near to layer name. Tap the on button select the gis format from the drop down list. For more specific gis format use GIS Converter Tool. Click on the link for Arkansas state boundary. For editing, analysis and share use Analysis & Share Tool.
Download Arkansas State Outline Shapefile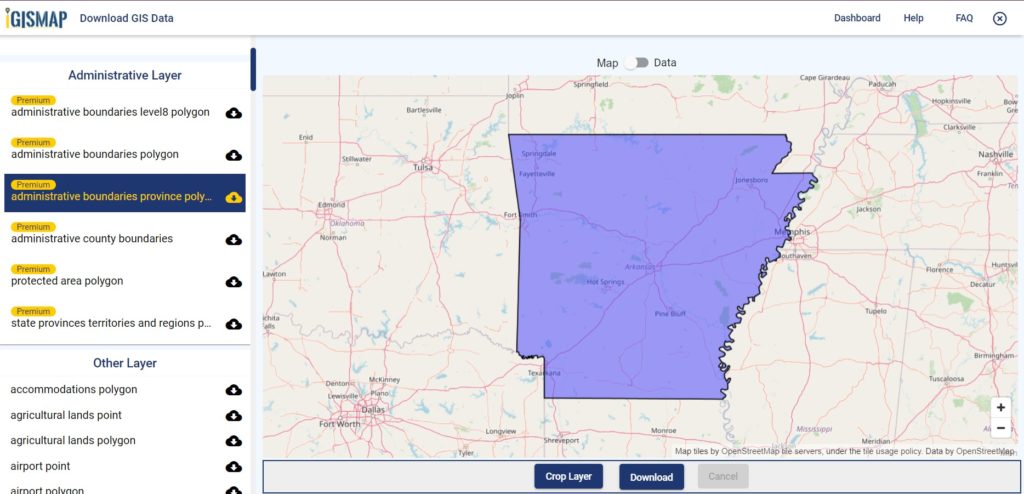 In the above screen Arkansas state boundary is shown on map. For viewing data toggle from Map to Data.

For information or data table regarding specific location click on the map area where you want to view.
Polygon Shapefie of Arkansas State
Arkansas polygon shapefile covers all the county. There are 75 counties in Arkansas. Name of Counties –
Arkansas
Ashley
Baxter
Benton
Boone
Bradley
Calhoun
Carroll
Chicot
Clark
Clay
Cleburne
Cleveland
Columbia
Conway
Craighead
Crawford
Crittenden
Cross
Dallas
Desha
Drew
Faulkner
Franklin
Fulton
Garland
Grant
Greene
Hempstead
Hot Spring
Howard
Independence
Izard
Jackson
Jefferson
Johnson
Lafayette
Lawrence
Lee
Lincoln
Little River
Logan
Lonoke
Madison
Marion
Miller
Mississippi
Monroe
Montgomery
Nevada
Newton
Ouachita
Perry
Phillips
Pike
Poinsett
Polk
Pope
Prairie
Pulaski
Randolph
St. Francis
Saline
Scott
Searcy
Sebastian
Sevier
Sharp
Stone
Union
Van Buren
Washington
White
Woodruff
Yell
Download Arkansas Counties Shapefile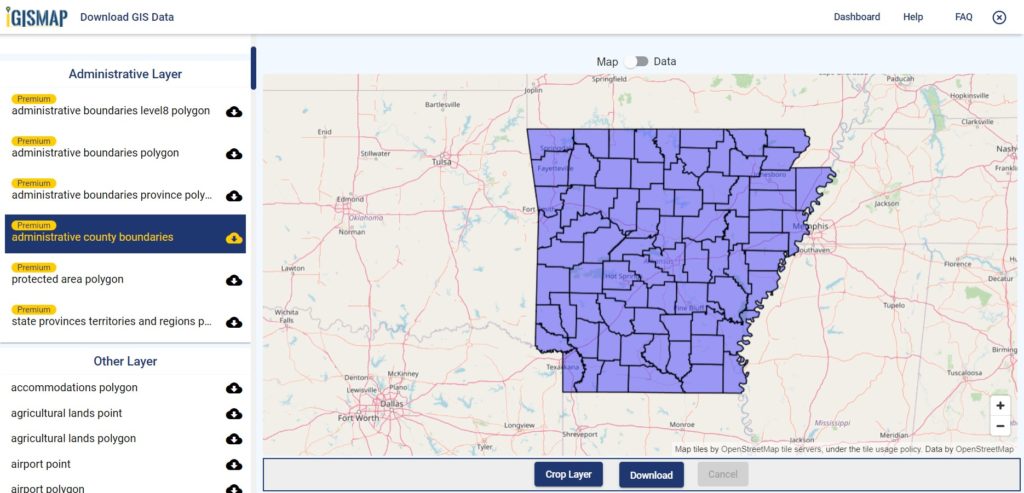 Railway Line Shapefile of Arkansas state
Click on the link given below.
Arkansas Railway Line Shapefile

After clicking the above link above screen will appear with gis data of railway line in Arkansas State.
Download Arkansas Highway line GIS data
For highway line data click on link. Please view data table before downloading.

For more customize data contact us at support@igismap.com.
Download GIS Data of other states of USA