The Map Analysis tool of IGISMAP is the number one alternative of Carto Platform. Carto is one of the GIS Cloud Software as a service platform, which provides many functionality, but you will get many other reasons for which you might be looking for the alternative of Carto. Either looking for effective pricing and team management without enterprise plan, IGISMAP has many benefits over carto.com. In general both tends to achieve the same purpose, i.e., either creating and sharing or embedding maps without writing any code or getting it achieved through the use of APIs. But there are few points which you might look into IGISMAP as a preference over Carto.
Check Alternative of ArcGIS online.
Ultimate Carto Alternative – IGISMAP
Lets find out all the best possible reasons why IGISMAP can be a better choice for you in comparison to Carto Database.
Cost Effective:
IGISMAP is 10 times cheaper than Carto. Carto cost you $299 for a month subscription for 500 MB of data, IGISMAP cost you just $19 per month for the same 500MB of data. Similarly if you look for annual subscription, carto will cost you $2388 while IGISMAP will cost you just $190, i.e., you will save $2198. Here we only talked about one paid plan named as Basic, just to compare with Carto. IGISMAP has 3 more plans other than Basic and Free. Check IGISMAP Pricing Page to more about their features. IGISMAP data plans are developed based on the present day requirements of users in various business firms. IGISMAP tool covers all features that all major GIS cloud solutions as well as desktop applications provide.
What else? IGISMAP Analysis provides multiple users add supports, i.e., adding Administrators, Developers and Business user to access map where only Administrator can make changes and others can perform analysis and extract information. The secret of IGISMAP USP is the effective Pricing with more features.
Supporting both Vector and Raster Data Formats:
Data formats used in geospatial technology can be categorized into raster and vector formats. IGISMAP supports both raster and vector data formats whereas Carto does not support the raster files. This makes stand out of Carto. While both tool are capable to supports all kinds of vector data like CSV, Excel, ESRI Shapefile, KMZ, KML, GeoJSON (TopoJSON which only IGISMAP Supports), MapInfo, GPX and many more.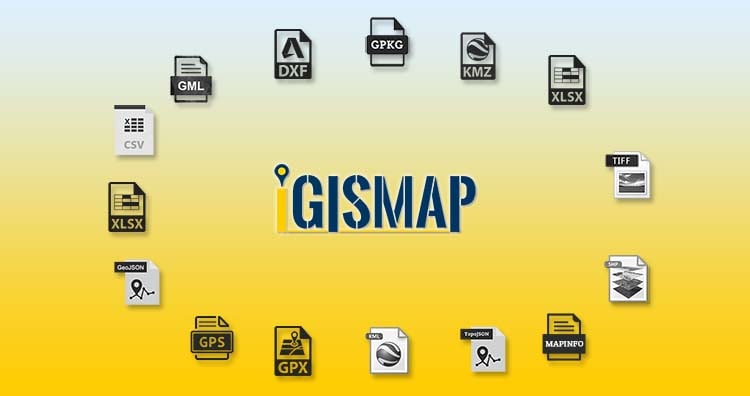 Digitize and Create your Map in IGISMAP:
IGISMAP Analysis tool supports to digitize and create point, line and polygon layer separately. Unlike Carto and other online mapping system tool. Generally you will get this functionality in GIS desktop application like QGIS, ArcGIS etc. Here at IGISMAP Analysis you will also be able to add the data to existing layer, edit the attribute and delete the layers. You can also create a survey system with the layers you provide so that the your developers can add more data on your layer and can contribute easily.
Click to learn more about creating point, line and polygon in IGISMAP
More Data Storage:
IGISMAP provides 30 times more storage as compare to Carto plan. The basic paid service of Carto charges $299 per month and provides 512 MB of storage, whereas the highest monthly plan of IGISMAP is just $99 providing 10 GB storage service. Along with such a huge difference in pricing and storage, This efficient storage at this cheaper rate is provided with no compromise in security for the data of customers. IGISMAP Analysis Cloud system is hosted on AWS servers with the premium infrastructure used and with 100% uptime and availability of server.
Dedicate Support Service:
IGISMAP support is responsive and make sure to solve each and every query of the customer. Along with that, we at IGISMAP also supports and helps to create Maps for you. A dedicated customer support manager is assigned to every one of the customer and customer will be able to communicate easily if they face any issue. We can be contacted by email or our personalized chat box 24/7. While Carto support basic customer support at specific timing. For a dedicated support you need to be Carto Enterprise customer.
Comparison table between IGISMAP and Carto plans: Alternative of Carto – IGISMAP Analysis Tool
This table will provide only key difference between IGISMAP and Carto which we feel should be highlighted. Rest other major features are supported by both the platform.
| | | | |
| --- | --- | --- | --- |
| | IGISMAP $19/month plan | IGISMAP $99/month plan | Carto $299/month plan |
| Storage | 500 MB | 8 GB | 500 MB |
| Maps | Unlimited public/private maps | Unlimited public/private maps | 10 Public Maps/ Unlimited Private Maps |
| Raster Data Support | Yes | Yes | No |
| Additional Users | Yes (Admin, Developer, Business User) | Yes (Admin, Developer, Business User) | No |
| Access Control | Yes | Yes | No |
| Support | Dedicated Email support | Dedicated Email support | Basic Support |
| Price (Yearly Plan) | $16/month | $82/month | $199/month |
IGISMAP Analysis TOOL stands as best alternative of Carto – Here are more points to cover:
No coding skills required – Just drag and drop your data and few clicks to create your Map
Simple and Easy User Interface
Multiple Base map supports
Ultimate Query and Analysis Tool
Best Data security and User access control feature
Multi roles support – Admin, Developer or Business User
User Cloud data security is our first priority – Scalable and reliable
Are you looking location and spatial based solution for your business such as map your stores, regional analysis of sales data, estimate real estate properties behavior, customer territory design, catastrophic analysis for insurance companies, generating routes for your logistic business and what else. You can easily create your map with IGISMAP Cloud platform. And you can do it yourself or ask a team of our expert to help you in consulting for doing the same. You don't need any other third party GIS Team or in house team to be expert in GIS nor require any developer who is expert with Coding skills.
Try for Free – IGISMAP Analysis – Carto Alternative:
Give IGISMAP a try. Evaluate the tool for free without giving credit card details. Also contact with team of IGISMAP if you found any issues or have just an idea for creating map. We at IGISMAP will look forward to help our customer.