The United States – Hawaii GIS Data makes the urbanization to new scales. GIS provides planners, surveyors, and engineers a tool to design and map cities as per needs. GIS manipulates, analyzes socio-economic data of cities. Here you can download Hawaii state GIS data, modify, analyze or share in Analysis & Share Tool.
The United States – Hawaii Gis Data
Hawaii is the state of the United States of America with capital Honolulu. It is famous for its beautiful beaches. Click on the link for the shapefile of Hawaii State. It Covers
Hawaii
Honolulu
Kalawao
Kauai
Maui
Download Hawaii Outline Shapefile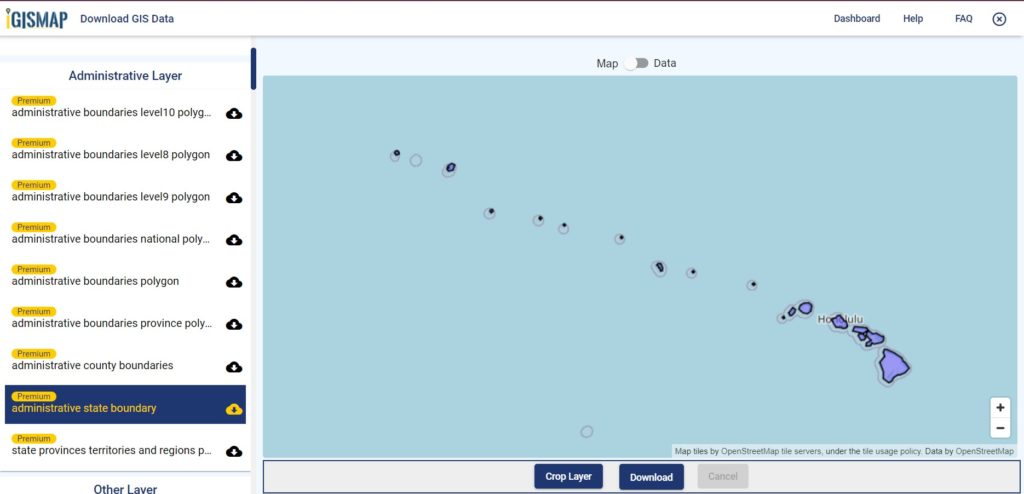 A list of the layer is provided on the left side of the screen. For the downloading layer click on the download button. Before download make sure to check the data table by toggle Data from Map visible in the above screen. After clicking on the download button a modal will appear with a list of gis formats. In addition to, if you want any other gis format use GIS Converter Tool. For viewing data of a particular location click on the map.
Hawaii Highway Line GIS Map
Click on the link and download highway line gis data of Hawaii State
Download Hawaii State Highway Line Gis Map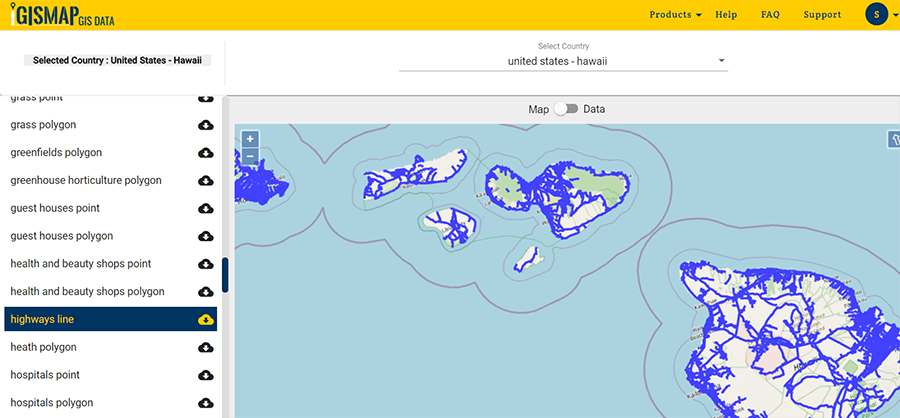 Zoom in for more clear view. Other layer name are also provided on the screen with download button.
Railway Line GIS Map of Hawaii State
Download Hawaii State railway line shapefile

Similarly, you can download Hawaii state ferry gis data, restaurants loactions.
Create a map using a shapefile and share a map with others in few steps. Even you can embed the map on your website too.
Download GIS Data of other states of USA