Hello GIS enthusiasts, IGISMAP has now published the latest GIS vector data of Spain administrative levels. Links for downloading the shapefiles of the important administrative divisions of Spain are provided in the following. You can also download these data in KML, GeoJSON or CSV formats.
Note:
All data available are in GCS datum EPSG:4326 WGS84 CRS (Coordinate Reference System).
You need to login for downloading the shapefile.
Download Free Shapefile Data of Spain
Spain officially known as the Kingdom of Spain is a country in Southwestern Europe with some pockets of territory in the Mediterranean Sea, offshore in the Atlantic Ocean. The country's mainland is bordered to the south by the British overseas territory of Gibraltar, to the south and east by the Mediterranean Sea to the north by France, Andorra and the Bay of Biscay and to the west by Portugal and the Atlantic Ocean.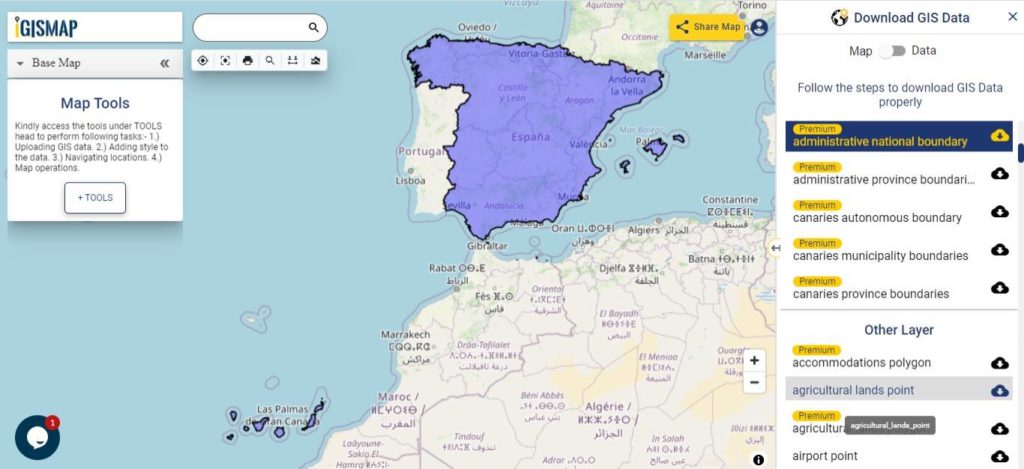 Download Spain National Outline Boundary Shapefile
Download Spain Autonomous Communities Shapefile Data
In Spain, an autonomous community is a first level political and administrative division, created in accordance with the Spanish Constitution of 1978, with the aim of guaranteeing limited autonomy of the nationalities and regions that make up Spain. There are 17 autonomous communities and two autonomous cities that are collectively known as autonomies.
Andalusia
Aragon
Asturias
Balearic Islands
Basque Country
Canary Islands
Cantabria
Castile and León
Castilla–La Mancha
Catalonia
Community of Madrid
Extremadura
Galicia
La Rioja
Navarre
Region of Murcia
Valencian Community
Ceuta
Melilla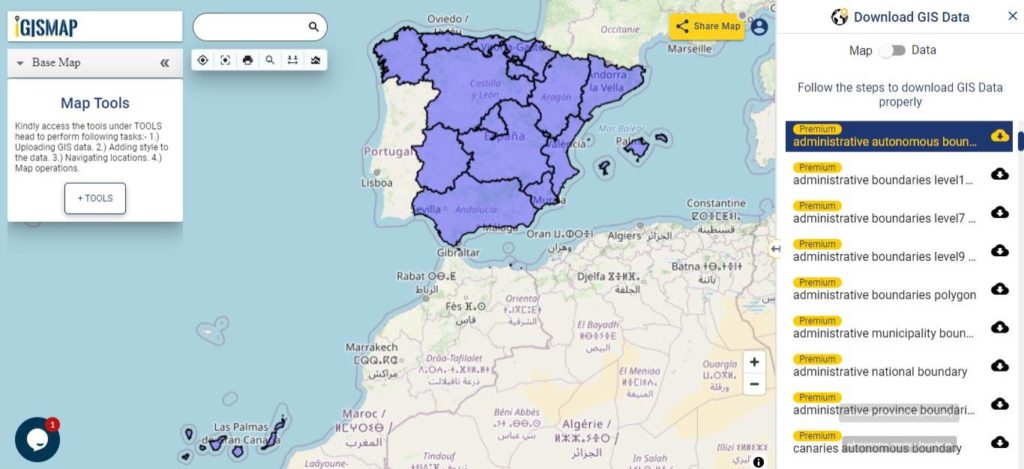 Download Spain Autonomous Community Boundaries Shapefile
Download Spain Provinces Shapefile Data
Spain and its 17 autonomous communities are subdivided into 50 provinces. Seven of the autonomous communities comprise no more than one province each: Asturias, the Balearic Islands, Cantabria, La Rioja, Madrid, Murcia, and Navarre. These are sometimes referred to as uniprovincial communities.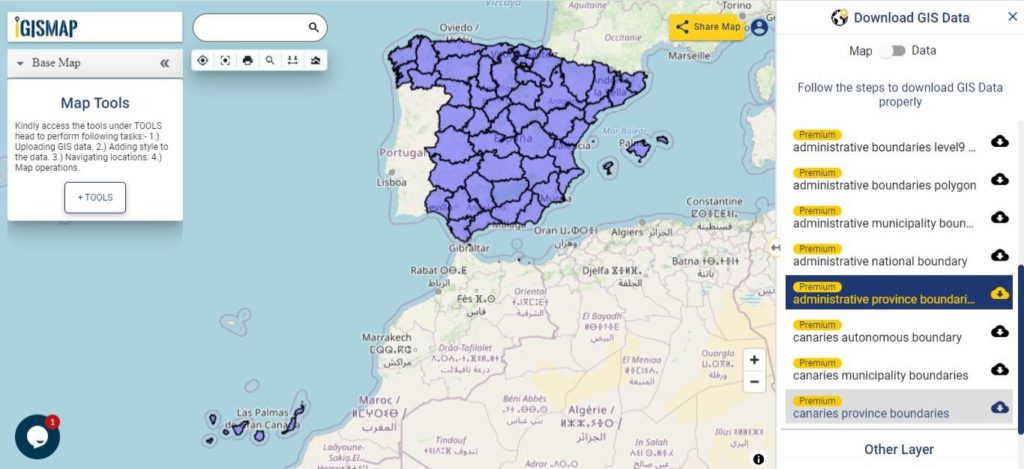 Download Spain Province Boundaries Shapefile
Download Spain Municipalities Shapefile Data
There is a total of 8124 municipalities in Spain, including the autonomous cities of Ceuta and Melilla. Burgos is the province with the most municipalities (371) and Las Palmas the one with the least (34).
Download Spain Municipality Boundaries Shapefile
Other Administrative Boundary Data:
Download Free Shapefile for the following:
Disclaimer : If you find any shapefile data of country provided is in correct do contact us or comment below, so that we will correct the same in our system as well we will try to correct the same in OSM.