Hello GIS enthusiasts, IGISMAP has now published the latest GIS vector data of Italy administrative levels. Links for downloading the shapefiles of the important administrative divisions of Italy are provided in the following. You can also download these data in KML, GeoJSON or CSV formats.
Note:
All data available are in GCS datum EPSG:4326 WGS84 CRS (Coordinate Reference System).
You need to login for downloading the shapefile.
Download Free Shapefile Data of Italy
Italy officially known as the Italian Republic is a country consisting of a peninsula delimited by the Alps and several islands surrounding it, whose territory largely coincides with the homonymous geographical region. Italy is located in the centre of the Mediterranean Sea, in Southern Europe and is also considered part of Western Europe. A unitary parliamentary republic with Rome as its capital and largest city, the country covers a total area of 301,340 km2 (116,350 sq mi) and shares land borders with France, Switzerland, Austria, Slovenia, and the enclaved microstates of Vatican City and San Marino.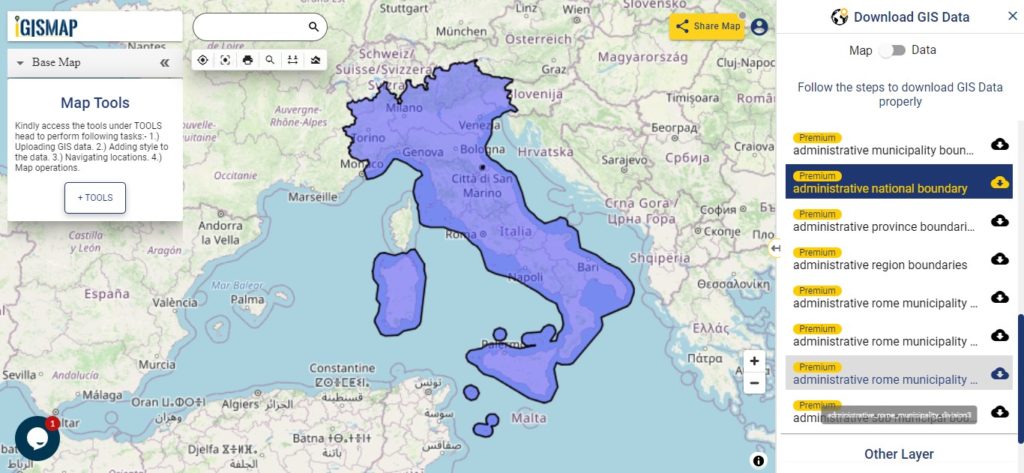 Download Italy National Outline Boundary Shapefile
Download Italy Regions Shapefile Data
The regions of Italy are the first-level constituent entities of the Italian Republic, constituting its second NUTS administrative level. There are 20 regions, of which five have greater autonomy than the other fifteen. Under the Italian Constitution, each region is an autonomous entity with defined powers. With the exception of the Aosta Valley, each region is divided into a number of provinces.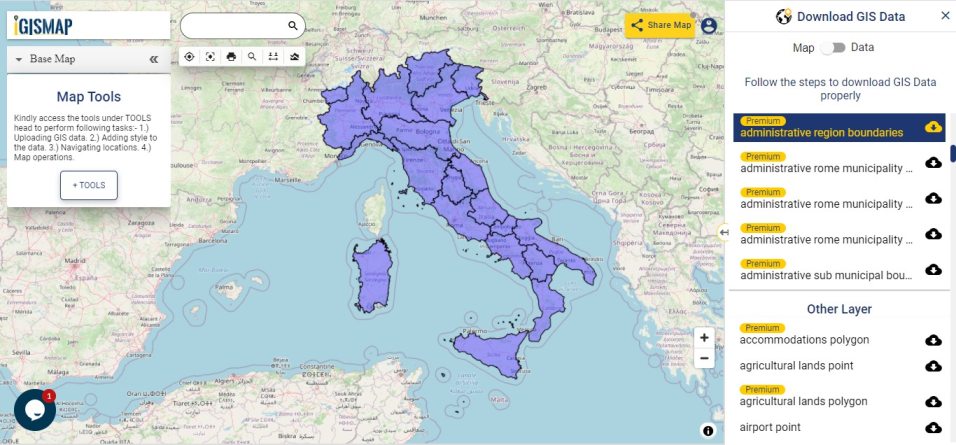 Download Italy Region Boundaries Shapefile
Download Italy Provinces Shapefile Data
The provinces of Italy are the constituent entities of the Italian Republic, on an intermediate level between a municipality (comune) and a region (regione). Since 2015, provinces have been classified as 'institutional bodies of second level'. There are currently 107 Provinces in Italy, including 80 ordinary provinces, 2 autonomous provinces, 4 regional decentralization entities, 6 free municipal consortia, and 14 metropolitan cities, as well as the Aosta Valley region (which also exercises the powers of a province). Italian provinces (with the exception of the current Sardinian provinces) correspond to the NUTS 3 regions.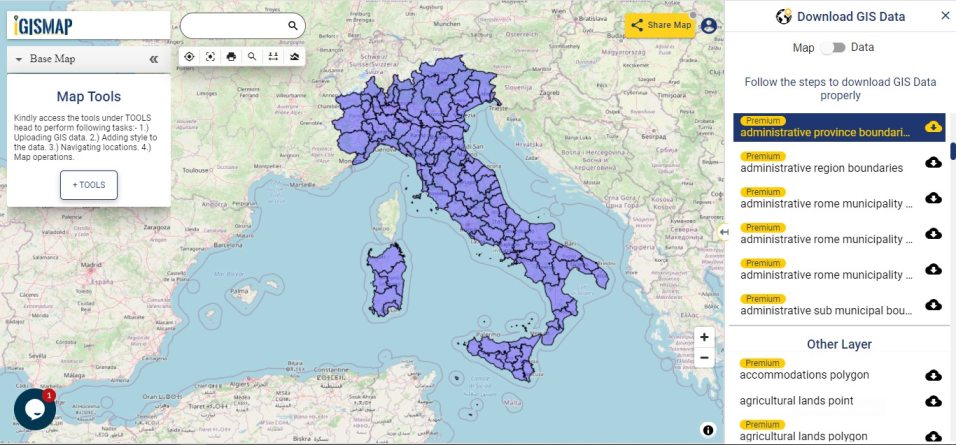 Download Italy Province Boundaries Shapefile
Download Italy Municipalities Shapefile Data
The Municipalities also known as comune is a local administrative division of Italy, roughly equivalent to a township. In 2020, Italy counted 7914 municipalities. Between 2011 and 2020, the number of municipalities experienced a constant decrease. In 2011, there were over eight thousand municipalities in the country.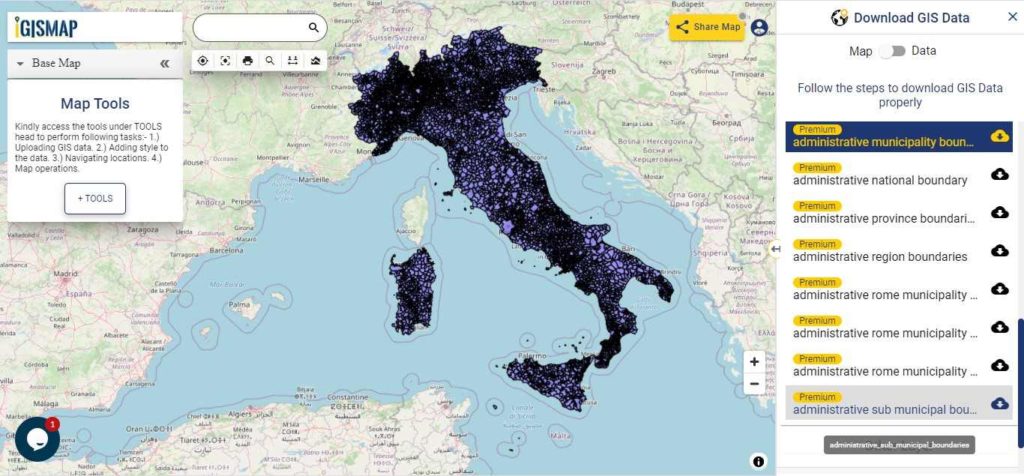 Download Italy Municipality Boundaries Shapefile
Other Administrative Boundary Data:
Download Free Shapefile for the following:
Disclaimer : If you find any shapefile data of country provided is in correct do contact us or comment below, so that we will correct the same in our system as well we will try to correct the same in OSM.