With a vast collection of GIS data covering 150+ countries, each nation offering over 150 datasets, IGISMAP is becoming an irreplaceable asset in geospatial industry. Our GIS data collection stands out for its precise representation of administrative divisions and various geographic features like rivers, roads, and airports. Users can access these data from two tools of IGISMAP: Download GIS Data and Add GIS Data. Choose from multiple data formats, including Shapefile, KML, GeoJSON, or CSV to download data from Download GIS Data tool. To learn more about the Add GIS Data tool, explore our article "Add GIS data from IGISMap GIS data collection." In this comprehensive guide, we'll show you how to download administrative-level GIS data for Syria using the Download GIS Data tool. Take the hassle out of GIS data searching and embark on a smooth geospatial journey with IGISMAP as your reliable companion!
Note:
All data available are in GCS datum EPSG:4326 WGS84 CRS (Coordinate Reference System).
You need to login for downloading the shapefile.
Download Shapefile Data of Syria
Syria lies between latitudes 32° and 38° N, and longitudes 35° and 43° E. The climate varies from the humid Mediterranean coast, through a semiarid steppe zone, to arid desert in the east. The country consists mostly of arid plateau, although the northwest part bordering the Mediterranean is fairly green. Al-Jazira in the northeast and Hawran in the south are important agricultural areas. The Euphrates, Syria's most important river, crosses the country in the east. Syria is one of the fifteen states that comprise the so-called "cradle of civilization".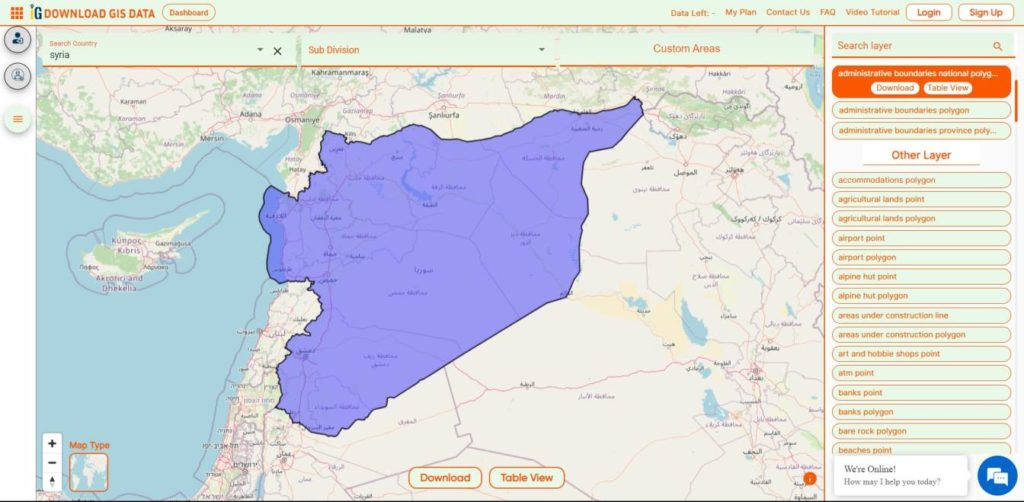 Download Syria National Boundary Shapefile
Download Syria Provinces Shapefile Data
Syria is Divided into 14 Provinces also called as Governorates or Counties.
Aleppo
Raqqa
As-Suwayda
Damascus
Daraa
Deir ez-Zor
Hama
Al-Hasakah
Homs
Idlib
Latakia
Quneitra
Rif Dimashq
Tartus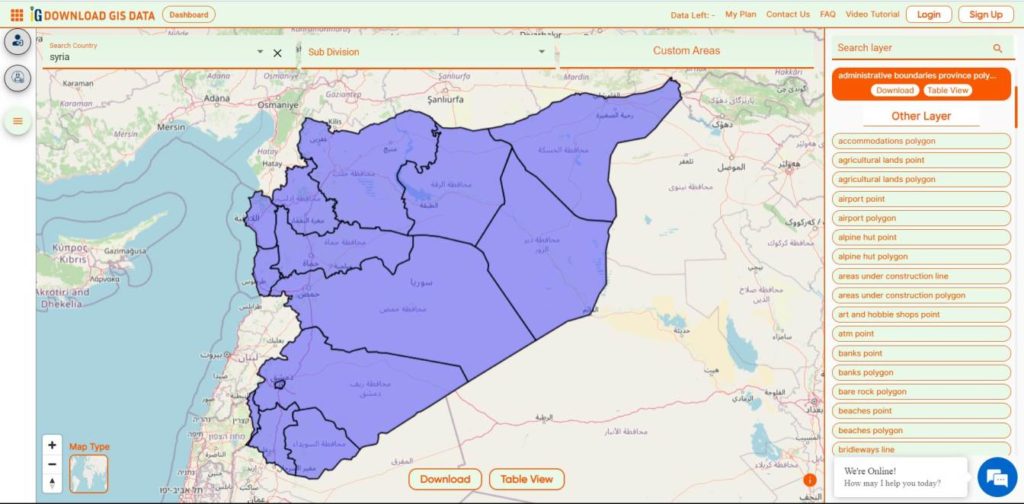 Download Syria Provinces Boundaries Shapefile
Download Syria District Shapefile Data
Syria is Divided into 65 District.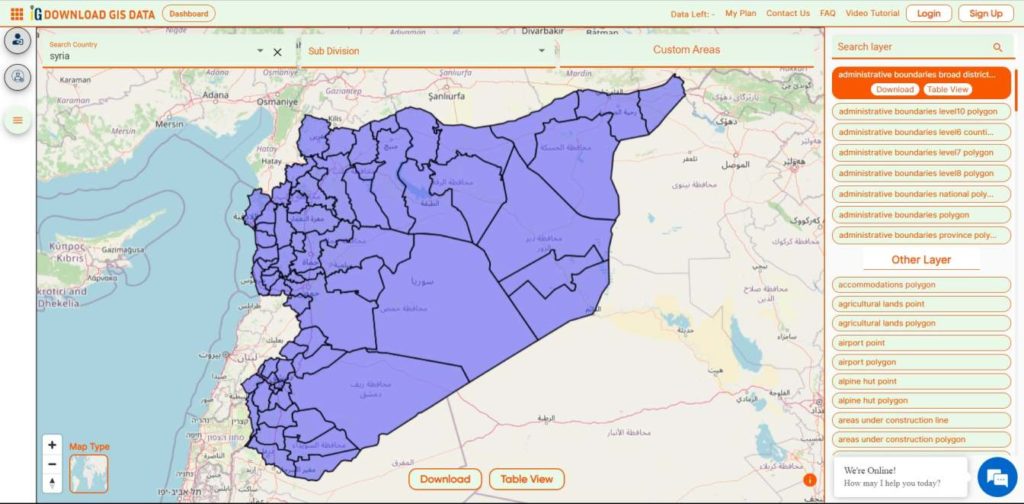 Download Syria Districts Boundaries Shapefile
Download Syria Sub-District Shapefile Data
Districts are divided into 281 Sub-Districts.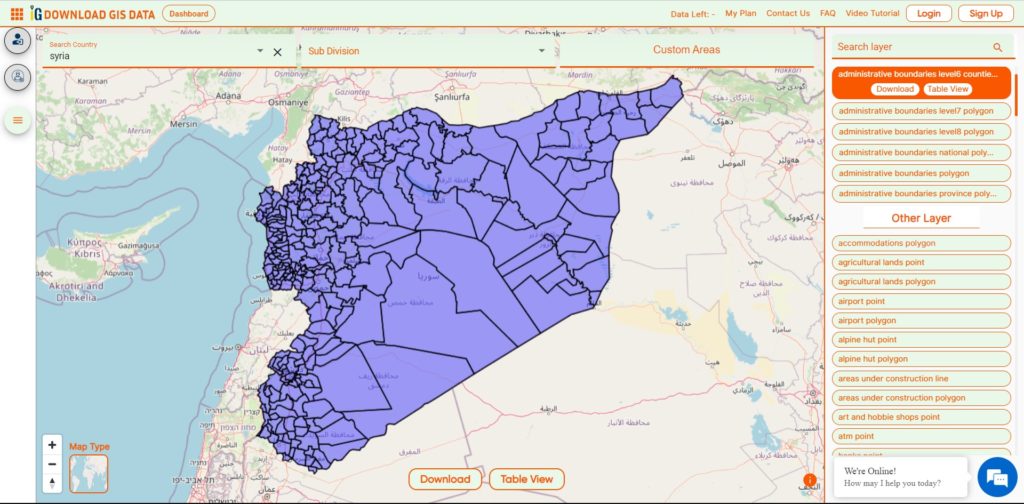 Download Syria Sub-Districts Boundaries Shapefile
Other GIS Data:
Download Free Shapefile for the following:
Disclaimer : If you find any shapefile data of country provided is incorrect do contact us or comment below, so that we will correct the same in our system as well we will try to correct the same in OpenStreetMap.