It's fantastic to hear that IGISMAP has expanded its GIS data collection to include data for more than 100 new countries, bringing the total coverage to over 150 countries. This is undoubtedly a valuable resource for GIS enthusiasts and professionals around the world. The availability of detailed information on administrative divisions, rivers, roads, and airports can greatly enhance various geospatial projects and analyses.
The option to access the data through tools like "Download GIS Data" and "Add GIS Data" seems convenient and user-friendly. Providing data in different formats such as Shapefile, KML, GeoJSON, and CSV ensures compatibility with a wide range of GIS software and applications, making it easier for users to integrate the data into their workflows.
This article will walk you through downloading administrative-level GIS data for Cyprus using the Download GIS Data tool. Experience a seamless geospatial journey with IGISMAP as your trusted partner!
Note:
All data available are in GCS datum EPSG:4326 WGS84 CRS (Coordinate Reference System).
You need to login for downloading the shapefile.
Download Shapefile Data of Cyprus
Cyprus (/ˈsaɪprəs/ (listen) SY-prəss), officially the Republic of Cyprus, is an island country located in the eastern Mediterranean Sea. It is geographically in West Asia, but culturally and geopolitically Southeast European. Cyprus is the third-largest and third-most populous island in the Mediterranean. It is located north of Egypt, east of Greece, south of Turkey, and west of Lebanon and Syria. Its capital and largest city is Nicosia.
It lies between latitudes 34° and 36° N, and longitudes 32° and 35° E. Cyprus is the third largest island in the Mediterranean Sea.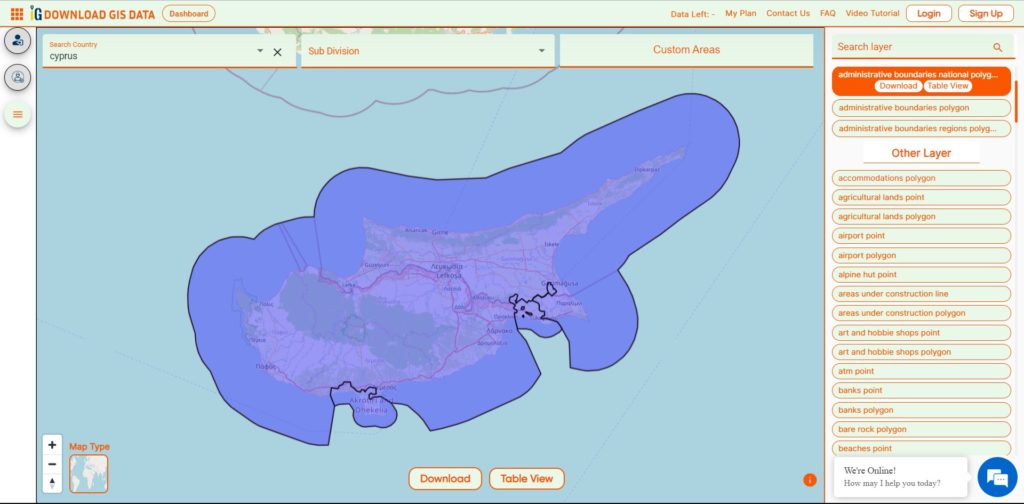 Download Cyprus National Boundary Shapefile
Download Cyprus District Shapefile Data
Cyprus is divided into six Districts as follows:
Famagusta
Kyrenia
Larnaca
Limassol
Nicosia
Paphos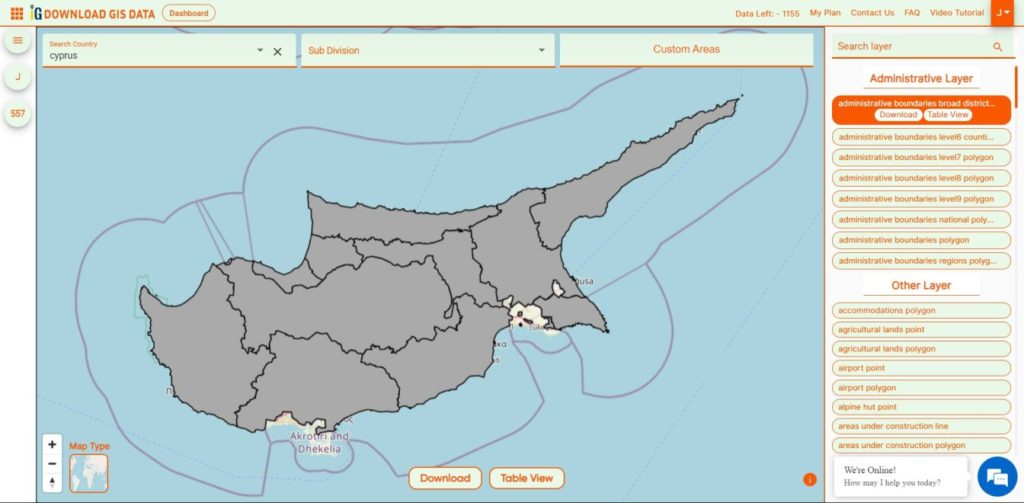 Download Cyprus National Boundary Shapefile
Other GIS Data:
Download Free Shapefile for the following:
Disclaimer : If you find any shapefile data of country provided is incorrect do contact us or comment below, so that we will correct the same in our system as well we will try to correct the same in OpenStreetMap.