Hello GIS enthusiasts, IGISMAP has now published the latest GIS vector data of Japan administrative levels. Links for downloading the shapefiles of the important administrative divisions of Japan are provided in the following. You can also download these data in KML, GeoJSON or CSV formats.
Note:
All data available are in GCS datum EPSG:4326 WGS84 CRS (Coordinate Reference System).
You need to login for downloading the shapefile.
Download Free Shapefile Data of
Japan
Japan and formally Nihonkoku is an island country in East Asia. It is situated in the northwest Pacific Ocean, and is bordered on the west by the Sea of Japan, while extending from the Sea of Okhotsk in the north toward the East China Sea, Philippine Sea, and Taiwan in the south. Japan is a part of the Ring of Fire, and spans an archipelago of 6852 islands covering 377,975 square kilometers (145,937 sq mi); the five main islands are Hokkaido, Honshu (the "mainland"), Shikoku, Kyushu, and Okinawa. Tokyo is the nation's capital and largest city, followed by Yokohama, Osaka, Nagoya, Sapporo, Fukuoka, Kobe, and Kyoto.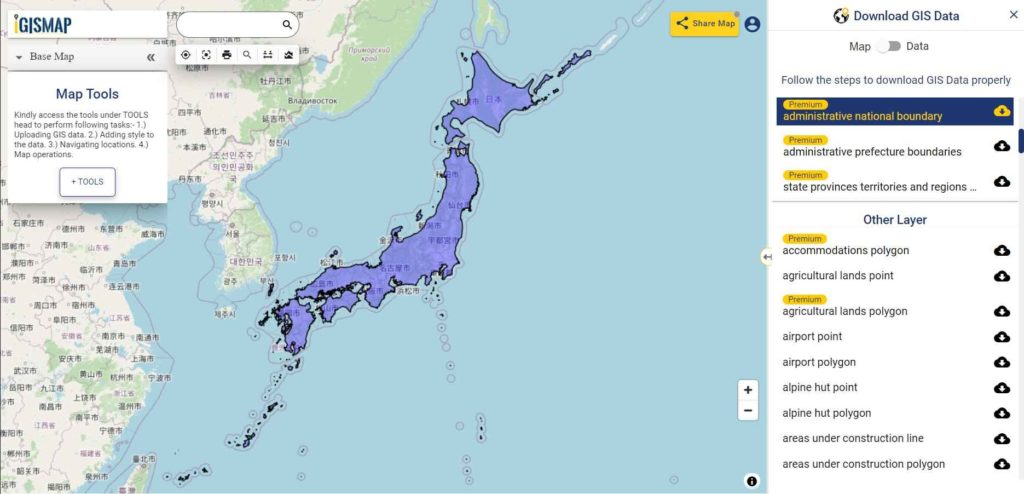 Download Japan National Outline Boundary Shapefile
Download Japan Regions Shapefile Data
Japan have 8 regions as follows:
Chubu Region
Chugoku Region
Hokkaido Region
Kanto Region
Kinki Region
Kyushu Region
Shikoku Region
Tohoku Region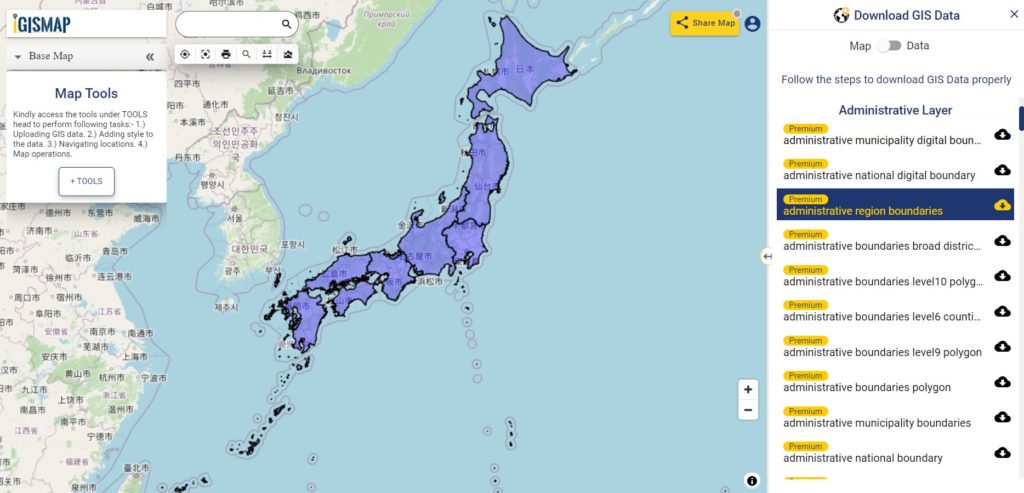 Download Japan Region Boundaries Shapefile
Download Japan Prefectures Shapefile Data
Japan is divided into 47 prefectures, which rank immediately below the national government and form the country's first level of jurisdiction and administrative division. Following GIS Data contains the polygons of these 47 prefecture division boundaries of Japan.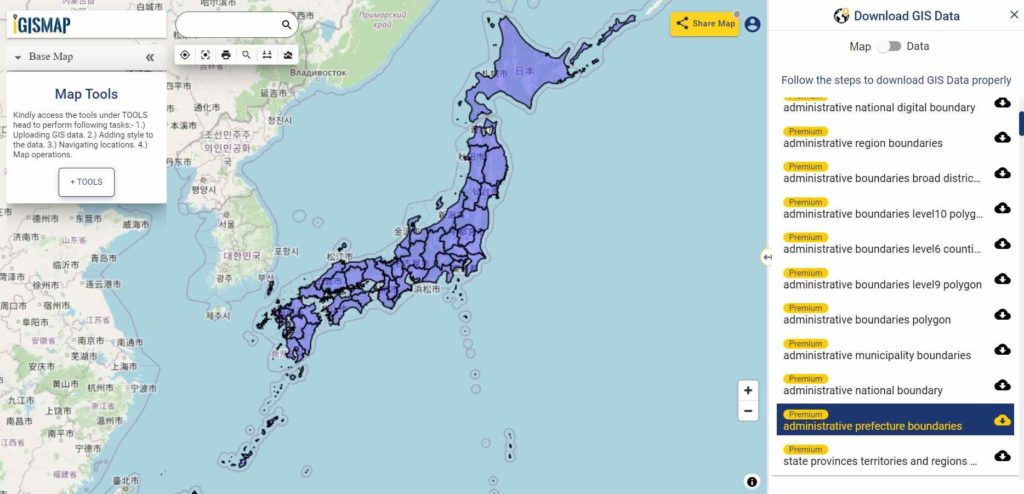 Download Japan Prefecture Boundaries Shapefile
Download Japan Municipalities Shapefile Data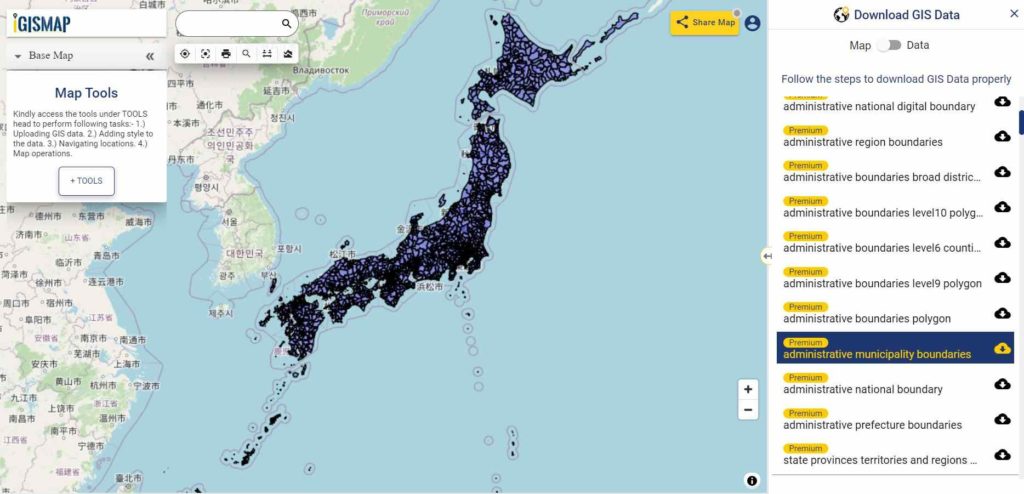 Download Japan Municipality Boundaries Shapefile
Other GIS Data:
Please note that the Japan data provided here is license under Open Data Commons Open Database License (ODbL). Please review the same before using it. If you want data under different license you can also look over to the post : Download Free Shapefile Maps – Country Boundary Polygon, Rail-Road, Water polyline etc
Download Free Shapefile for the following:
Disclaimer : If you find any shapefile data of country provided is in correct do contact us or comment below, so that we will correct the same in our system.
You can also this Shp into Other Formats i.e. CSV, XLSX, MIF