Are you looking for converting your TAB data file into KML format for using it in your GIS project? Have you extracted and downloaded TAB file from Map Info, MID or MIF and want to render it with your Geo library which support KML format?  If so, here is an article to convert TAB to KML format using this amazing online conversion tool. We will help you to convert your TAB file to a KML file online using IGIS Map Converter.
IGIS Map Converter
IGIS Map converter is an incredible tool for data file conversions. It will translate an MapInfo file (in TAB format) to a shapefile or KML format. Even it can also convert from KML format to shapefile, or KML to TAB, or Shapefile to DXF.  It Convert GIS files online without using complex and Enterprise Software like ArcGIS, QGIS, AutoCAD etc. IGIS Map converter is much easier to use then any other conversion software or tool.
IGISMAP to Convert TAB to KML
For TAB to KML conversion go to IGIS Map Tool, after logging in with your registered email and password. If you are a new user, click the Sign Up button in the Login popup and register to IGISMAP by filling the details.
There are three main steps for using GIS Converter:
Upload the data
Choose the format to which it should be converted
Download the converted file.
Step one is to upload your TAB file which you want to convert. You can upload your file from system or select from the Recent Files.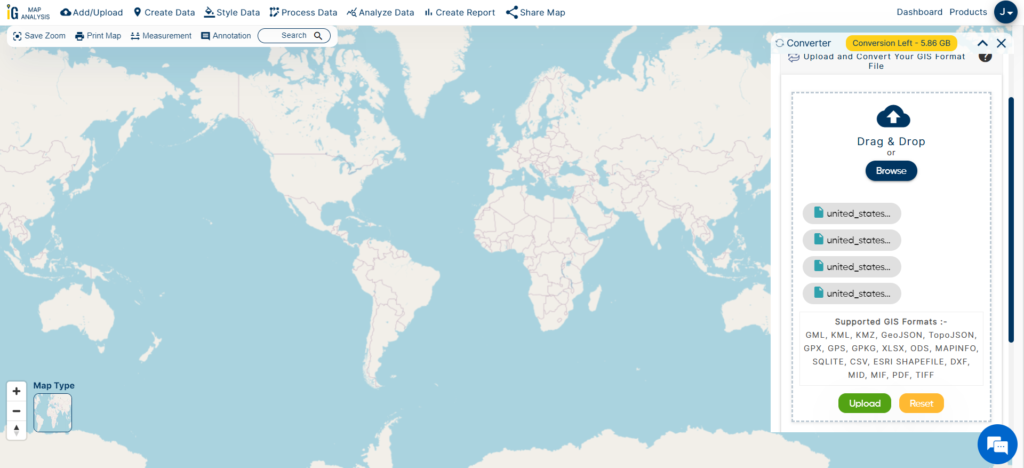 Once the file is upload is completed, select the output file format that we want to convert it into i.e. KML.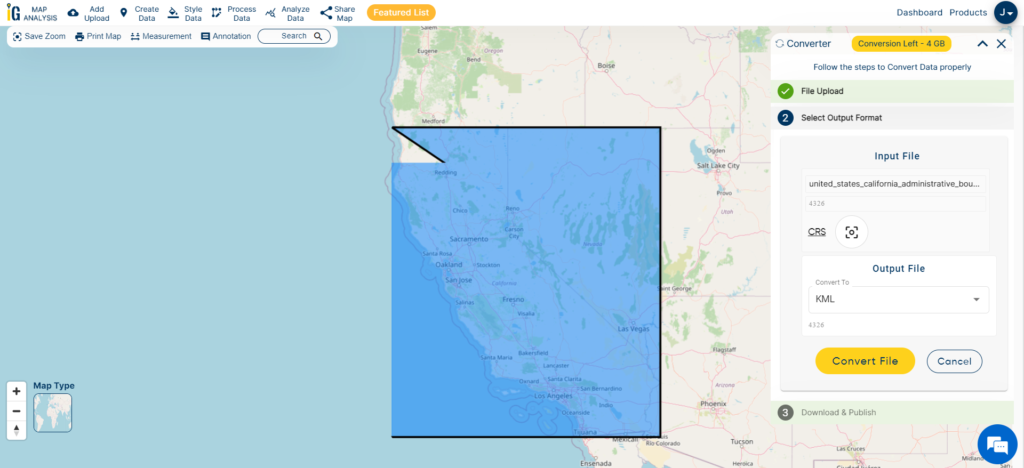 Now for setting up the conversion process we have to set the CRS (Coordinate reference system), as KML converter strictly transforms input dataset to WGS 84 coordinate reference system (if needed). Please make sure that coordinate reference system of your input dataset is assigned correctly – otherwise the resulting KML file may be spatially shifted or wrong. KML converter strictly transforms input dataset to WGS 84 coordinate reference system (if needed).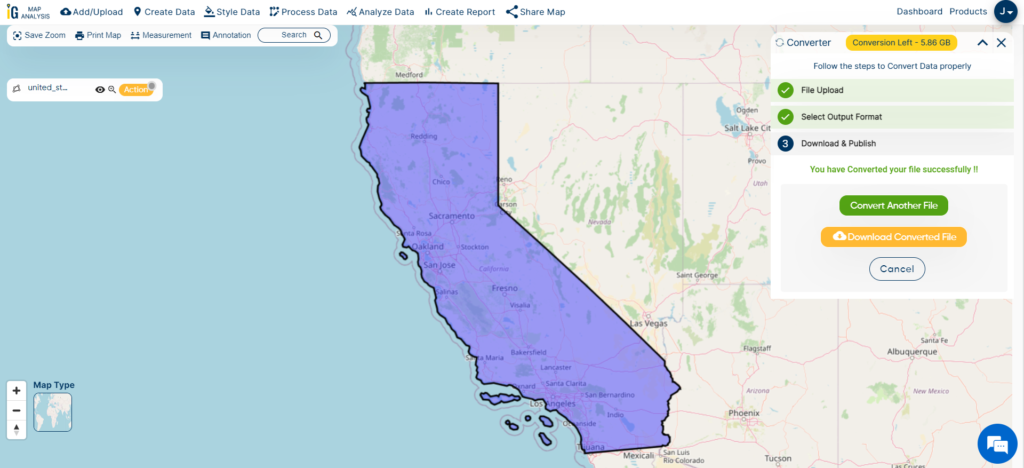 Now click the Convert file button to convert the data file formats And Your TAB file will then gets converted to KML after a few seconds and will be available for downloading.
Now, you can also publish your KML file as map to see the content in the file or to check the conversion.
So, this is all about the TAB to KML conversion. We try our best with pictorial representation of steps of conversion. If still you are facing any problem then contact us or comment below.
IGIS Map Tool Other Conversions
If you are facing any problem in conversion or login then please let us know by mailing at support@igismap.com or drop comment.