Switch between Google New Map and Google old Map (Classic). Google Map is a web mapping service which offers satellite imagery, street view and street map with many other functionality. Google introduced their New map in mid of 2013, with new User Interface and other improved features. While people are used to old user interface, which makes them to think again of using old (Classic Map) interface of Google Map. Google always thinks and create their product with reference to common people perspective, and that would be a reason why they have given to revert to switch to Classic Google Map. Here are the steps to revert back to classic map:
Update: (As of April 29, 2015) The steps provided below to switch back to classic map, may not work, but you can still try to use any of the link provided, for some days may be, as it will soon be updated to Google New map:
Also you may look on 8 Best Alternatives to Google Map Engine API, Google announced to deactivate Google Map Engine API from 29 January, 2016.
Switch between Google New Map and Google old Map (Classic)
1.) Open Google Map.
2.) Click Help icon, which you may find in bottom right corner of map.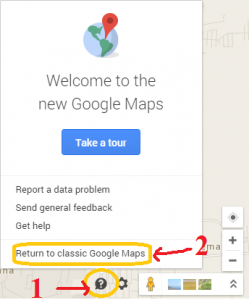 3.) Click return to classic old Google map.
4.) You can write feedback about the new map for the improvement, and again click to revert to classic map, which finally returns you to Google classic old map.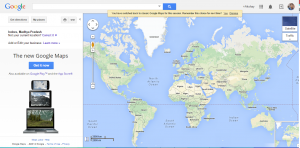 Here is the direct link to switch back to Google Classic map from new map:
You can also switch back to new version of Google Map. By default when you open up maps.google.com, it will response with new Google map. If you getting any problem with Switching back from Google new map to Classic map, do comment below, so that we could discuss and reslove the issue. Thank you.