Hello GIS enthusiasts, IGISMAP has now published the latest GIS vector data of Poland administrative levels. Links for downloading the shapefiles of the important administrative divisions of Poland are provided in the following. You can also download these data in KML, GeoJSON or CSV formats.
Note:
All data available are in GCS datum EPSG:4326 WGS84 CRS (Coordinate Reference System).
You need to login for downloading the shapefile.
Download Free Shapefile Data of Poland
Poland, officially the Republic of Poland, is a country in Central Europe. It is divided into 16 administrative provinces called voivodeships, covering an area of 312,696 km2 (120,733 sq mi). Poland has a population of over 38 million and is the fifth-most populous member state of the European Union. Warsaw is the nation's capital and largest metropolis. Other major cities include Kraków, Łódź, Wrocław, Poznań, Gdańsk, and Szczecin. Poland's territory extends from the Baltic Sea in the north to the Sudeten and Carpathian Mountains in the south. The country is bordered by Lithuania and Russia to the northeast, Belarus and Ukraine to the east, Slovakia and the Czech Republic to the south, and Germany to the west. Poland also shares maritime boundaries with Denmark and Sweden.
Download Poland National Outline Boundary Shapefile
Download Australia Provinces Shapefile Data
IGISMAP provides GIS vector data of province level division of Poland containing polygon boundaries of the polygon provinces
Greater Poland
Lesser Poland
Kuyavian – Pomeranian (Kujawsko – pomorskie)
Lodz (Lodzkie)
Lower Silesian (Dolnoslaskie)
Lublin (Lubelskie)
Lubusz (Lubuskie)
Masovian (Mazowieckie)
Opole (Opolskie)
Podlasie (Podlaskie)
Pomeranian (Podlaskie)
Silesian (Dolnoslaskie)
Subcarpathian (Podkarpackie)
Swietokrzyskie (Swietokrzyskie)
Warmian-Masurian (Warminsko – mazurskie)
Western-Pomeranian (Zachodniopomorskie)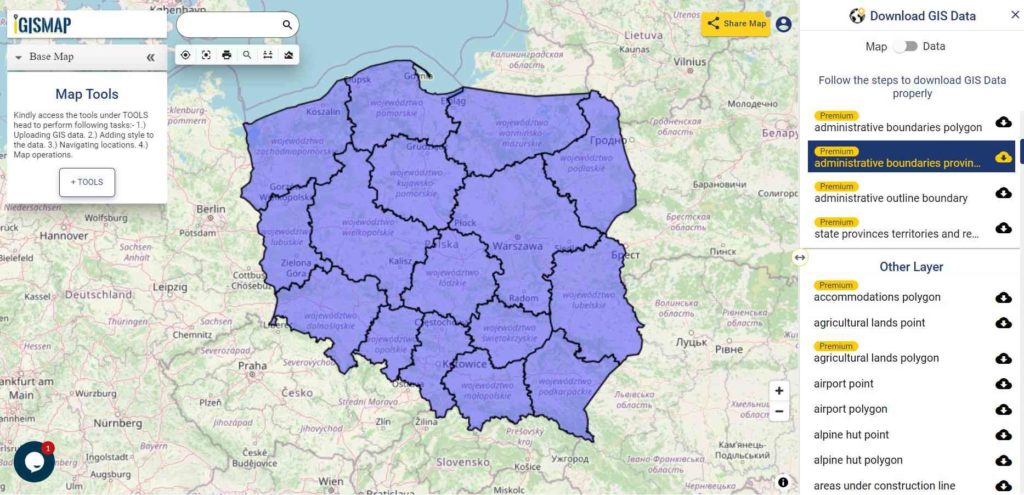 Download Poland Province Boundaries Shapefile
Download Poland Counties Shapefile Data
Following GIS data of Poland contains polygon boundaries of 391 counties of Poland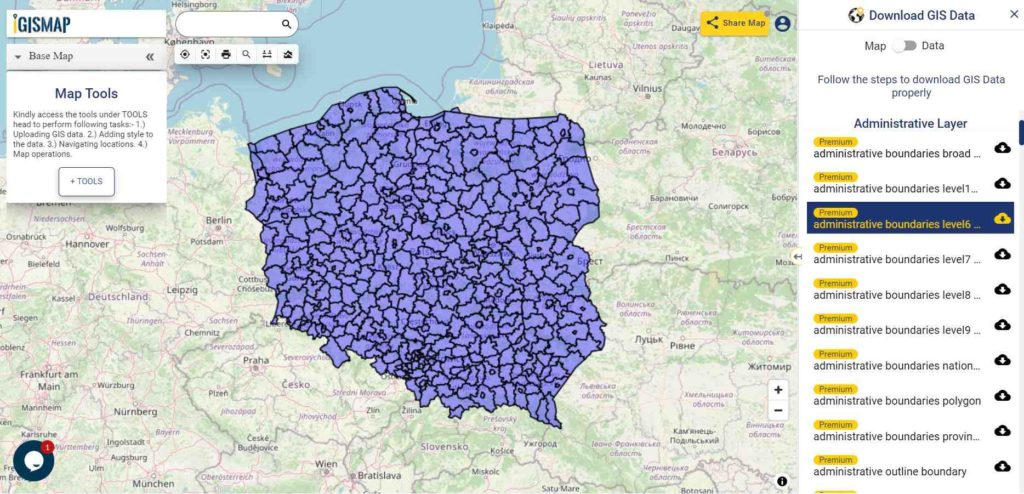 Download Poland County Boundaries Shapefile
Other GIS Data:
Please note that the Poland data provided here is license under Open Data Commons Open Database License (ODbL). Please review the same before using it. If you want data under different license you can also look over to the post : Download Free Shapefile Maps – Country Boundary Polygon, Rail-Road, Water polyline etc.
Download Free Shapefile for the following:
Disclaimer : If you find any shapefile data of country provided is in correct do contact us or comment below, so that we will correct the same in our system as well we will try to correct the same in openstreetmap.