In the IGIS map tool, you can create your map with your data. You can share these maps with others in form of a web page. Your team can also do an analysis of your shared map. They can just apply their operations to analyze the map.
A shared map works like a dashboard GIS application for an organization. A person once uploads all related data to the system and creates a map. Now he/she can share this with anyone. Now these people can apply different operations and analysis tool to analyze the data. And can print the map.
Data in shared map can be updated by one who shared the map. And all changes made will be updated to everyone.
IGISmap generates a link for shared map, a shared map can be opened in any device and analysis operations can be performed on it.
IGISmap is simple and interactive it does not require any high coding knowledge, person from any domain can make maps in it. A map can have 3 types of users, Admin, Developer and Business User
Share your map for gis analysis
Go to Analysis & Share Tool and login or register with valid email id.
Click on Map share button in top right corner.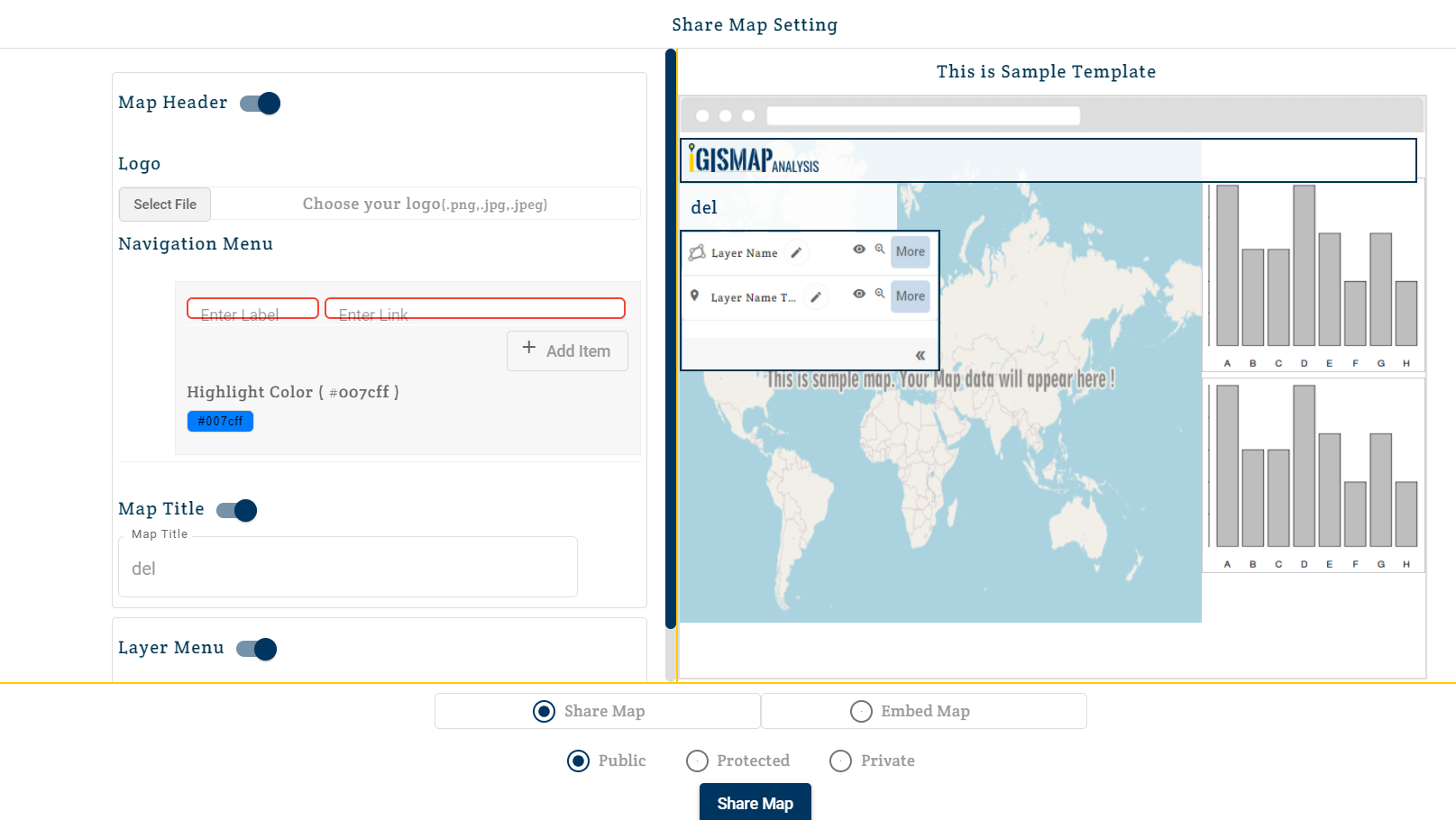 2. Share map setting menu will appear. It has several features like :-
Map Header – It consist of Logo and navigation buttons. You can also remove it if you don't want it.
Logo – You can any logo this shared map. As this is going to act as a GIS application with whom map is shared.
Navigation Menu – You can add navigation buttons to other links in map header. You simple need to give a label name and link, by clicking on that label your users will be navigated to a new web page.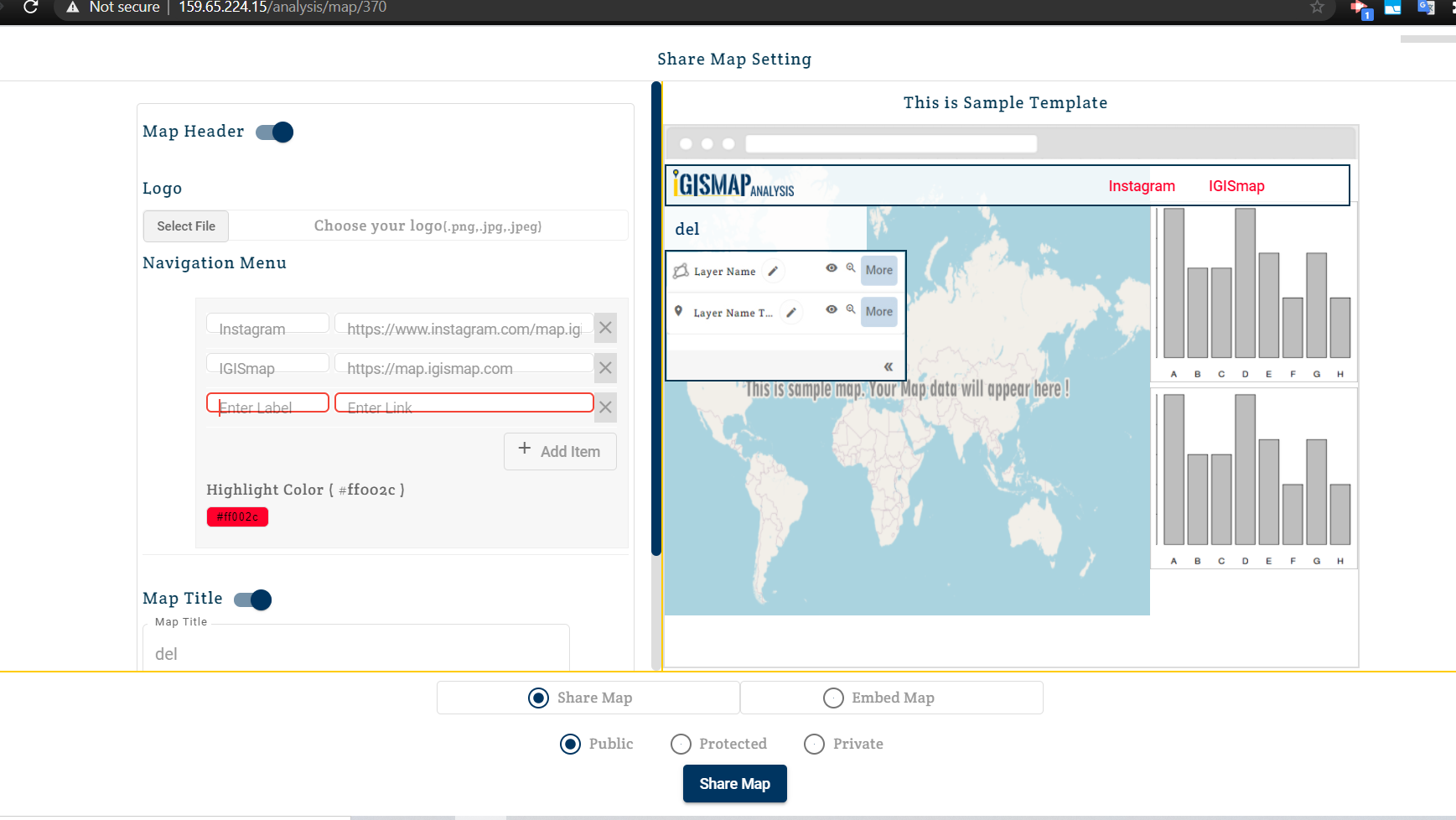 Map Title – You can change title of the map. You can show it or hide it.
Layer Menu – You can give layer menu or can turn it off. Usually when analysis is done or when map is shared with managers layers should be given to the. When we share final plan with map then this can be hidden.
Map Tools – Analysis tools can be shown or hide from share map. Users can also analyze with these tools. But if only fix plan is to be shared this can also be eliminated from share map.
Embed Map– You can generate a html code and embed it to a website or to your blog.
Public – Your shared map can be viewed by anyone.
Protected – Your map will be protected with a password. Only people having password can access the map.
Private – Only you can view the map. No other can view this map.
3. Click on share map, a link will be generated. You can share this link with others and they can access this shared map.

4. This Shared map will also have analysis tools for your users.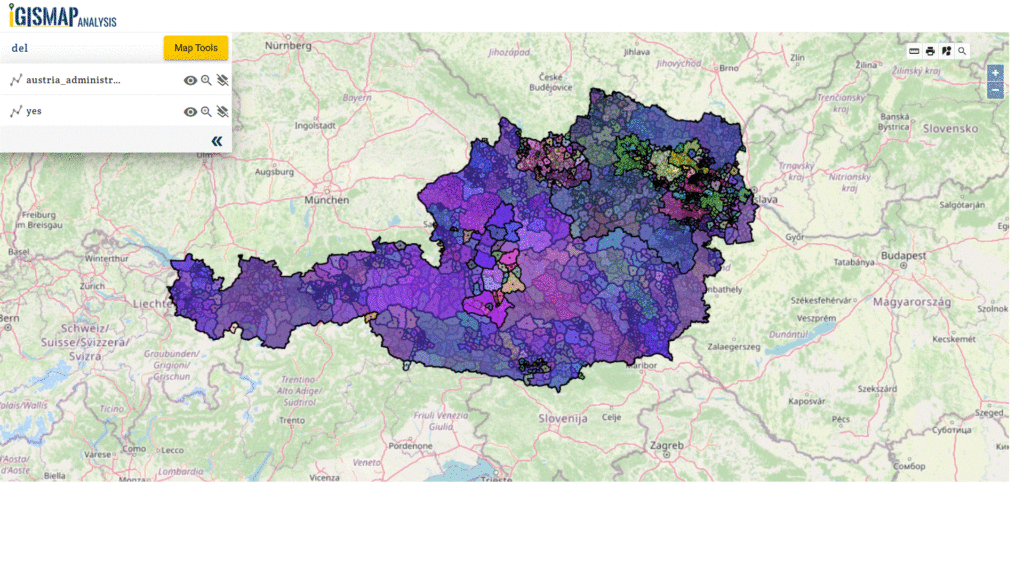 Users of the link can use proximity analysis, query tool print map, measure distance and area, etc. with the map you shared.