Quantum Geographical Information System is a open source platform for viewing, editing, managing and analysis of spatial data with various features which makes your analysis better. As we need word processor to deal with words similar to this for spatial information we require GIS application. In this blog I am providing Introduction of QGIS 3.4.4 for beginners. QGIS 3.2.1 'Bonn' is released on 20 July 2018. QGIS 3.6.2 is the current version but its functionality is same as QGIS 3.4.4.  With the help of QGIS you can also create Interactive Web Map. 
Want to convert Shapefile into KML in QGIS 
QGIS supports both flavours of GIS datasets i.e Vector data formats and Raster data formats.
You can also create map without using QGIS Click
QGIS 3.4.4 Interface or GUI
With the current version QGIS 3.2.1 many new features are added. Here we approach its feature one by one. You can also check How to open and view vector data in QGIS 3.4.4
QGIS desktop screen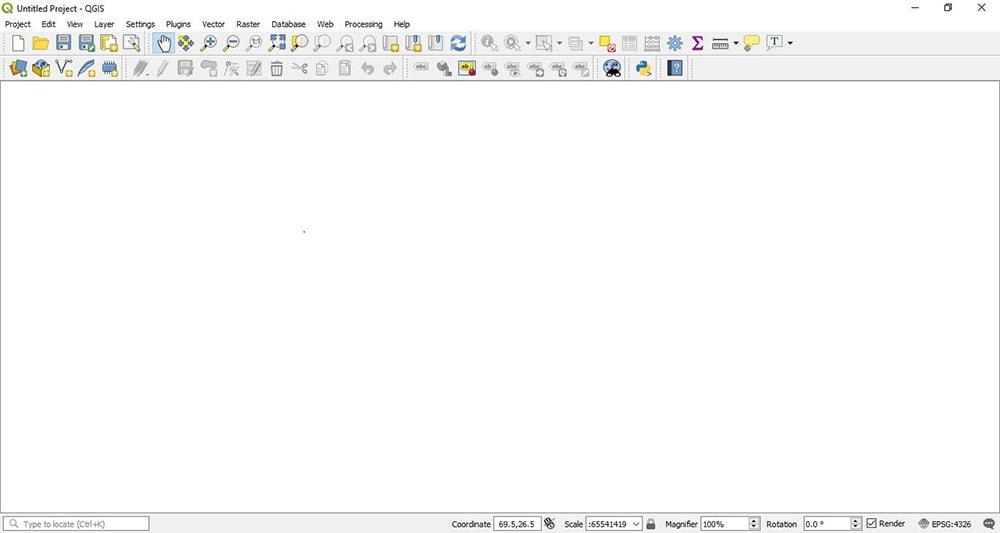 Components of GUI
Main area of QGIS is called as canvas. Likewise other GIS applications toolbars, panels, status bar and menu bar is also. Lets start its study in brief.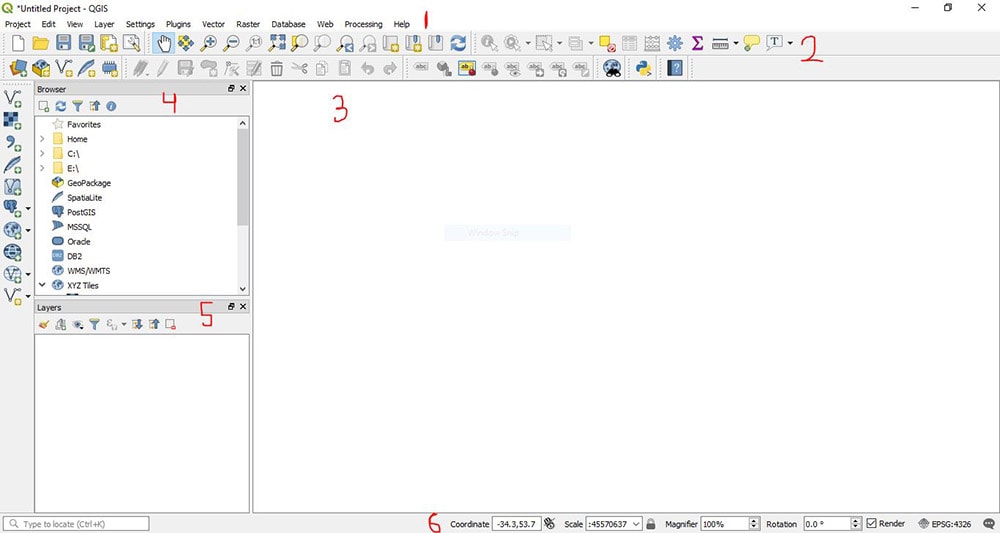 1. Menu Bar –
In the above image 1 number is showing main menu bar. You can access almost everything of QGIS from main menu. You can use various features and functions of the QGIS menu style. The Main Menu cannot be moved unlike the toolbars and panels.
2. Toolbar –
Toolbars have buttons that provide a one click access (i.e. shortcuts) to many of the features and functions found in the Main Menu. Toolbars are movable and free floating.
3. Canvas or Map Display Panel –
It shows geographic display of GIS layer or panel layers. It covers maximum area off course because of its function. Create a Basic Map on canvas
4. Browser Panel –
It provides a list of files on your computer. You can drag and drop GIS files into the Layers Panels to view them. This panel is movable and can be hidden/shown on the GUI. We can display it by right click at tool bar and choose the panels you want to use.
5. Layer Panel –
This panel shows map layers that are in your current project. Layers can be turned on/off, clubbed , change drawing order, etc. Extract or Select features in Layer.
6. Status Bar –
It display all the relevant information about the current project. It  shows the current scale of the map display, coordinates of the current mouse cursor position,and the coordinate reference system (CRS) of the project.
Now, you get familiar with QGIS interface, how it works, what is the need. Hope this post is beneficial for amateur GIS professional. If you face any problem in downloading QGIS and in using QGIS 3.2.1 desktop drop you comments. Any suggestions are welcome.
Furthermore,  you can also check QGIS Server – Configuration and Deploying QGIS Project , QGIS Servr – Installation in Ubuntu
QGIS Tutorial: