Edit – Export – download data from OpenStreetMap (OSM). Open Street Map is a free editable map of the world, and is very easy to handle. Here in this post we will see how to edit and create geometries on open street map. Also how to export, download and convert the .osm file to any other file.
Steps to Edit – Export – Download data from OpenStreetMap:
1.) Sign in – Before starting editing you need to have one Account in OpenStreetMap to your, so create the one if you don't have any and login with your account.
2.) Click the Edit dropdown menu button, placed at the upper left of the map, where you will find following three options:

Where In-Browser editor are used to edit online and JOSM is used for offline editing.
3.) Lets try with iD In-Browser editor for demonstrating editing here. So click Edit with iD option.
4.) Screen will shows up as follows: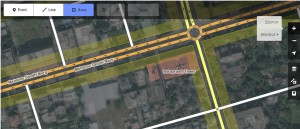 In right hand side you have various option which you can explore one by one and is very easy to understand. Bing Ariel imagery is preferred in background which is by default is in background however you can select any background you want.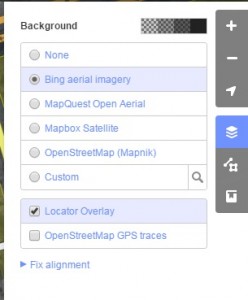 5.) Now we can start editing. You can select either Point, Line or Polygon from your screen.
6.) Click on the screen on the location where you want to edit. If you selected a point then just click on the location and press enter and then fill the entries on the left hand side and give necessary information.
7.) Click save and your edits will be saved, which you may see it again by opening the osm in another session. Likewise you can digitize lines and polygons.
8.) You can export the map from osm and it will be downloaded to your computer with extension .osm.

The exported .osm file can be opened in QGIS or many other GIS tools.
Here I am showing you how to open .osm file in QGIS. Select Add Vector Layer icon as shown below, and browse to the location where you saved the downloaded file and click open.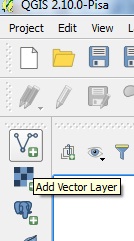 A pop-up will open. Select layers as shown in figure.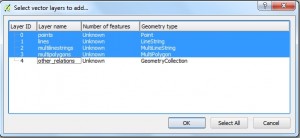 Now select OK. The downloaded map will be imported on the map canvas. In the layers space, you can see four layers which was exported as an example which are .osm layers and can be easily converted to any other GIS vector file like shapefiles.
Download OpenStreetMap OSM data directly from QGIS:
1.) We can also download osm map of our desired location to our computer using QGIS.
2.) In QGIS click vector and click openstreetmap and click download data.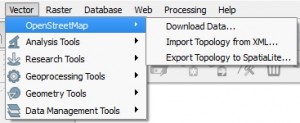 3.) Enter the coordinates. Click … and give the name of the output file and click download.
4.) Downloading will take some time depending on the size of the data.
QGIS tutorial – A simple Guide
After downloading map you can convert back the osm data to any other spatial data, preserving database attributes too. You can also use some advance plugin given in repository of QGIS. I hope this post would have helped you to export Spatial data with the help of OpenStreetMap. If you are getting any problem in performing the steps do comment below also, if have any other tricks to export spatial data from openstreetmap or any other source do provide us the reference by commenting below.