GIS Data and Maps of West Virginia State is used by planners and surveyors for visualizing and identifying the patterns that are difficult to examine when data is in table form. Here you can download the GIS data of the state boundary, county division, rail and highway maps in just a few clicks. You can use these data for analysis in IGISMAP itself or download them in any suitable GIS format. You can download these data in KML, GeoJSON, CSV or Shapefile formats.
Note:
All data available are in GCS datum EPSG:4326 WGS84 CRS (Coordinate Reference System).
You need to login for downloading the shapefile.
Download Free Shapefile Data West Virginia State
West Virginia is a state in the Appalachian, Mid-Atlantic and South-eastern regions of the United States. Charleston city is the capital city of the state. In addition, if you are looking for any other GIS formats then use GIS File Converter.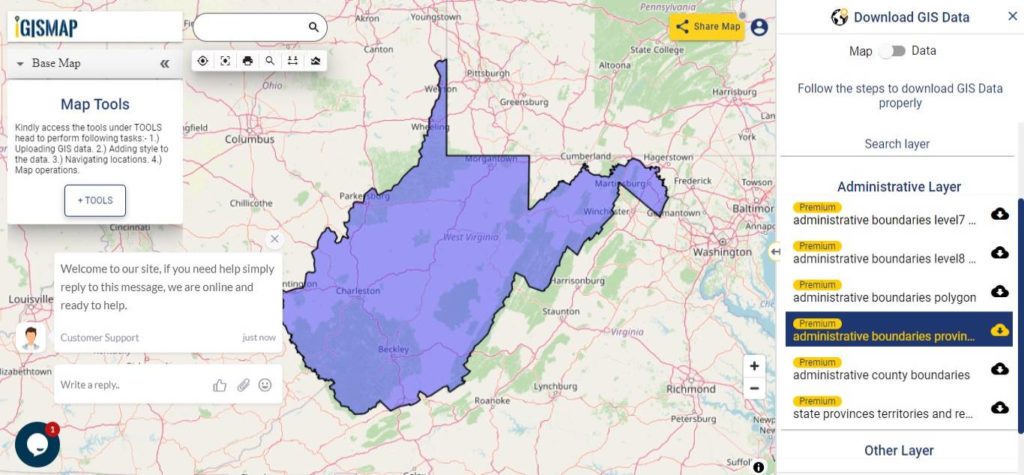 Download West Virginia State Outline Boundary Shapefile
In the above screen boundary map of West Virginia state. This is the map view for the data table switch button from the map to the data. The layer name is provided on the right side of the screen. For download click on the button placed beside the map layer name. You can locate your store/ shop on a map.
Download West Virginia Counties Shapefile Data
There are 55 counties in the U.S. state of West Virginia.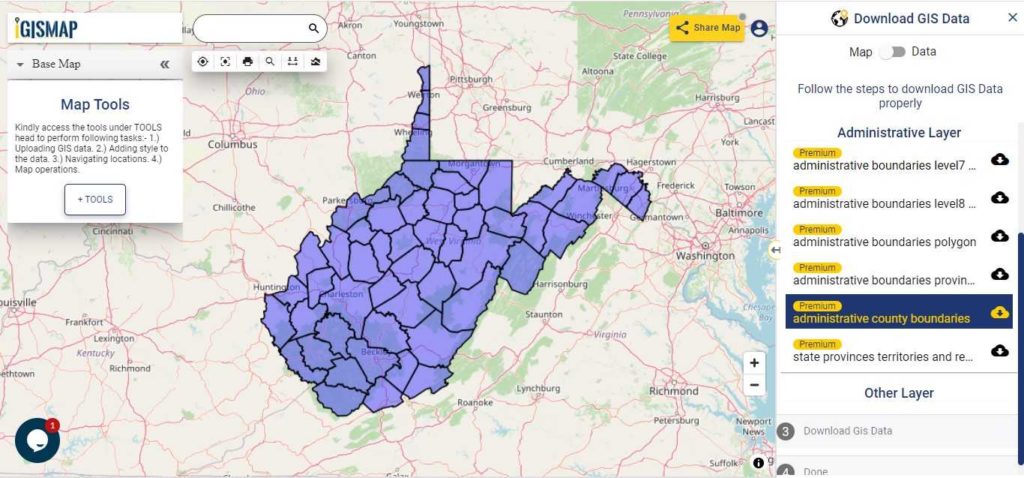 Download West Virginia County Boundary Shapefile
Polygon map with county division is visible on the above screen. You can easily download and upload in a tool for free and create a map from GIS data. Edit, format, add attribute column and share it with your colleagues.
Above all Layers cover GIS data of following Counties –
Barbour
Berkeley
Boone
Braxton
Brooke
Cabell
Calhoun
Clay
Doddridge
Fayette
Gilmer
Grant
Greenbrier
Hampshire
Hancock
Hardy
Harrison
Jackson
Jefferson
Kanawha
Lewis
Lincoln
Logan
Marion
Marshall
Mason
McDowell
Mercer
Mineral
Mingo
Monongalia
Monroe
Morgan
Nicholas
Ohio
Pendleton
Pleasants
Pocahontas
Preston
Putnam
Raleigh
Randolph
Ritchie
Roane
Summers
Taylor
Tucker
Tyler
Upshur
Wayne
Webster
Wetzel
Wirt
Wood
Wyoming
Highway Line GIS Data of West Virginia State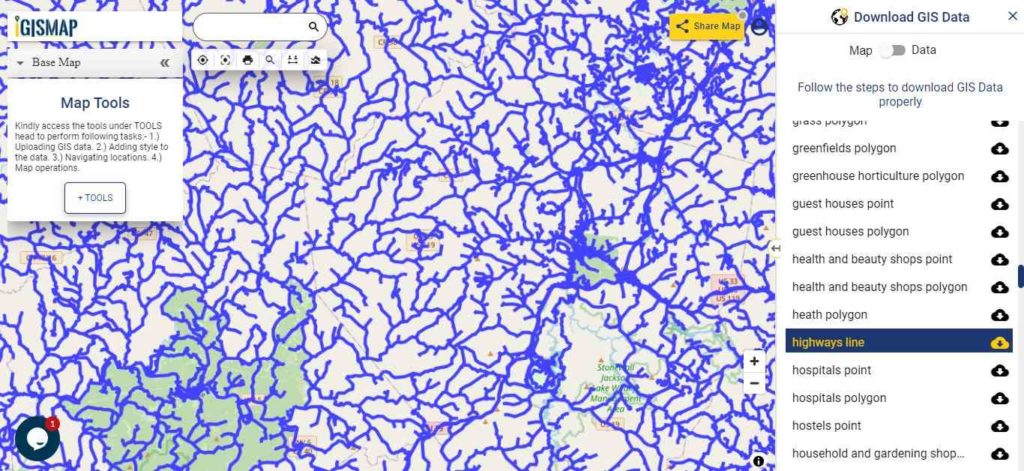 Download West Virginia Highway Lines Shapefile
Zoom in view of highway line map is shown shown above. Similarly, you can easily download point based GIS data of airport point, ATM point, parking area, hospital location, etc.
Railways Line GIS Data of West Virginia U.S. State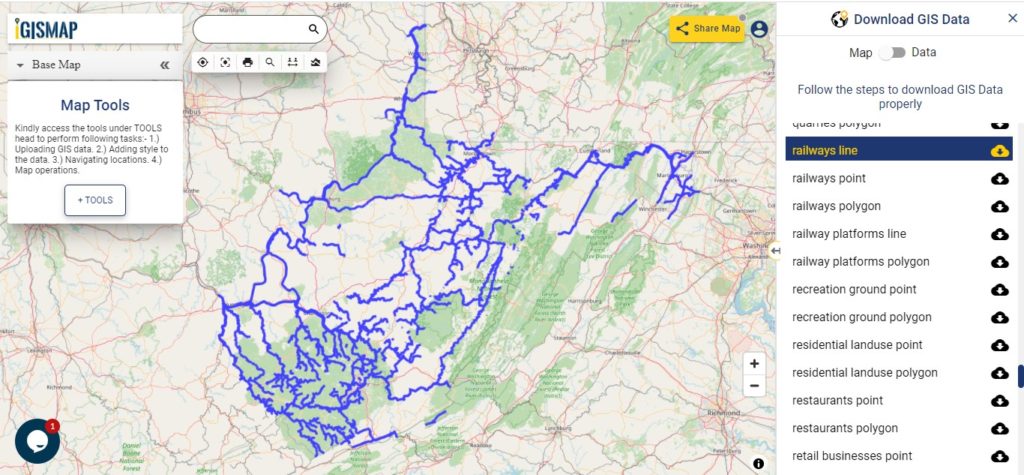 Download West Virginia Railway Lines Shapefile
On the above screen, the railways line map is shown. Likewise, you can download residential land-use points, polygon, restaurants, business GIS data layers.
Download GIS Data of other states of USA:
Disclaimer : If you find any shapefile data of country provided is in correct do contact us or comment below, so that we will correct the same in our system.