GIS Data and Maps of Idaho State is used by planners and surveyors for visualizing and identifying the patterns that are difficult to examine when data is in table form. Here you can download the GIS data of the state boundary, county division, rail and highway maps in just a few clicks. You can use these data for analysis in IGISMAP itself or download them in any suitable GIS format. You can download these data in KML, GeoJSON, CSV or Shapefile formats.
Note:
All data available are in GCS datum EPSG:4326 WGS84 CRS (Coordinate Reference System).
You need to login for downloading the shapefile.
Download Free Shapefile data of Idaho State
Idaho is the northwestern state of United States. Boise is the capital of the state situated in the rocky foothills and divide boise river.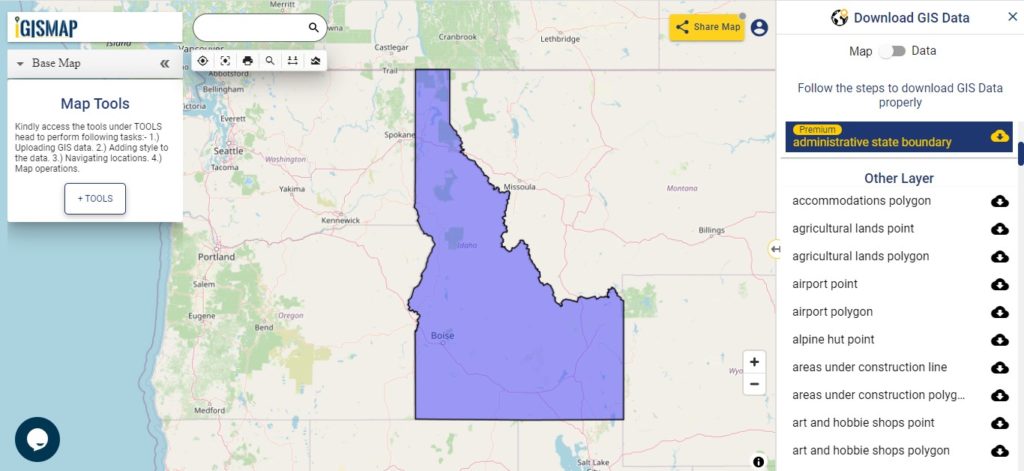 Download Idaho State Outline Boundary Shapefile
Idaho State GIS Data is shown in the above screen. The layer name is provided on the left side of the screen. For download click on the button situated beside the layer name. Before make sure to view data by toggle button from Map to Data. For viewing specific information of an area then click on the map area. Data related to location. And moreover, if you want to make your data more attractive try the Analysis Tool. Upload a shapefile and share your map with others.
Download Idaho Counties Shapefile
Download Idaho County Boundary Shapefile
Idaho state is divided into 44 counties. Click on the link for download. It covers following counties –
Ada
Adams
Bannock
Bear Lake
Benewah
Bingham
Blaine
Boise
Bonner
Bonneville
Boundary
Butte
Camas
Canyon
Caribou
Cassia
Clark
Clearwater
Custer
Elmore
Franklin
Fremont
Gem
Gooding
Idaho
Jefferson
Jerome
Kootenai
Latah
Lemhi
Lewis
Lincoln
Madison
Minidoka
Nez Perce
Oneida
Owyhee
Payette
Power
Shoshone
Teton
Twin Falls
Valley
Washington
Idaho Highway Line GIS Data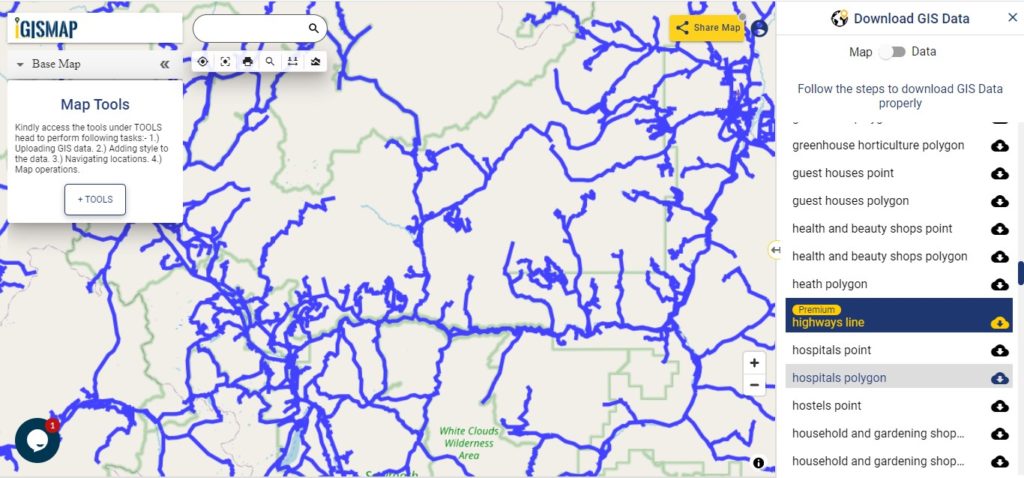 Download Idaho Highway Line Shapefile
Zoom in view of highway line map is shown shown above. Similarly, you can easily download point based GIS data of airport point, ATM point, parking area, hospital location, etc.
Download railway line of Idaho shapefile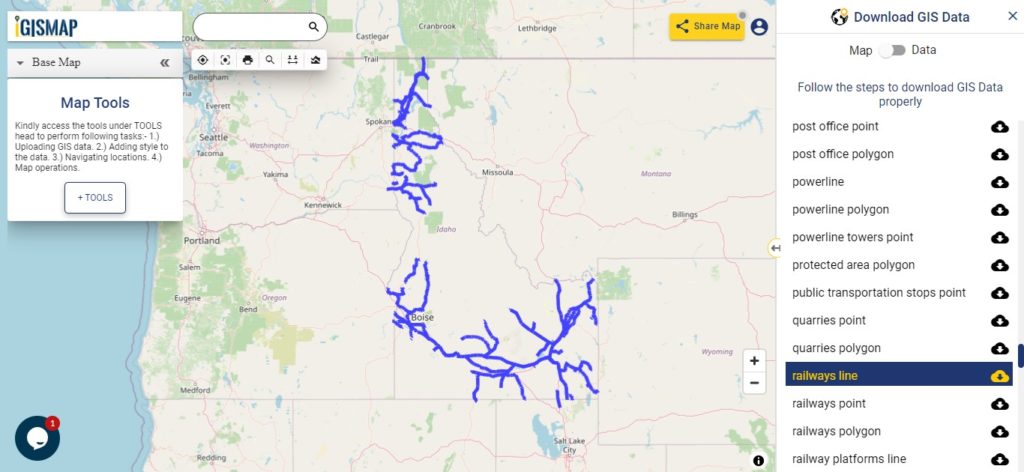 Download Idaho Railway Line Shapefile
You can also download railways polygon, recreation ground polygon, residential land use polygon, restaurants points, etc. List of layer is provided in the left side of the screen.
Download GIS Data of other states of USA:
Disclaimer : If you find any shapefile data of country provided is in correct do contact us or comment below, so that we will correct the same in our system.