Discover Slovakia's geography effortlessly with IGISMAP. Explore a wide range of datasets, including comprehensive information about national borders, meandering rivers, well-structured roads, and convenient airports. Utilizing user-friendly tools like Download GIS Data and Add GIS Data has never been more straightforward. Customize your data downloads by selecting from various formats such as Shapefile, KML, GeoJSON, and CSV with the Download GIS Data tool. Embrace IGISMAP with confidence as your trusted resource to delve deeper into Slovakia GIS Data.
We offer an extensive array of data formats, including KML, SHP, CSV, GeoJSON, Tab, SQL, Tiff, GML, KMZ, GPKZ, SQLITE, Dxf, MIF, TOPOJSON, XLSX, GPX, ODS, MID, and GPS, ensuring compatibility and accessibility for various applications and analyses.
Note:
All data available are in GCS datum EPSG:4326 WGS84 CRS (Coordinate Reference System).
You need to login for downloading the shapefile.
Download Shapefile Data of Slovakia
Slovakia, officially known as the Slovak Republic, is a landlocked nation situated in Central Europe. It shares its borders with Poland to the north, Ukraine to the east, Hungary to the south, Austria to the west, and the Czech Republic to the northwest. Slovakia's terrain is predominantly mountainous and covers an area of approximately 49,000 square kilometers (19,000 square miles), with a population exceeding 5.4 million people. The capital and largest city is Bratislava, and the second-largest city is Košice.
Download Slovakia National Boundary Shapefile
After successfully logging in with a legitimate email address, select the country you want to work with. Next, choose the specific layer you need and click on the download option. Once that's done, pick the desired format to acquire the essential GIS data. Before proceeding with the data download, make sure to review the data table for any relevant information.
Download Slovakia Regions Shapefile Data
Slovakia is divided into 8 self-governing regions, called "samosprávne kraje" in Slovak. These are:
Bratislava Region (Bratislavský kraj)
Trnava Region (Trnavský kraj)
Nitra Region (Nitriansky kraj)
Trenčín Region (Trenčiansky kraj)
Žilina Region (Žilinský kraj)
Banská Bystrica Region (Banskobystrický kraj)
Prešov Region (Prešovský kraj)
Košice Region (Košický kraj)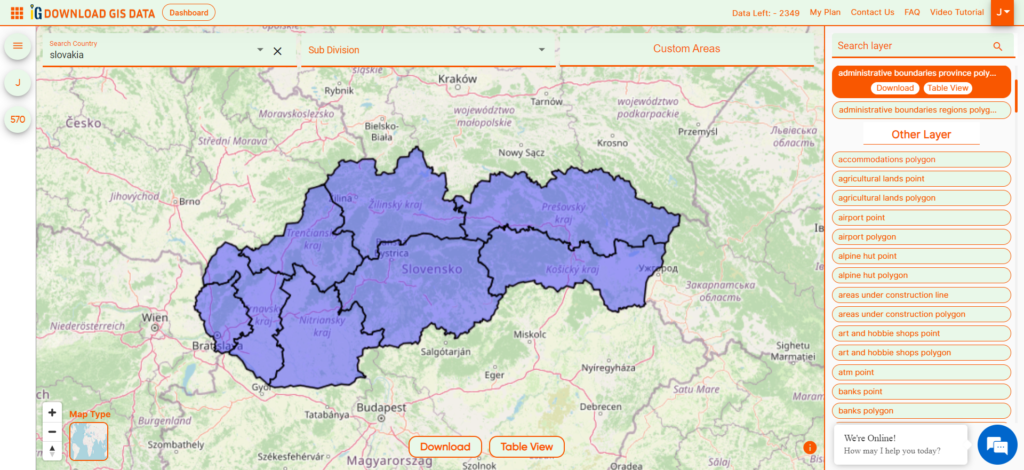 Download Slovakia Regions Shapefile
Download Slovakia Districts Shapefile Data

Slovakia is divided into 79 districts (okresy), mainly for statistical purposes. The districts are named after the biggest town in the district (formerly known as the "district towns").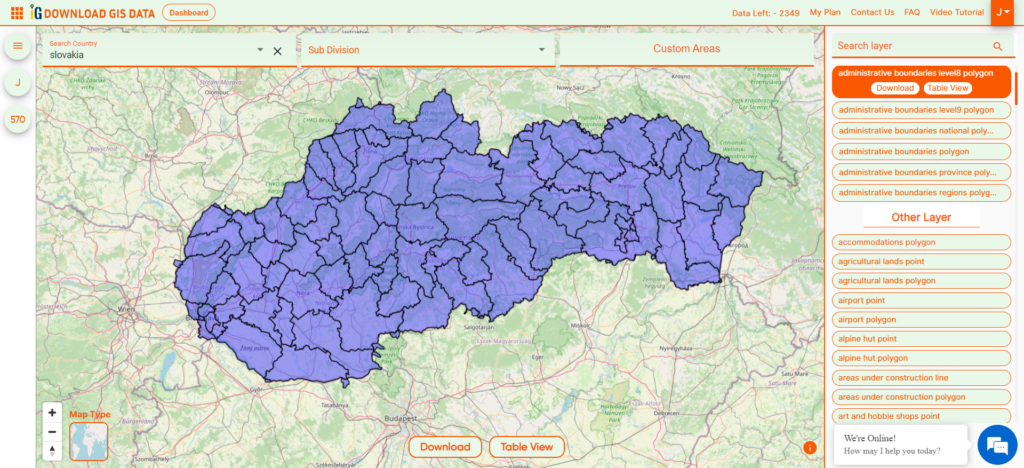 Download Slovakia Districts Shapefile
Other Administrative Boundary Data:
Above all links are provided for GIS data of Slovakia if you are looking for any specific data please write us on support@igismap.com
Download Shapefile for the following:
Disclaimer : If you find any shapefile data of country provided is incorrect do contact us or comment below, so that we will correct the same in our system as well we will try to correct the same in openstreetmap.