Hello GIS enthusiasts, IGISMAP has now published the latest GIS vector data of Singapore administrative levels. Links for downloading the shapefiles of the important administrative divisions of Singapore are provided in the following. You can also download these data in KML, GeoJSON or CSV formats.
Note:
All data available are in GCS datum EPSG:4326 WGS84 CRS (Coordinate Reference System).
You need to login for downloading the shapefile.
Download Free Shapefile Data of Singapore
Singapore, officially the Republic of Singapore, is a sovereign island country and city-state in maritime Southeast Asia. It lies about one degree of latitude (137 kilometers or 85 miles) north of the equator, off the southern tip of the Malay Peninsula, bordering the Strait of Malacca to the west, the Singapore Strait to the south, the South China Sea to the east and the Straits of Johor to the north. The country's territory is composed of one main island, 63 satellite islands and islets, and one outlying islet, the combined area of which has increased by 25% since the country's independence as a result of extensive land reclamation projects. It has the third highest population density in the world.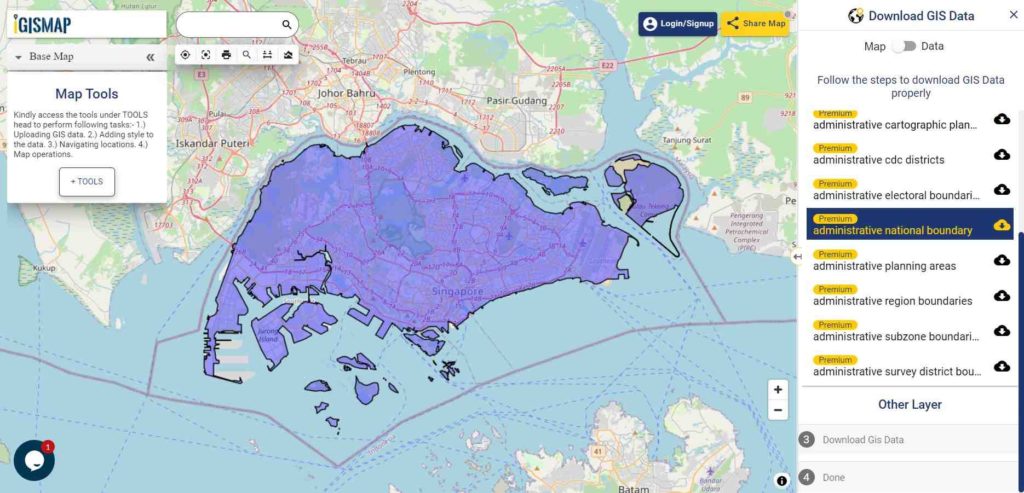 Download Singapore National Outline Boundary Shapefile
Download Singapore Regions Shapefile Data
The regions of Singapore are urban planning subdivisions demarcated by the Urban Redevelopment Authority of Singapore to aid in its planning efforts. Over time, other governmental organizations have also adopted the five regions in their administrative work. These regions are:
West Region
North Region
North East Region
East Region
Central Region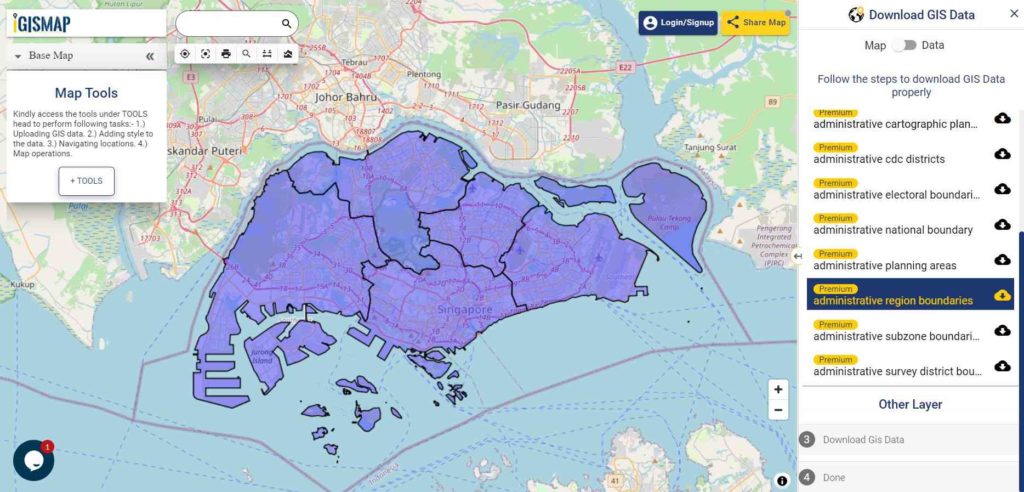 Download Singapore Region Boundaries Shapefile
Download Singapore Community Development Councils Shapefile Data
The Community Development Council or CDC is a government-led program to organize grassroot organizations and community programs into smaller, local units as a bridge between the government and the community in Singapore. It encourages volunteerism from wider community, and organizes community and social assistance programs with the help of a monetary grant from the government.
In 2001, the 9 districts and CDCs were then reformed into 5 CDCs, namely:
North East CDC
North West CDC
South East CDC
South West CDC
Central Singapore CDC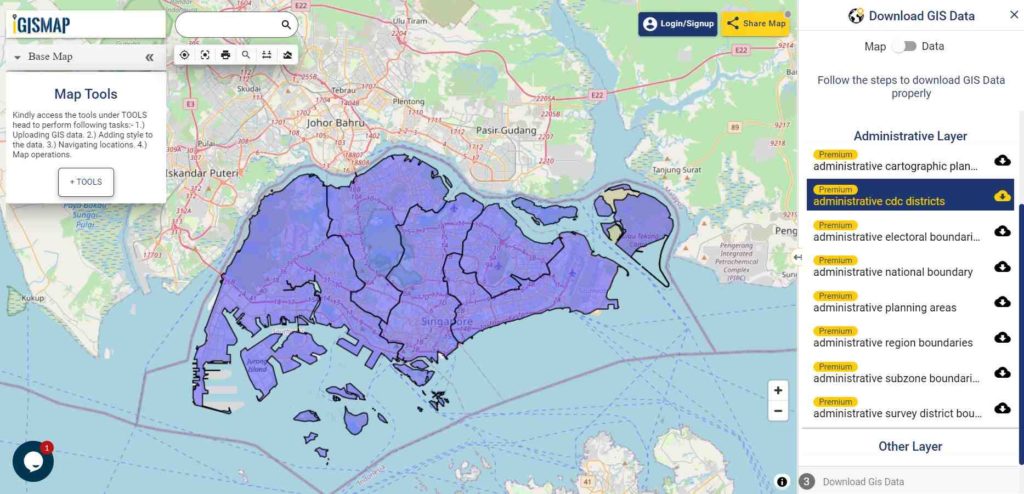 Download Singapore CDC Boundaries Shapefile
Other Administrative Boundaries GIS Data:
You can also do Query on this shapefile (GIS Data) using IGIS Map Tool
Download Free Shapefile for the following:
Disclaimer : If you find any shapefile data of country provided is in correct do contact us or comment below, so that we will correct the same in our system.