Hello GIS enthusiasts, IGISMAP has now published the latest GIS vector data of Russia administrative levels. Links for downloading the shapefiles of the important administrative divisions of Russia are provided in the following. You can also download these data in KML, GeoJSON or CSV formats.
Note:
All data available are in GCS datum EPSG:4326 WGS84 CRS (Coordinate Reference System).
You need to login for downloading the shapefile.
Download Free Shapefile Data of Russia
Russia or the Russian Federation (RF), is a transcontinental country spanning Eastern Europe and Northern Asia. It is the largest country in the world by area, covering over 17,125,191 square kilometers (6,612,073 sq mi), and encompassing one-eighth of Earth's inhabitable landmass. Russia extends across eleven time zones and borders sixteen sovereign nations, the most of any country in the world.[d] It is the ninth-most populous country and the most populous country in Europe, with a population of 145.5 million. The country's capital and largest city is Moscow, the largest city entirely within Europe. Saint Petersburg is Russia's cultural center and second-largest city. Other major urban areas include Novosibirsk, Yekaterinburg, Nizhny Novgorod and Kazan.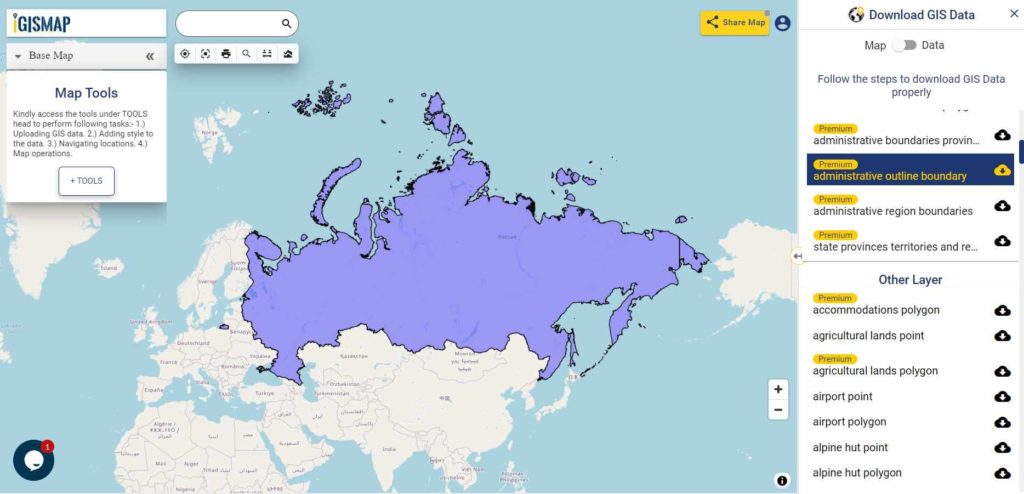 Download Russia National Outline Boundary Shapefile
If you are looking for any other GIS formats then use GIS File Converter.
Download Russia Regions Shapefile Data
Russia is geographically divided into two parts: European Russia and Asian Russia. We will categorize Central, European North, North-West, European South (Northern Caucasus), the Volga region and the Ural region as part of European Russia. Asian Russia consists of Western Siberia, Eastern Siberia and the Far East.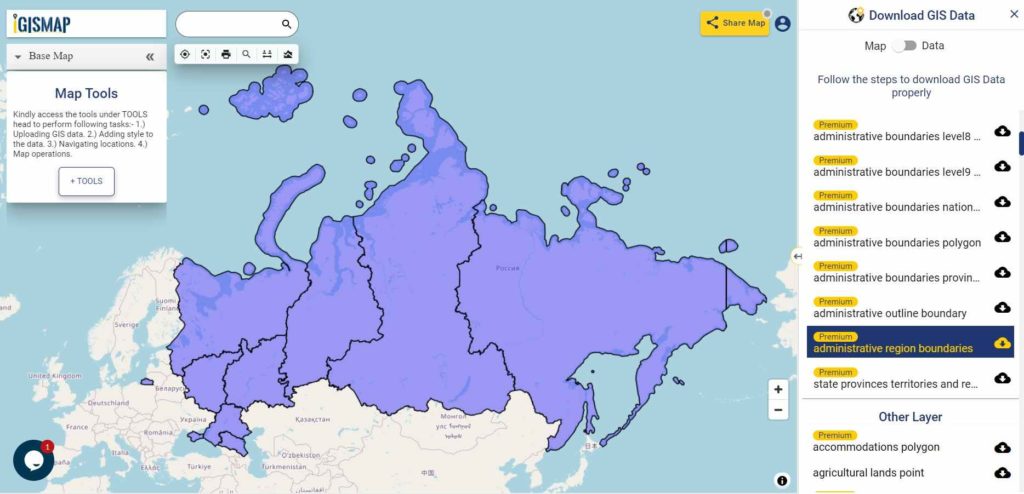 Download Russia Regions Boundaries Shapefile
Highway Line GIS Data of Russia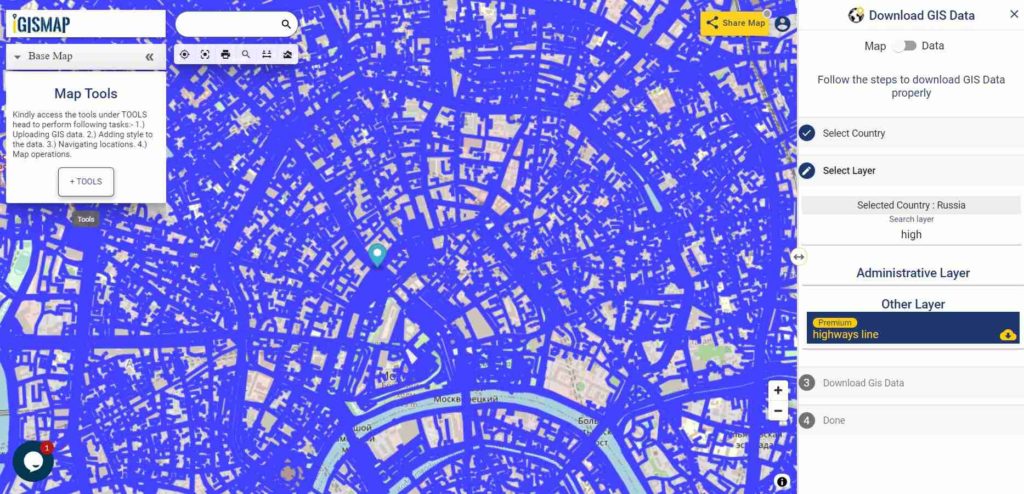 Download Russia Highway Lines Shapefile
In the above map, zoom in view of highway lines of Moscow is shown. Similarly, you can easily download point based GIS data of airport locations, ATM locations, parking locations, hospital location, etc.
Railways Line GIS Data of Russia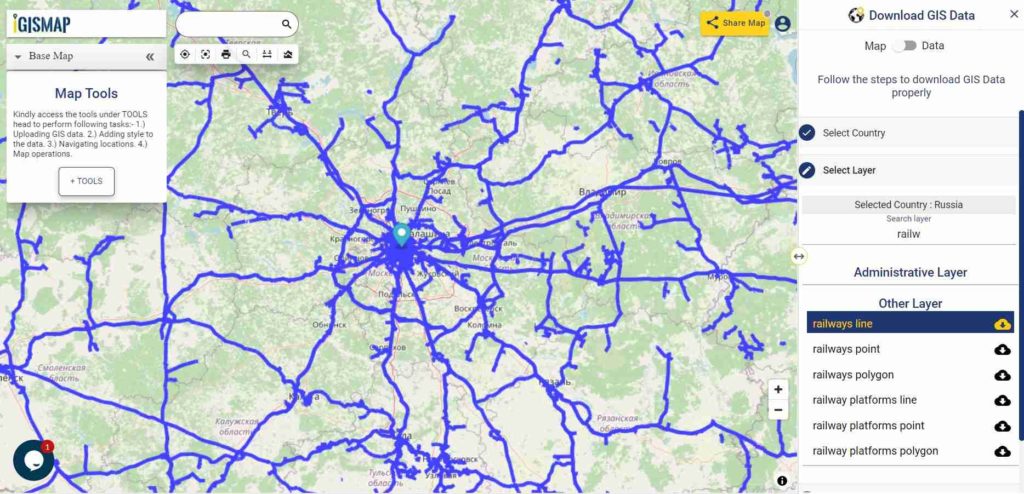 Download Russia Railway Lines Shapefile
In the above map, zoom in view of railway lines in Moscow is shown.
Download Ferry Point Shapefile of Russia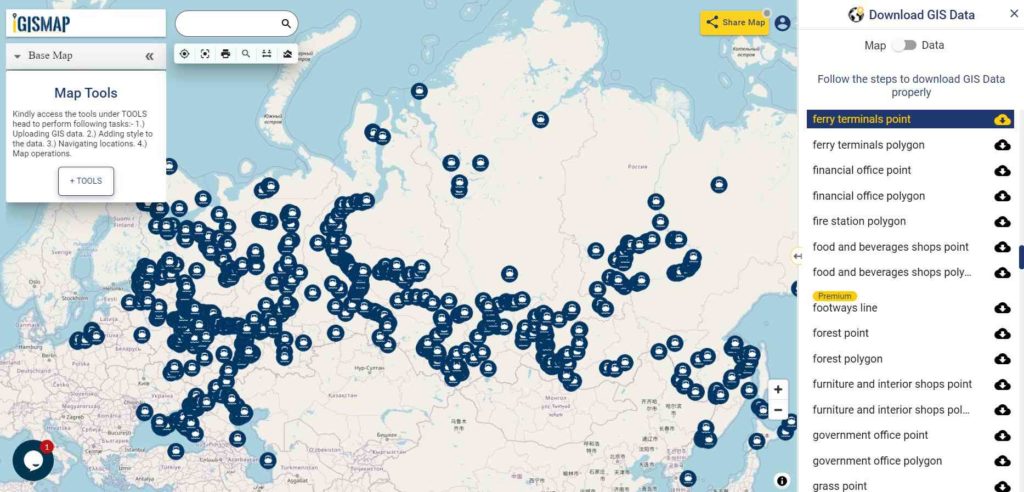 Download Russia Ferry Points Shapefile
You can view and download the ferry points of Austria from above link.
Other Data:
For more GIS data visit – IGIS Map GIS Data
If you any problem in downloading shapefile please comment below or mail us at support@igismap.com
Download Free Shapefile for the following:
Disclaimer : If you find any shapefile data of country provided is in correct do contact us or comment below, so that we will correct the same in our system as well we will try to correct the same in OSM.