GIS Data and Maps of Pennsylvania State is used by planners and surveyors for visualizing and identifying the patterns that are difficult to examine when data is in table form. Here you can download the GIS data of the state boundary, county division, rail and highway maps in just a few clicks. You can use these data for analysis in IGISMAP itself or download them in any suitable GIS format. You can download these data in KML, GeoJSON, CSV or Shapefile formats.
Note:
All data available are in GCS datum EPSG:4326 WGS84 CRS (Coordinate Reference System).
You need to login for downloading the shapefile.
Download Free Shapefile Data of Pennsylvania
Pennsylvania, officially the Commonwealth of Pennsylvania, is a U.S. state spanning the Mid-Atlantic, Northeastern, and Appalachian regions of the United States. It borders Delaware to the southeast, Maryland to the south, West Virginia to the southwest, Ohio to the west, Lake Erie and the Canadian province of Ontario to the northwest, New York to the north, and New Jersey to the east. In addition, if you are looking for any other GIS formats then use GIS File Converter.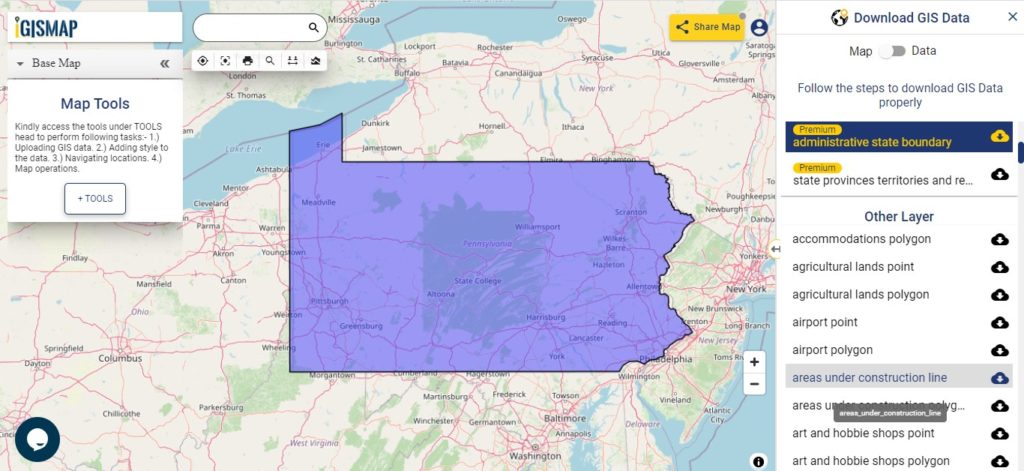 Download Pennsylvania State Outline Boundary Shapefile
Download Pennsylvania Counties Shapefile Data
There are 67 counties in the U.S. state of Pennsylvania. For a polygon map click on the link given below.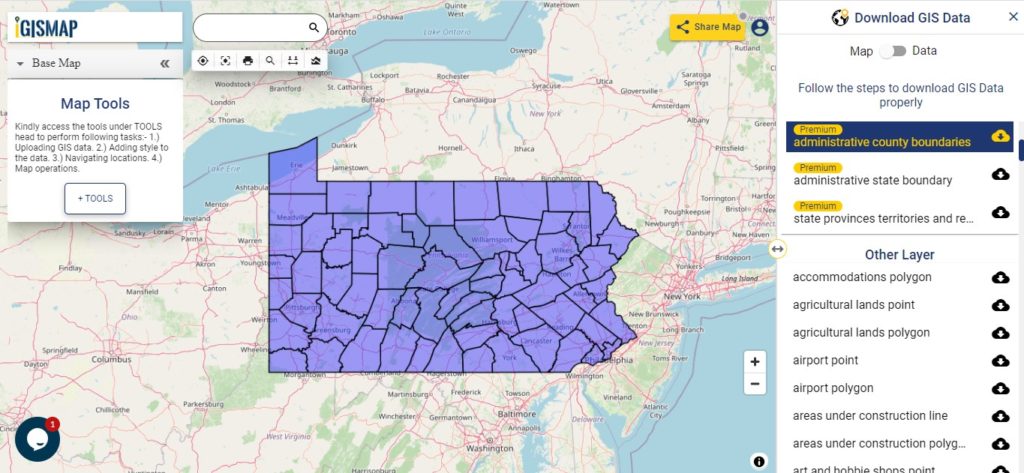 Download Pennsylvania County Boundaries Shapefile
Polygon map with county division is visible on the above screen. You can easily download and upload in a tool for free and create a map from GIS data, edit the format, add attribute column and share it with your colleagues.
Above layer cover the boundary feature of the following counties
Adams County
Allegheny County
Armstrong County
Beaver County
Bedford County
Berks County
Blair County
Bradford County
Bucks County
Butler County
Cambria County
Cameron County
Carbon County
Centre County
Chester County
Clarion County
Clearfield County
Clinton County
Columbia County
Crawford County
Cumberland County
Dauphin County
Delaware County
Elk County
Erie County
Fayette County
Forest County
Franklin County
Fulton County
Greene County
Huntingdon County
Indiana County
Jefferson County
Juniata County
Lackawanna County
Lancaster County
Lawrence County
Lebanon County
Lehigh County
Luzerne County
Lycoming County
McKean County
Mercer County
Mifflin County
Monroe County
Montgomery County
Montour County
Northampton County
Northumberland County
Perry County
Philadelphia County
Pike County
Potter County
Schuylkill County
Snyder County
Somerset County
Sullivan County
Susquehanna County
Tioga County
Union County
Venango County
Warren County
Washington County
Wayne County
Westmoreland County
Wyoming County
York County
Highway Line GIS Data of Pennsylvania State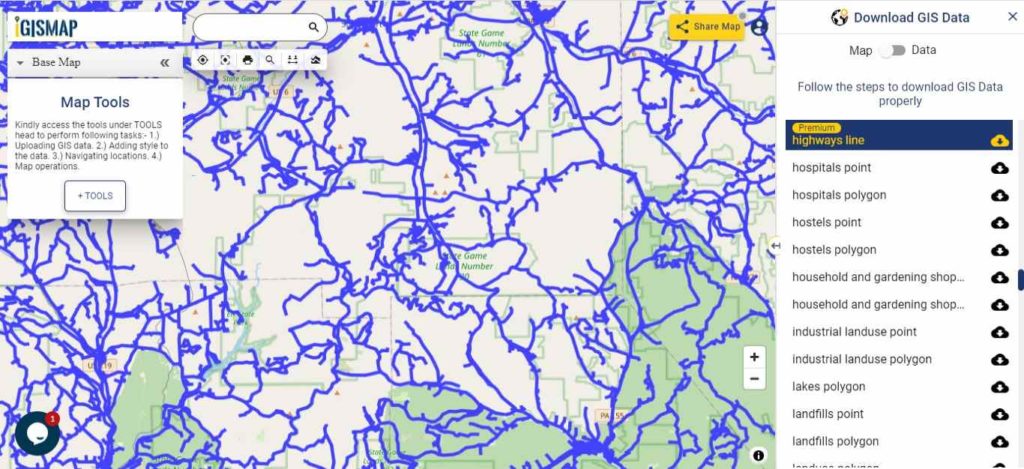 Download Pennsylvania Highway Lines Shapefile
In the above map, zoom in view of highway line map is shown. Similarly, you can easily download point based GIS data of airport locations, ATM locations, parking locations, hospital location, etc.
Railways Line GIS Data of Pennsylvania State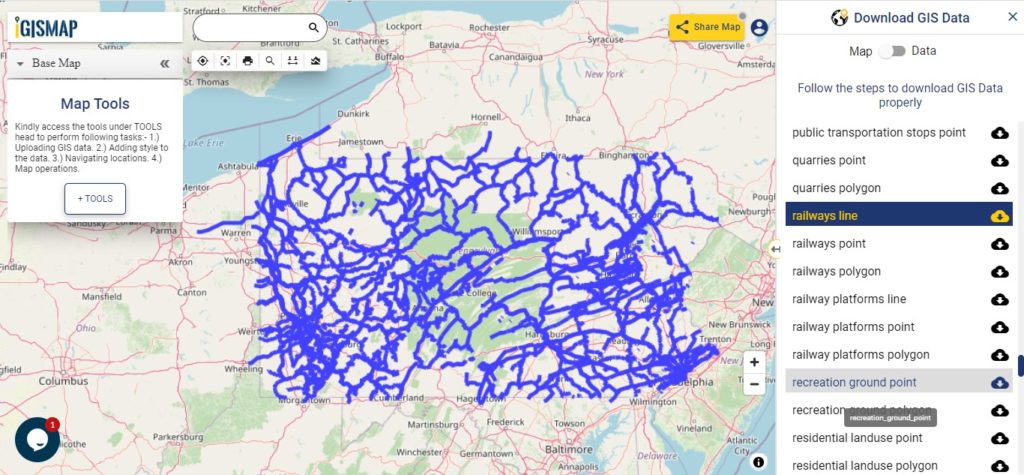 Download Pennsylvania Railway Lines Shapefile
In the above screen railways line map is shown. Likewise, you can download residential land use point, polygon, restaurants, business GIS data layers.
Download GIS Data of other states of USA