Nebraska State Gis Maps is used by planners, surveyors in visualizing and identifying the patterns that are difficult to examine when data is in table form. Here you can download state boundary, county division, rail, and highway gis map in just a few clicks. For analysing your map use the Analysis Tool.
Nebraska State GIS Maps
Nebraska is a midwestern U.S. state encompassing the prairies of the Great Plains, the towering dunes of the Sandhills and the panhandle's dramatic rock formations. Lincoln, the capital and a vibrant university town, is distinguished by its soaring state capitol. You can download GIS maps data in shapefile, kml, geojson, MapInfo, CSV, PostgreSQL, etc. In addition, if you are looking for any other gis formats then use Gis File Converter.
State Boundary Gis Data of States of United States
For state boundary gis map of Vermont click on the below link. Before download first, you need to register or login.
Download Nebraska State Outline Shapefile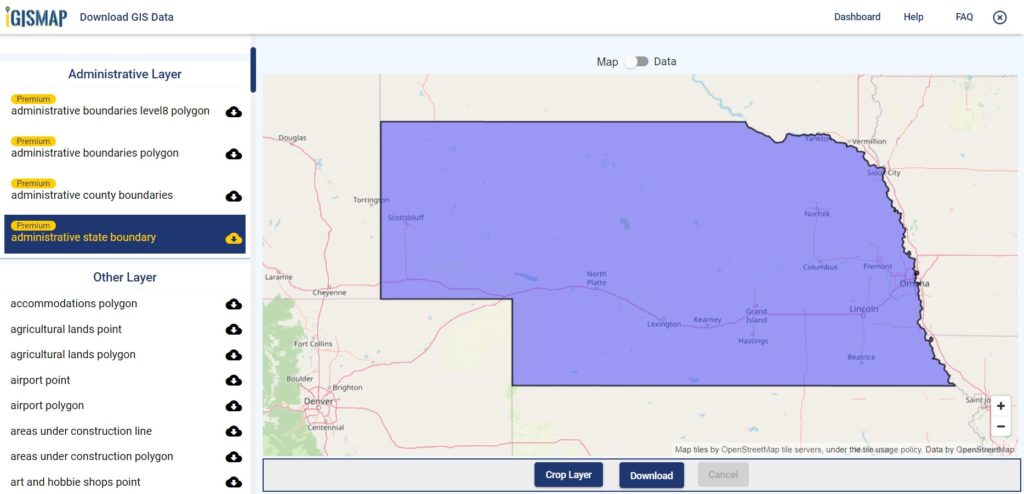 In the above screen boundary map of Nebraska state. This is the map view for the data table switch button from the map to the data. The layer name is provided on the left side of the screen. For download click on the button placed beside the map layer name. You can locate your store/ shop on a map.
Counties Division Gis data of Nebraska State
There are 93 counties in the U.S. state of Nebraska. For a polygon map click on the link given below.
Download Nebraska State County Level Shapefile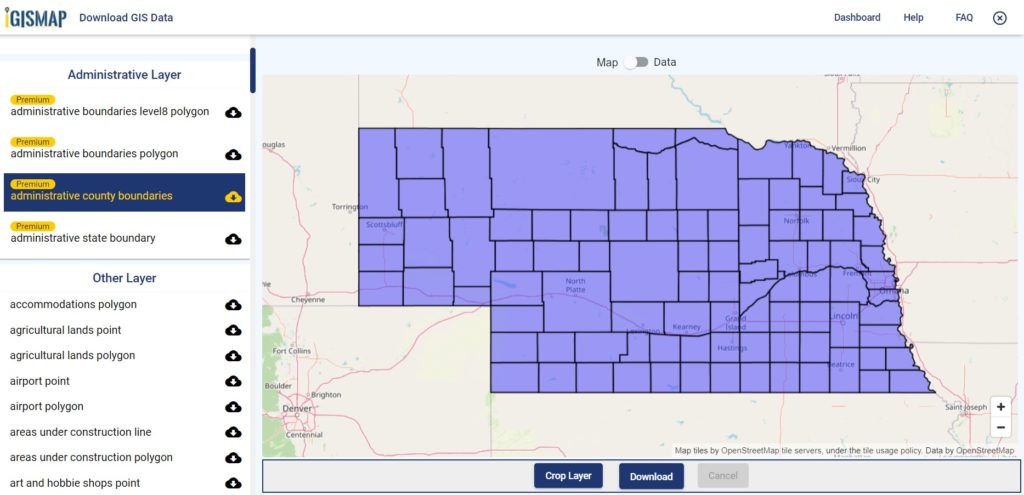 Polygon map with county division is visible on the above screen. You can easily download and upload in a tool for free and create a map from gis data. Edit, format, add attribute column and share it with your colleagues.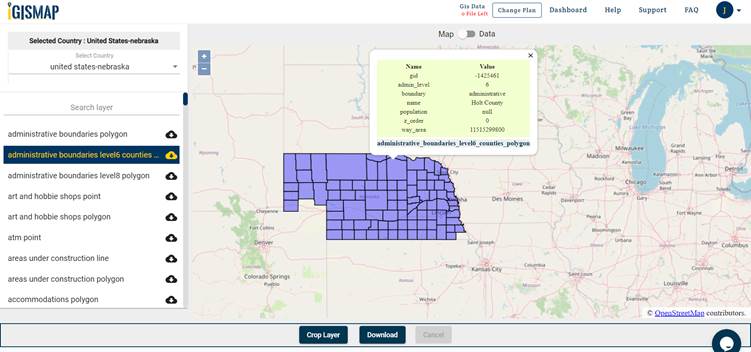 For checking information at a particular location click on the map area and the data table on a particular location will appear.
Above all Layers cover GIS data of following Counties –
Omaha
Lincoln
Bellevue
Grand Island
Kearney
Fremont
Hastings
North Platte
Norfolk
Columbus
Papillion
La Vista
Scottsbluff
South Sioux City
Beatrice
Lexington
Alliance
Gering
Blair
York
McCook
Nebraska City
Ralston
Crete
Seward
Sidney
Plattsmouth
Schuyler
Chadron
Gretna
Wayne
Holdrege
Ogallala
Wahoo
Aurora
Falls City
Cozad
Fairbury
O'Neill
Waverly
Gothenburg
Broken Bow
Auburn
West Point
Minden
Central City
David City
Valentine
Ashland
Kimball
Madison
St. Paul
Milford
Geneva
Imperial
Ord
Valley
Highway Line Gis Maps of Nebraska State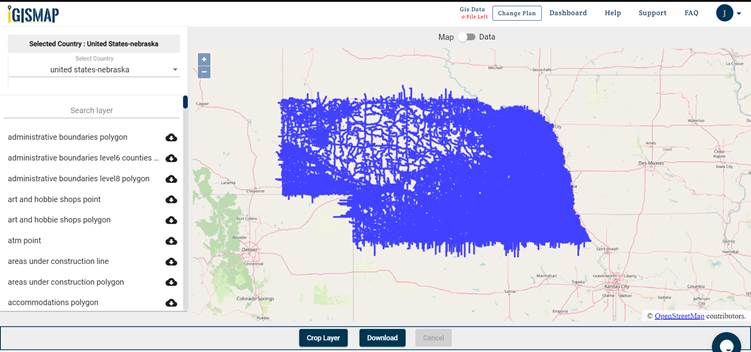 In the above map zoom in view of highway line map is shown. Similarly, you can easily download airport point, atm point, parking area, hospital location, etc.
Railways Line Gis Data of Nebraska U.S. State
For Rail Map click on the below link.
Nebraska State Railway Line shapefile
In addition to above you can also download Gis data of other countries on Igis Map Gis Data
For more specific gis data write us on support@igismap.com
Download GIS Data of other states of USA