Looking for accurate and reliable GIS data for Nauru? Look no further, as IGISMAP is here to help! We take pride in offering comprehensive GIS data specifically tailored for Nauru. Our platform provides a wide range of GIS datasets, ensuring you have access to the most precise and up-to-date information, especially regarding administrative divisions. Whether you need data on natural features like rivers or man-made features like roads, railway lines, and airport locations, we've got you covered. Accessing GIS data for Nauru is easy with our two essential tools: Download GIS Data and Add GIS Data. To learn more about the functionalities of our Add GIS Data tool, check out our informative article on adding GIS data from IGISMAP's Nauru GIS data collection.
Here are the tools you can leverage within IGISMAP
We offer an extensive array of data formats, including KML, SHP, CSV, GeoJSON, Tab, SQL, Tiff, GML, KMZ, GPKZ, SQLITE, Dxf, MIF, TOPOJSON, XLSX, GPX, ODS, MID, and GPS, ensuring compatibility and accessibility for various applications and analyses.
Note:
All data available are in GCS datum EPSG:4326 WGS84 CRS (Coordinate Reference System).
You need to login for downloading the shapefile.
Download Shapefile Data of Nauru
Nauru, officially the Republic of Nauru, is a diminutive island country situated in the Central Pacific Ocean, within Micronesia, Oceania. It was once known as Pleasant Island during the colonial era. Nauru's closest neighbor is Banaba Island in Kiribati, located approximately 300 kilometers (190 miles) to the east. This microstate is positioned northwest of Tuvalu, 1,300 kilometers (810 miles) northeast of the Solomon Islands, east-northeast of Papua New Guinea, southeast of the Federated States of Micronesia, and south of the Marshall Islands.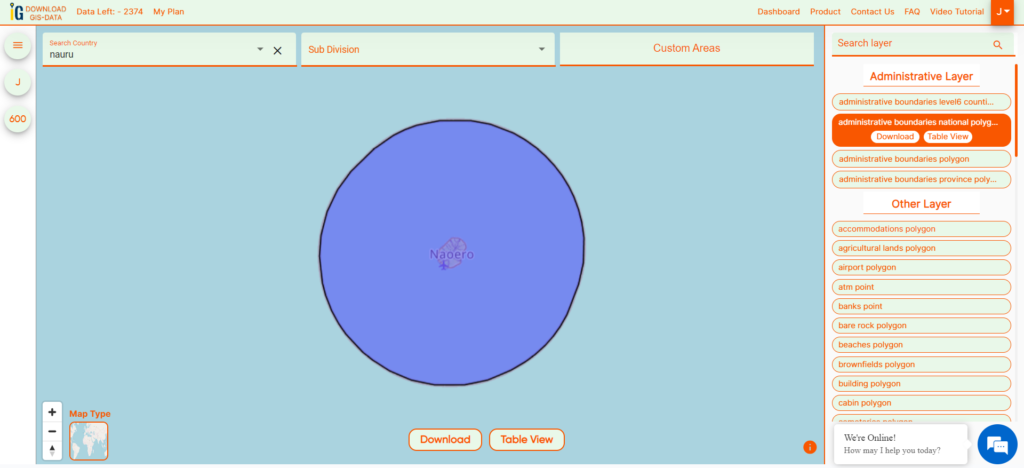 Download Nauru National Boundary Shapefile
After successfully logging in with a legitimate email address, select the country you want to work with. Next, choose the specific layer you need and click on the download option. Once that's done, pick the desired format to acquire the essential GIS data. Before proceeding with the data download, make sure to review the data table for any relevant information.
Download Nauru Districts Shapefile Data
Nauru is divided into 14 districts, each of which is further subdivided into smaller villages and communities. Here are the 14 districts of Nauru:
Aiwo
Anabar
Anetan
Anibare
Baiti
Boe
Buada
Denigomodu
Ewa
Ijuw
Meneng
Nibok
Uaboe
Yaren (Yaren is also the capital district and hosts the national government)
These districts are used for administrative and electoral purposes within the country. Each district elects representatives to the Parliament of Nauru, and they play a role in local governance as well.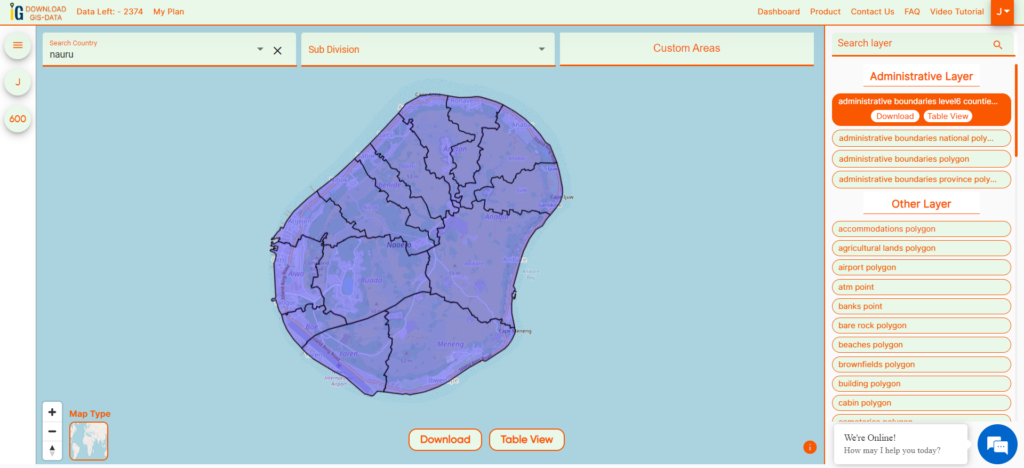 Download Nauru District Shapefile
Download Nauru Constituencies Shapefile Data
Nauru had 8 electoral constituencies. These constituencies are used for the country's parliamentary elections, and each constituency elects members to the Parliament of Nauru. Here are the 8 electoral constituencies in Nauru:
Aiwo
Anabar
Anetan
Boe
Buada
Meneng
Ubenide
Yaren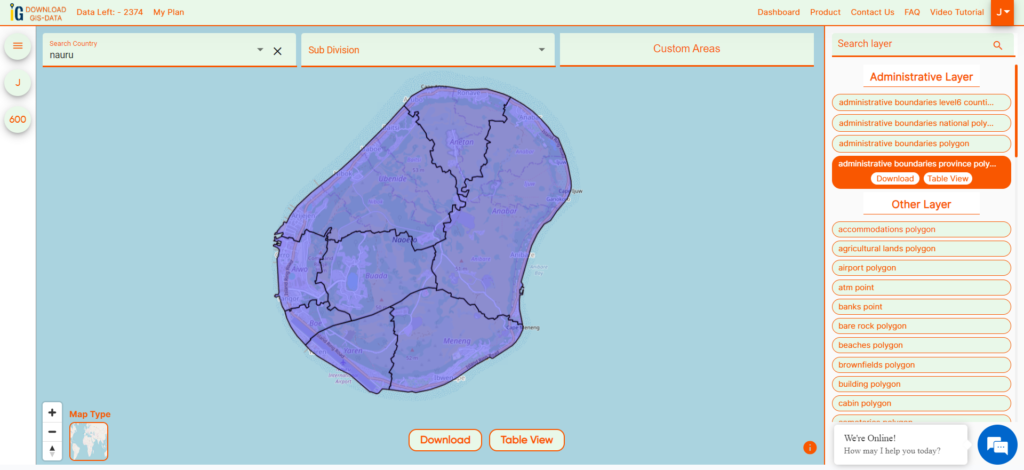 Download Nauru constituencies Shapefile
Other Administrative Boundary Data:
Other GIS Data:
Above all links are provided for GIS data of Nauru if you are looking for any specific data please write us on support@igismap.com
Download Shapefile for the following:
Disclaimer : If you find any shapefile data of country provided is incorrect do contact us or comment below, so that we will correct the same in our system as well we will try to correct the same in openstreetmap.