GIS Data and Maps of Montana State is used by planners and surveyors for visualizing and identifying the patterns that are difficult to examine when data is in table form. Here you can download the GIS data of the state boundary, county division, rail and highway maps in just a few clicks. You can use these data for analysis in IGISMAP itself or download them in any suitable GIS format. You can download these data in KML, GeoJSON, CSV or Shapefile formats and You can upload your data on an analysis tool for study & research.
Share your map with other public, private or protected ways. Apply query (search) tool on GIS maps and make your analysis easy.
Note:
All data available are in GCS datum EPSG:4326 WGS84 CRS (Coordinate Reference System).
You need to login for downloading the shapefile.
Download Free Shapefile Data of Montana State.
Montana is the northwestern state of the United States. Moreover, for other GIS formats use GIS File Converter.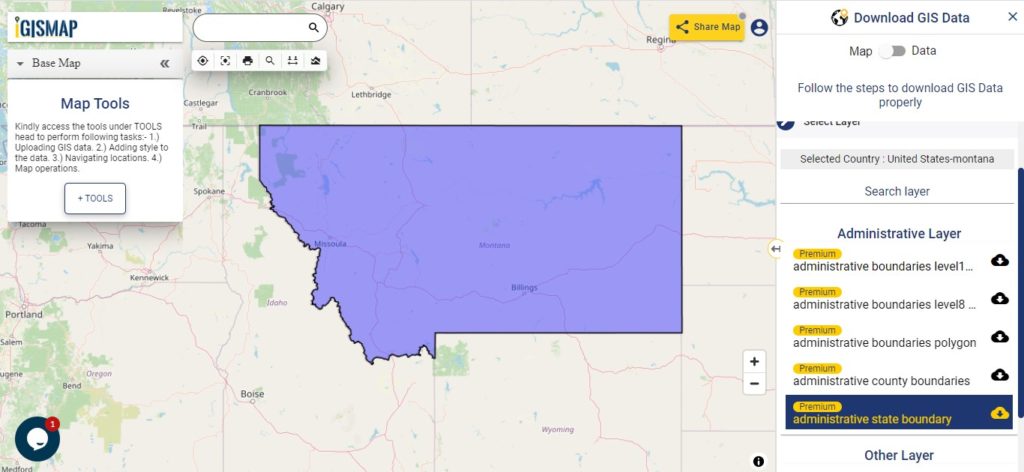 Download Montana State Outline Boundary Shapefile
In the above screen, Montana state gis maps are shown. The layer list is provided on the right side of the screen. For the data table toggle button from Map to Data. For download click on the button placed beside the layer name. A modal will appear to select the gis format in which you want your output file.
Dwonload Montana County Shapefile Data
There are 56 counties in Montana state.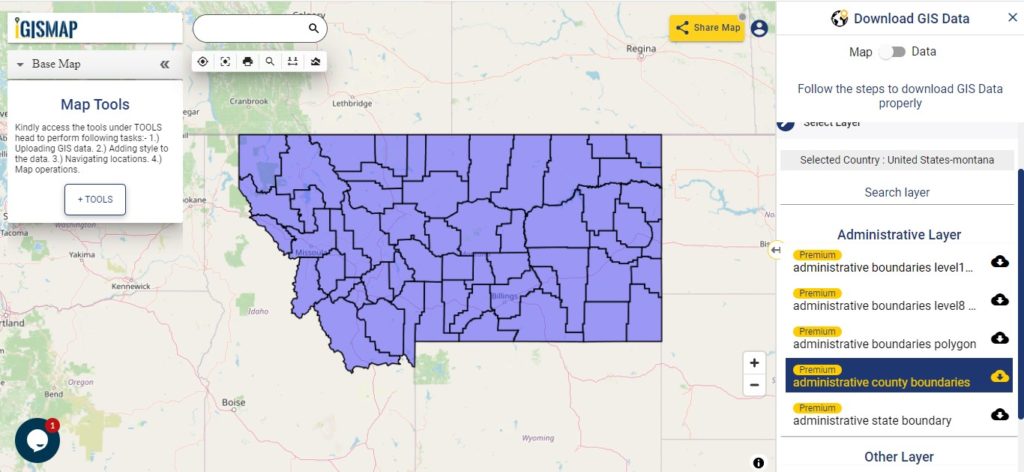 Download Montana County Boundary Shapefile
Polygon map with county division is visible on the above screen. You can easily download and upload in a tool for free and create a map from GIS data. Edit, format, add attribute column and share it with your colleagues.
Montana State data covers following GIS data of Counties
Beaverhead
Big Horn
Blaine
Broadwater
Carbon
Carter
Cascade
Chouteau
Custer
Daniels
Dawson
Deer Lodge
Fallon
Fergus
Flathead
Gallatin
Garfield
Glacier
Golden Valley
Granite
Hill
Jefferson
Judith Basin
Lake
Lewis And Clark
Liberty
Lincoln
Madison
McCone
Meagher
Mineral
Missoula
Musselshell
Park
Petroleum
Phillips
Pondera
Powder River
Powell
Prairie
Ravalli
Richland
Roosevelt
Rosebud
Sanders
Sheridan
Silver Bow
Stillwater
Sweet Grass
Teton
Toole
Treasure
Valley
Wheatland
Wibaux
Yellowstone
Highway Line GIS data of Montana State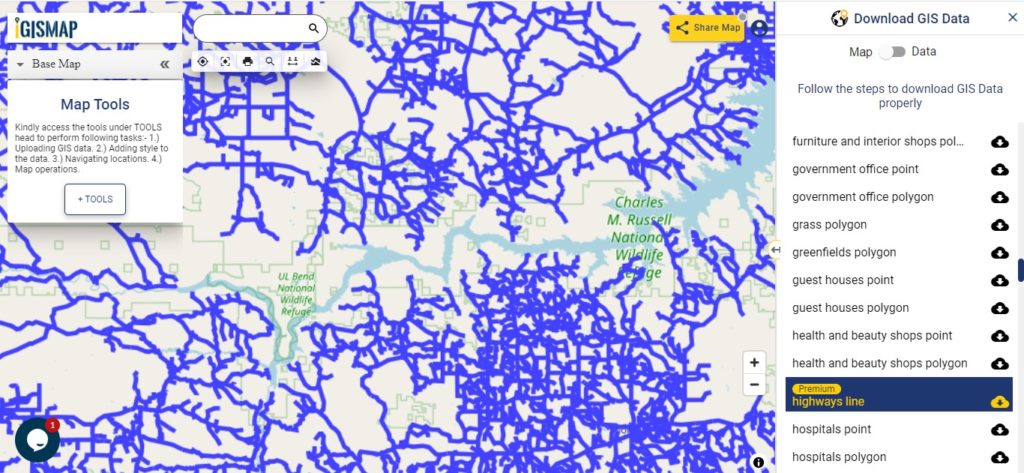 Download Montana Highway Line Shapefile
Zoom in view of highway line map is shown shown above. Similarly, you can easily download point based GIS data of airport point, ATM point, parking area, hospital location, etc..
Montana State Railway Line GIS Data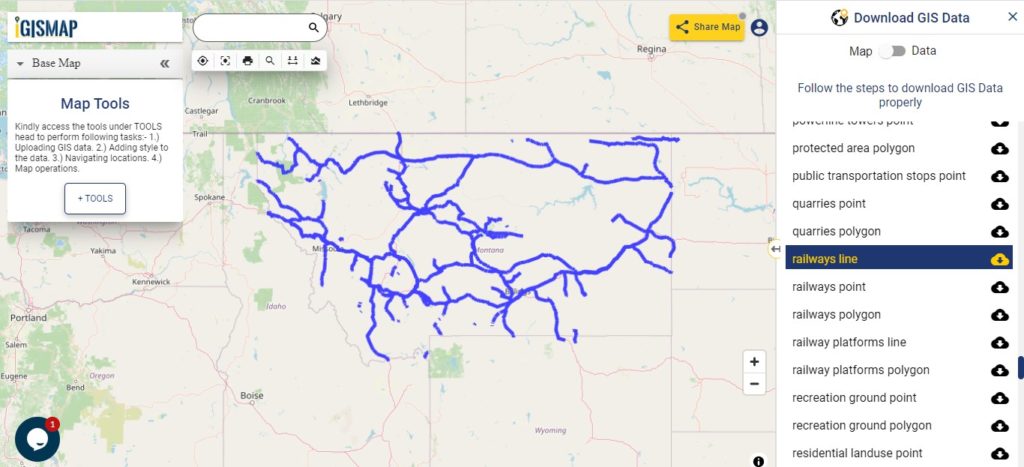 Download Montana State Railway Line Shapefile
In the above screen railways line map is shown. Likewise, you can download residential land use point, polygon, restaurants, business GIS data layers.
Download GIS Data of other states of the USA:
Disclaimer : If you find any shapefile data of country provided is in correct do contact us or comment below, so that we will correct the same in our system.