GIS Data and Maps of Missouri State is used by planners and surveyors for visualizing and identifying the patterns that are difficult to examine when data is in table form. Here you can download the GIS data of the state boundary, county division, rail and highway maps in just a few clicks. You can use these data for analysis in IGISMAP itself or download them in any suitable GIS format. You can download these data in KML, GeoJSON, CSV or Shapefile formats.
Note:
All data available are in GCS datum EPSG:4326 WGS84 CRS (Coordinate Reference System).
You need to login for downloading the shapefile.
Download Free Shapefile Data of Missouri State
Missouri is the state in the Midwestern region of the United States. Jefferson city is the capital city of the state.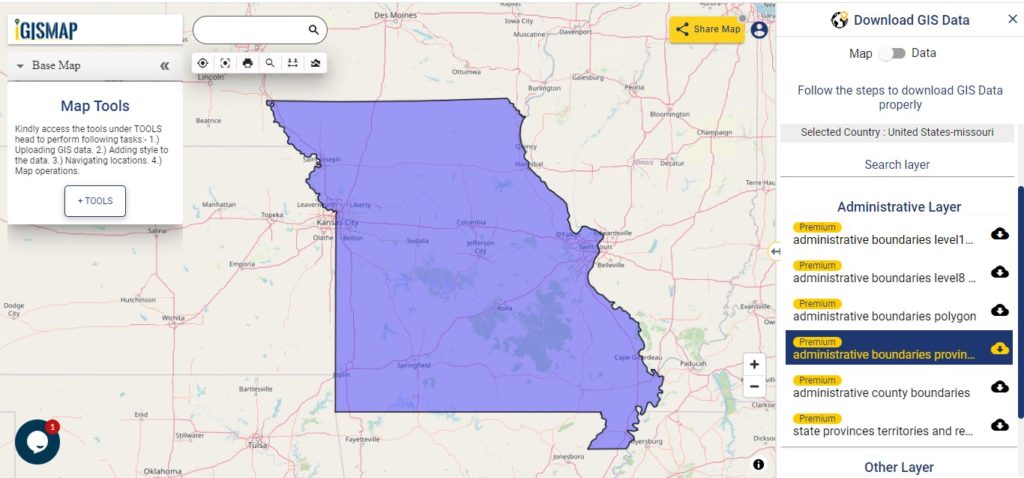 Download Missouri State Outline Boundary Shapefile
In the above screen, you can see the state boundary map of Missouri. Please make sure to check the data table by toggling Map to Data before download. Click on the button shown near the layer name. A modal will appear to select the desired GIS format. Similarly, you can also download other GIS layers too for example – administrative boundary levels 8 & 10, atm points, areas under construction, etc.
Missouri County Division GIS Maps
Missouri State is divided into 114 counties.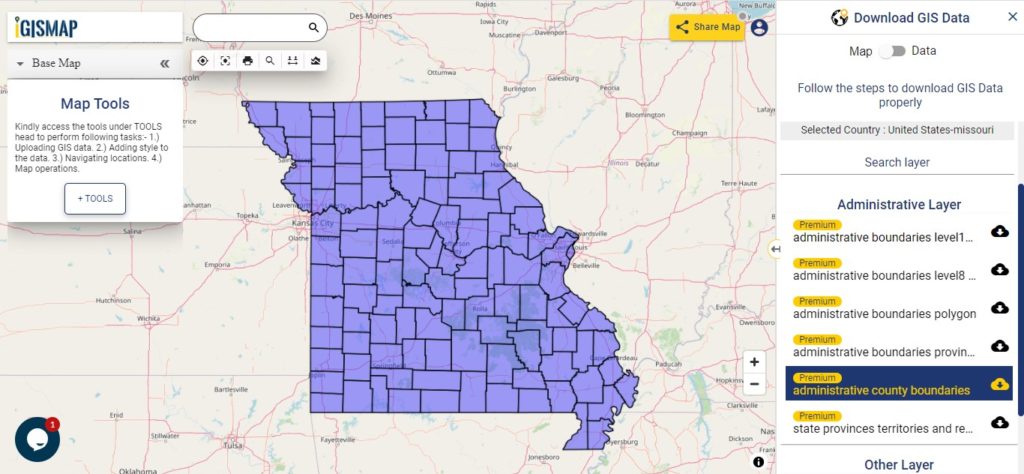 Download Missouri County Boundary Shapefile
Polygon map with county division is visible on the above screen. You can easily download and upload in a tool for free and create a map from GIS data. Edit, format, add attribute column and share it with your colleagues.
Above all, data covers following Counties –
Adair
Andrew
Atchison
Audrain
Barry
Barton
Bates
Benton
Bollinger
Boone
Buchanan
Butler
Caldwell
Callaway
Camden
Cape Girardeau
Carroll
Carter
Cass
Cedar
Chariton
Christian
Clark
Clay
Clinton
Cole
Cooper
Crawford
Dade
Dallas
Daviess
De Kalb
Dent
Douglas
Dunklin
Franklin
Gasconade
Gentry
Greene
Grundy
Harrison
Henry
Hickory
Holt
Howard
Howell
Iron
Jackson
Jasper
Jefferson
Johnson
Knox
Laclede
Lafayette
Lawrence
Lewis
Lincoln
Linn
Livingston
Macon
Madison
Maries
Marion
McDonald
Mercer
Miller
Mississippi
Moniteau
Monroe
Montgomery
Morgan
New Madrid
Newton
Nodaway
Oregon
Osage
Ozark
Pemiscot
Perry
Pettis
Phelps
Pike
Platte
Polk
Pulaski
Putnam
Ralls
Randolph
Ray
Reynolds
Ripley
St. Charles
St. Clair
Ste. Genevieve
St. Francois
St. Louis
St. Louis City
Saline
Schuyler
Scotland
Scott
Shannon
Shelby
Stoddard
Stone
Sullivan
Taney
Texas
Vernon
Warren
Washington
Wayne
Webster
Worth
Wright
Highway line GIS Data of Missouri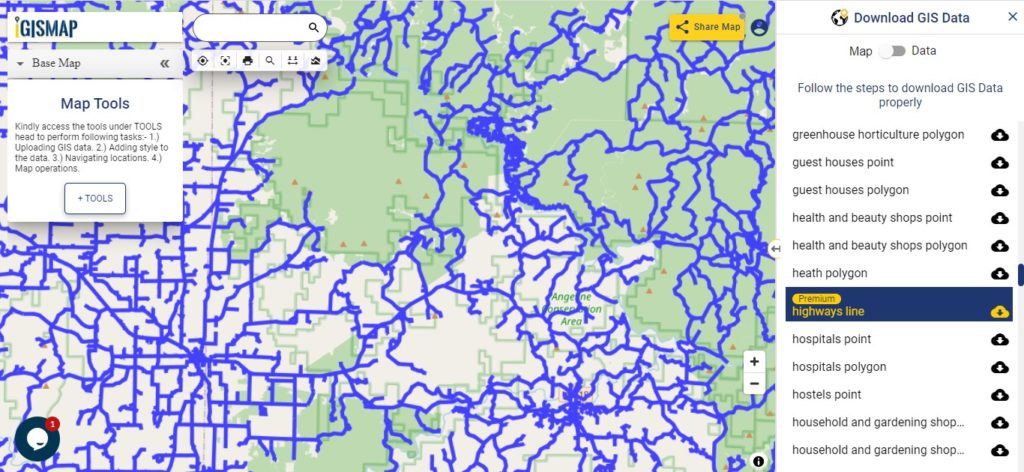 Download Missouri Highway Line Shapefile
Zoom in view of highway line map is shown shown above. Similarly, you can easily download point based GIS data of airport point, ATM point, parking area, hospital location, etc.
Missouri State Railway Line GIS Data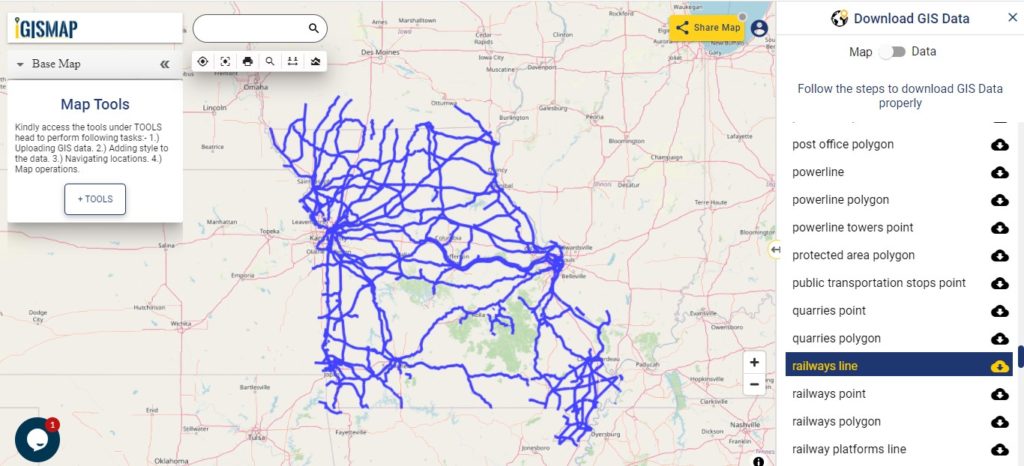 Download Missouri Railway Line Shapefile
Railway line map is shown in the above gis data screen. In addition to this you can download residential, retail, river, road line map.
Download GIS Data of other states of the USA:
Disclaimer : If you find any shapefile data of country provided is in correct do contact us or comment below, so that we will correct the same in our system.