It's fantastic to hear that IGISMAP has expanded its GIS data collection to include data for more than 100 new countries, bringing the total coverage to over 150 countries. This is undoubtedly a valuable resource for GIS enthusiasts and professionals around the world. The availability of detailed information on administrative divisions, rivers, roads, and airports can greatly enhance various geospatial projects and analyses.
The option to access the data through tools like "Download GIS Data" and "Add GIS Data" seems convenient and user-friendly. Providing data in different formats such as Shapefile, KML, GeoJSON, and CSV ensures compatibility with a wide range of GIS software and applications, making it easier for users to integrate the data into their workflows.
This article will walk you through downloading administrative-level GIS data for Macedonia using the Download GIS Data tool. Experience a seamless geospatial journey with IGISMAP as your trusted partner!
Note:
All data available are in GCS datum EPSG:4326 WGS84 CRS (Coordinate Reference System).
You need to login for downloading the shapefile.
Download Shapefile Data of Macedonia
North Macedonia is a country situated in southeastern Europe with geographic coordinates 41°50′N 22°00′E, bordering Kosovo and Serbia to the north, Bulgaria to the east, Greece to the south and Albania to the west. The country is part of the wider region of Macedonia and makes up most of Vardar Macedonia. The country is a major transportation corridor from Western and Central Europe to Southern Europe and the Aegean Sea. North Macedonia is a landlocked country but has three major natural lakes: Lake Ohrid, Lake Prespa and Lake Dojran. It has a water area of 857 km2, while its land area is 24,856 km2.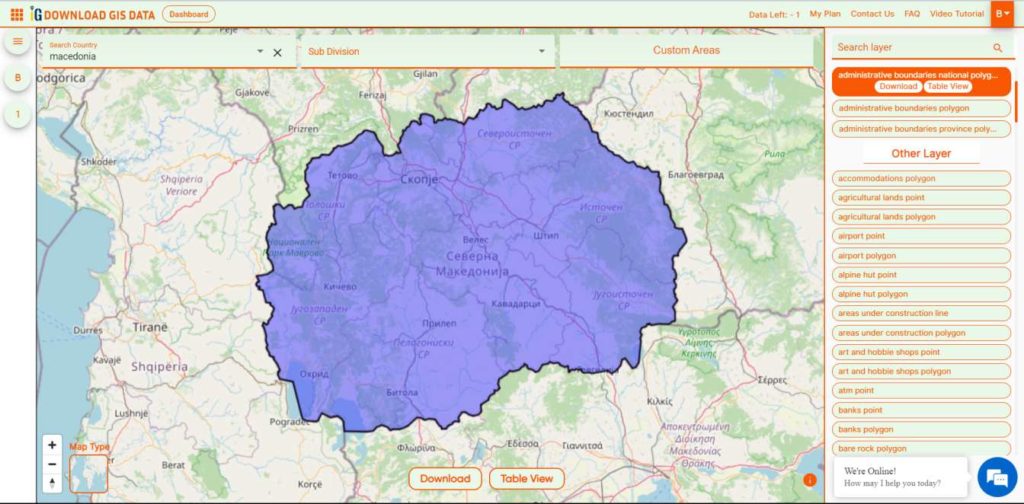 Download Macedonia National Boundary Shapefile
Download Macedonia Regions Shapefile Data
 Macedonia is divided into 8 regions.
Eastern
Northeastern
Pelagonia
Polog
Skopje
Southeastern
Southwestern
Vardar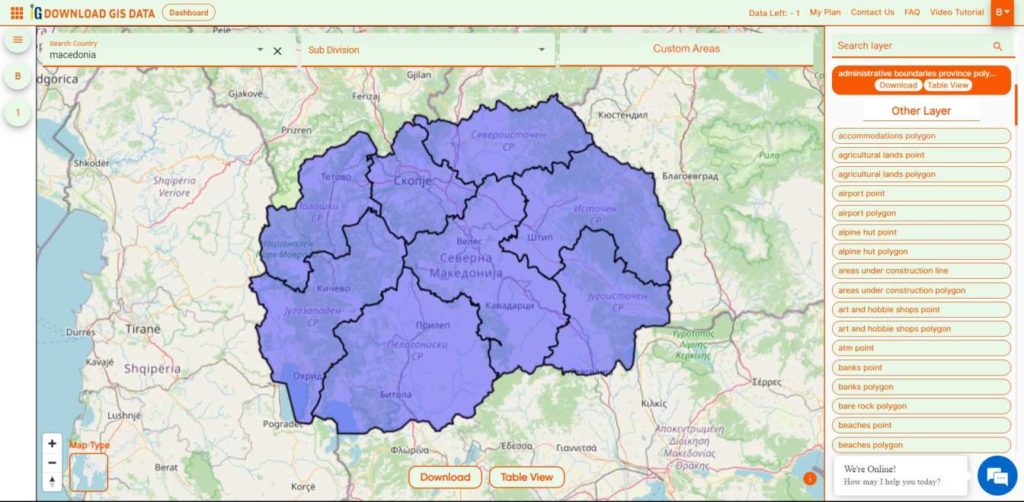 Download Macedonia Regions Boundaries Shapefile
Download Macedonia Villages Shapefile Data
There are Total 1725 Villages in Macedonia.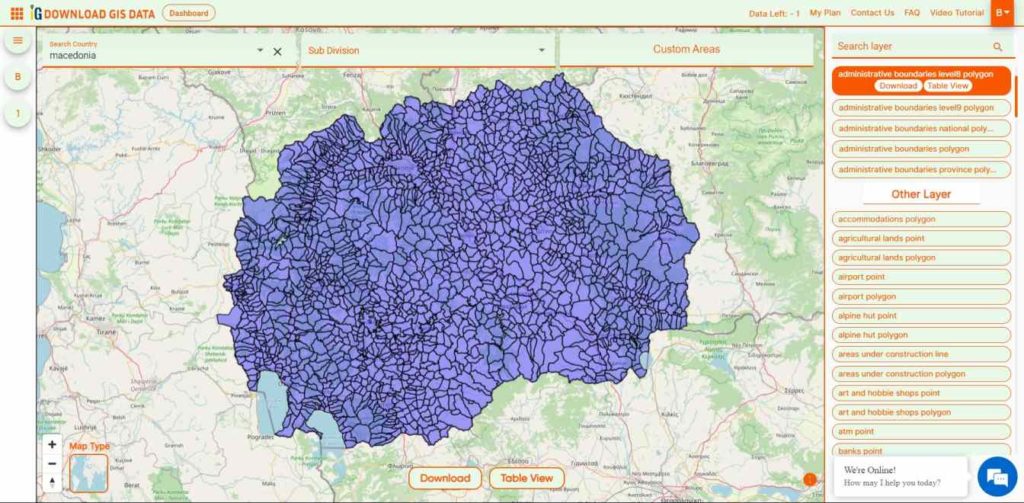 Download Macedonia Villages Boundaries Shapefile
Other GIS Data:
Download Free Shapefile for the following:
Disclaimer : If you find any shapefile data of country provided is incorrect do contact us or comment below, so that we will correct the same in our system as well we will try to correct the same in OpenStreetMap.