GIS Data and Maps of Louisiana State is used by planners and surveyors for visualizing and identifying the patterns that are difficult to examine when data is in table form. Here you can download the GIS data of the state boundary, county division, rail and highway maps in just a few clicks. You can use these data for analysis in IGISMAP itself or download them in any suitable GIS format. You can download these data in KML, GeoJSON, CSV or Shapefile formats.
Note:
All data available are in GCS datum EPSG:4326 WGS84 CRS (Coordinate Reference System).
You need to login for downloading the shapefile.
Download Free Shapefile Data of Louisiana State
Louisiana State is the Southeastern state of the United States. Baton Rouge is the capital city of the state.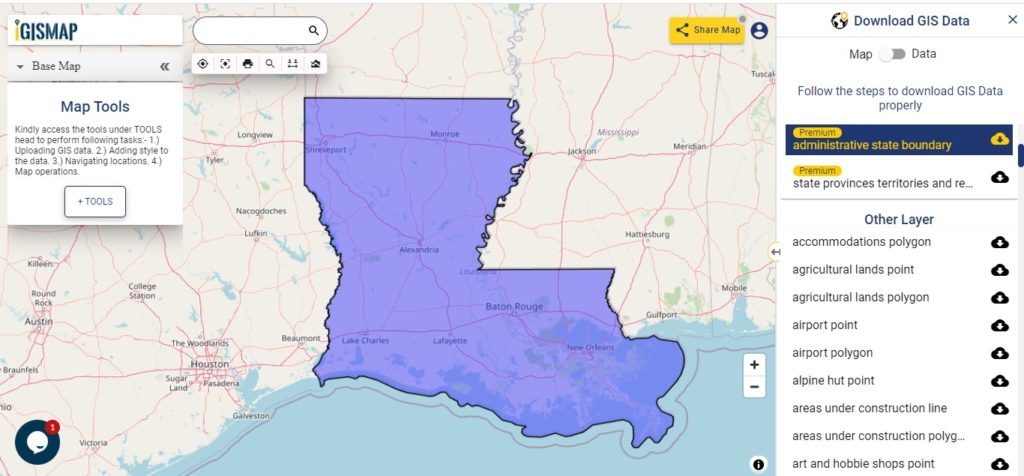 Download Louisiana State Outline Boundary Shapefile
In the above screen, the administrative boundary map is shown. Before download view the data table by switching button from Map to Data (shown on the above screen with arrow). Click on the button placed beside the layer name. A modal will appear, select the gis format i.e. Shapefile, Kml, CSV, GeoJSON, Mapinfo, PostgreSQL, etc. Further, if you want your GIS data in another GIS formats use Gis File Converter.
Download Louisiana Counties GIS Data
The U.S. state Louisiana is divided into 64 Parishes.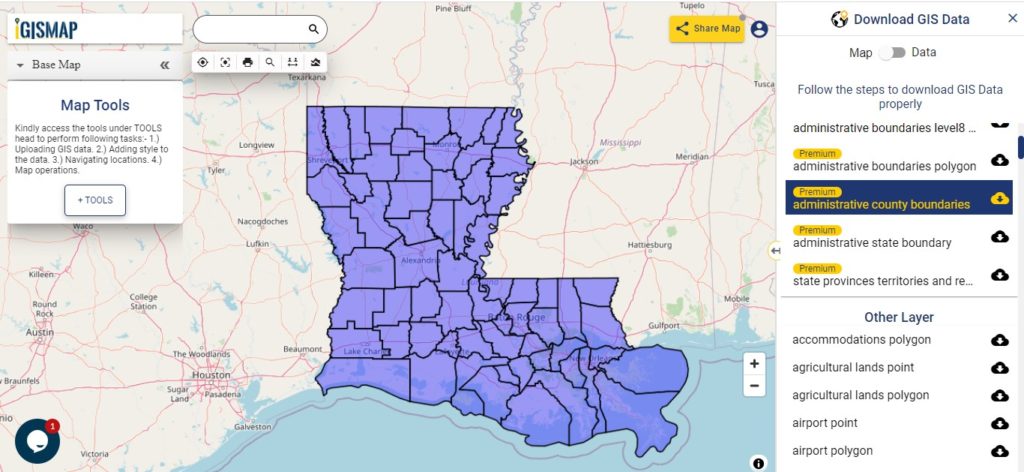 Download Louisiana County Boundary Shapefile
A state map with divisions is shown on the above screen. You can change color, add an attribute column, add a legend for a more understandable view use the Analysis Tool.
This GIS Map covers following parishes (Counties)-
Acadia
Allen
Ascension
Assumption
Avoyelles
Beauregard
Bienville
Bossier
Caddo
Calcasieu
Caldwell
Cameron
Catahoula
Claiborne
Concordia
De Soto
East Baton Rouge
Parish East Carroll
East Feliciana
Evangeline
Franklin
Grant
Iberia
Iberville
Jackson
Jefferson
Jefferson Davis
La Salle
Lafayette
Lafourche
Lincoln
Livingston
Madison
Morehouse
Natchitoches
Orleans
Ouachita
Plaquemines
Pointe Coupee
Rapides
Red River
Richland
Sabine
St. Bernard
St. Charles
St. Helena
St. James
St. John The Baptist
St. Landry
St. Martin
St. Mary
St. Tammany
Tangipahoa
Tensas
Terrebonne
Union
Vermilion
Vernon
Washington
Webster
West Baton Rouge
The West Carroll
West Feliciana
Winn
Highway Line GIS data of Louisiana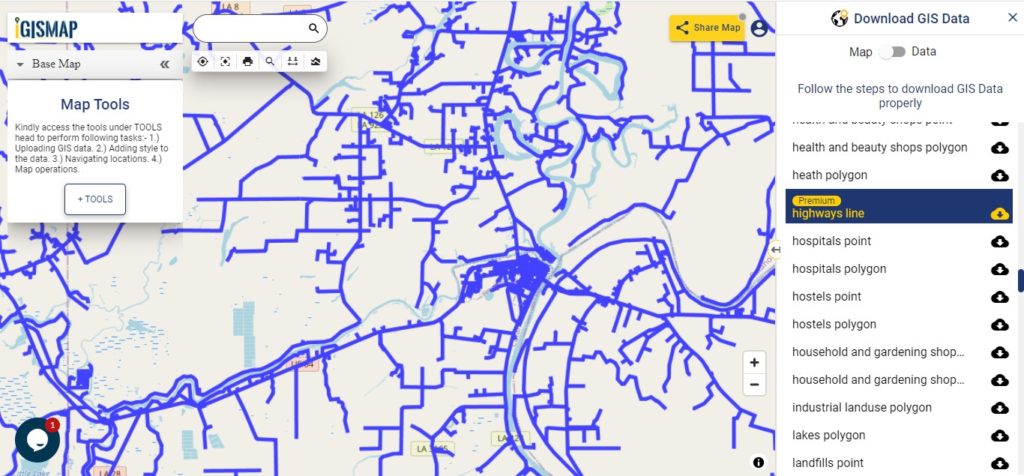 Download Louisiana Highway Line Shapefile
Zoom in view of highway line map is shown shown above. Similarly, you can easily download point based GIS data of airport point, ATM point, parking area, hospital location, etc.
Railways Line Map of Louisiana State
Louisiana state Railways Gis data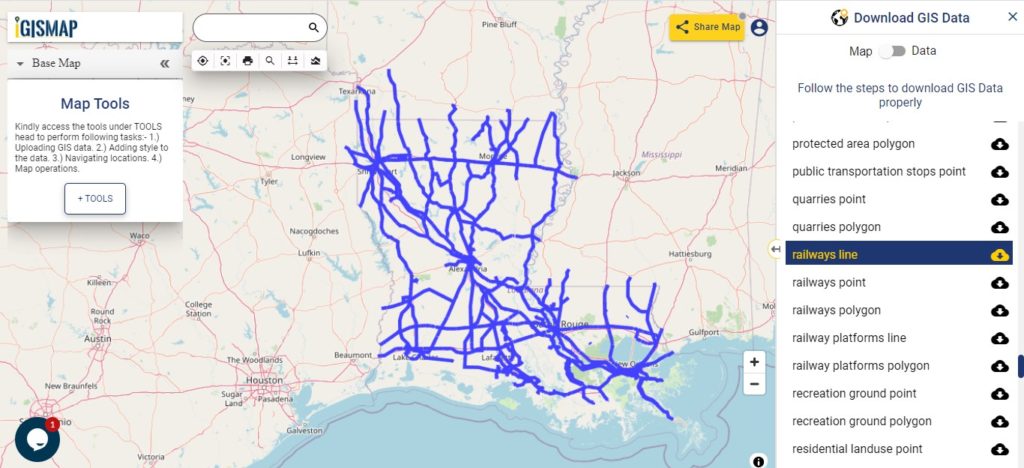 Download Louisiana Railway Line Shapefile
Railway line map of Kentucky state is shown in ab0ve screen. In addition, to railway line you are able to download residential land point, polygon, restaurant GIS location layer.
Download GIS Data of other states of USA:
Disclaimer : If you find any shapefile data of country provided is in correct do contact us or comment below, so that we will correct the same in our system.