Kentucky State Gis Map data is helpful in many studies and decision making. Visible maps are more understandable than a stack of numbers column. Here you can download Gis data in shapefile, kml, CSV, Geojson, Mapinfo, PostgreSQL. In addition to the Gis formats given in the drop-down list, you can also convert using Gis File Converter Tool in required format.
Kentucky State Gis Data
Kentucky State is a U.S. state in the southern region. Frankfort is the capital city of Kentucky. Download state boundary, county, rail, highway gis maps in just a few clicks. Before download first, you need to log in or register.
Kentucky State Boundary Shapefile
Click on the link provided below. Similarly, other gis data layers are also available for example – administrative boundaries level 8, level 10 polygon layer, art & hobby shops point, polygon, atm point, areas under construction line, etc.
Download Kentucky State Outline Shapefile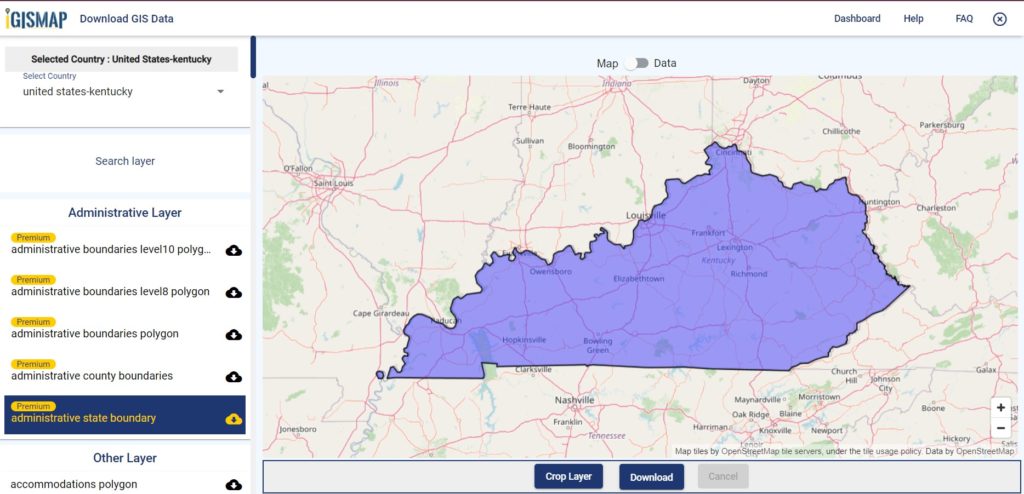 In the above screen, the Kentucky Gis map is shown. Before download makes sure to check the data table of the map by switching from Map to data. (Shown in the screen above) For download tap on the button located near the layer name. A modal will appear to select the gis format in which you want your gis data.
Counties division GIS Map of Kentucky state
There are 79 (seventy – nine ) counties in the Kentucky State of United States. For county division gis map click on below link.
Download Kentucky State County Level Shapefile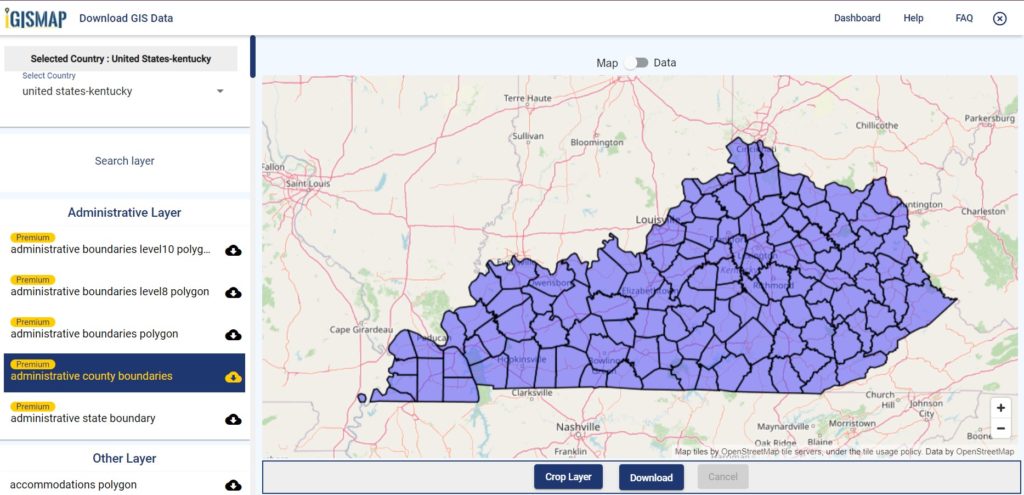 You can view a polygon map of the Kentucky State. You can also add an attribute column if you want, then use the analysis tool. Create your custom map and share it with others.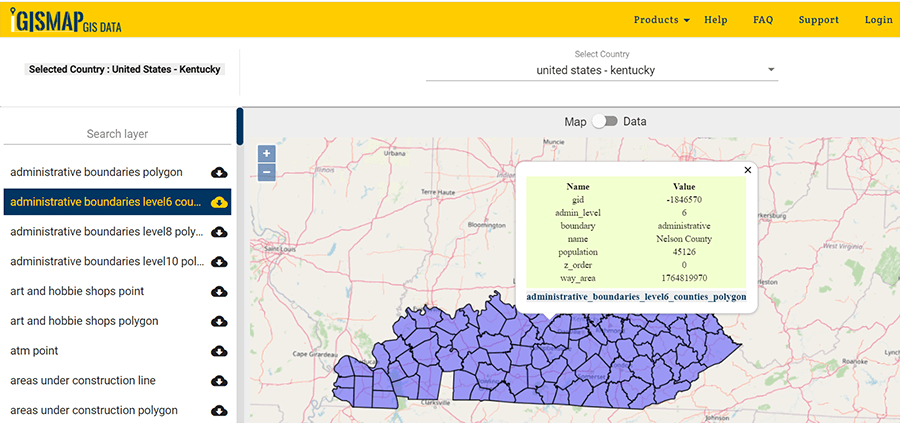 For viewing information at a particular location click on that area. The above screen shows the same, data table related to that area.
The Gis map covers information about following counties of Kentucky.
Adair
Allen
Anderson
Ballard
Barren
Bath
Bell
Boone
Bourbon
Boyd
Boyle
Bracken
Breathitt
Breckinridge
Bullitt
Butler
Caldwell
Calloway
Campbell
Carlisle
Carroll
Carter
Casey
Christian
Clark
Clay
Clinton
Crittenden
Cumberland
Daviess
Edmonson
Elliott
Estill
Fayette
Fleming
Floyd
Franklin
Fulton
Gallatin
Garrard
Grant
Graves
Grayson
Green
Greenup
Hancock
Hardin
Harlan
Harrison
Hart
Henderson
Henry
Hickman
Hopkins
Jackson
Jefferson
Jessamine
Johnson
Kenton
Knott
Knox
Larue
Laurel
Lawrence
Lee
Leslie
Letcher
Lewis
Lincoln
Livingston
Logan
Lyon
McCracken
McCreary
McLean
Madison
Magoffin
Marion
Marshall
Martin
Mason
Meade
Menifee
Mercer
Metcalfe
Monroe
Montgomery
Morgan
Muhlenberg
Nelson
Nicholas
Ohio
Oldham
Owen
Owsley
Pendleton
Perry
Pike
Powell
Pulaski
Robertson
Rockcastle
Rowan
Russell
Scott
Shelby
Simpson
Spencer
Taylor
Todd
Trigg
Trimble
Union
Warren
Washington
Wayne
Webster
Whitley
Wolfe
Woodford
Highway Line GIS Maps of Kentucky State
Download Kentucky State Highway line map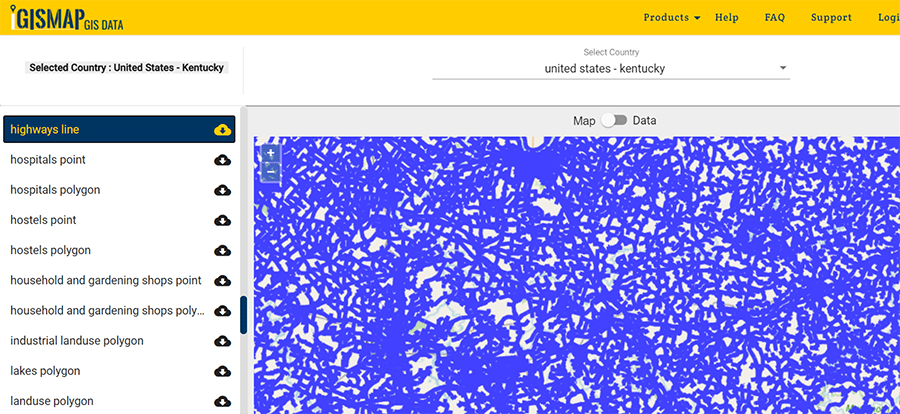 In the above screen zoom in view is visible on the screen. Likewise other gis layers can be downloaded through this link.
Kentucky State Railways Line Gis data
Download Railway line map of Kentucky State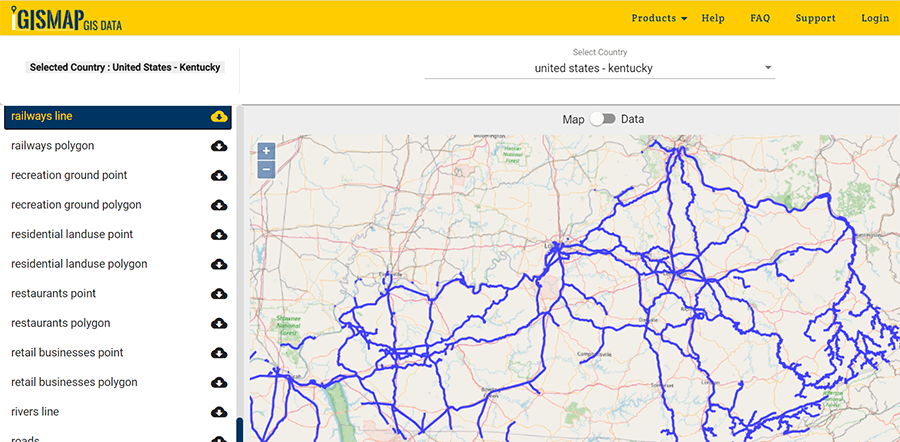 Railway Line gis map of the U.S. State Kentucky is shown on above screen.
Download GIS Data of other states of USA