Download Indiana Counties GIS data – shapefile, kml, geojson, mapinfo, postgreSQL, csv, etc. Nowadays a GIS plays an important role in the research and development of infrastructure of the countries, states, and cities. Try for a free analysis & share tool, create your customized map.
Download Indiana Counties GIS data
Indiana state is the 38th largest state of the United States by area. Indianapolis is the capital city of the state. Here in this blog, you can easily download the Gis data of Indiana State. You need to register first before downloading the maps.
Indiana Administrative Boundary Shapefile
Click on the link below for administrative boundary of the state.
Download Indiana State Outline Shapefile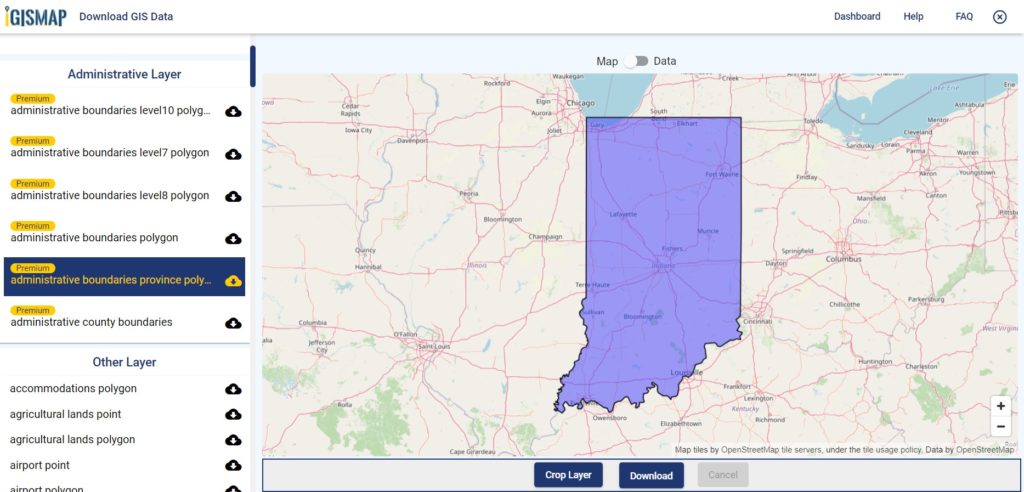 In the above screen, you can see the map of Indiana. Check the data table before downloading the maps. For data toggle switch from Map to Data. The layer list is on the left side of the screen. Select the one which you want to download click on the button beside the layer name. A modal will appear to choose the appropriate gis format as per requirement. For any specific gis formats (vector or raster ) use Gis Converter.
Download GIS data Counties of Indiana
Indiana State is divided into 92 counties. Click on the link for polygon shapefile of Indiana.
Download Indiana County Level Shapefile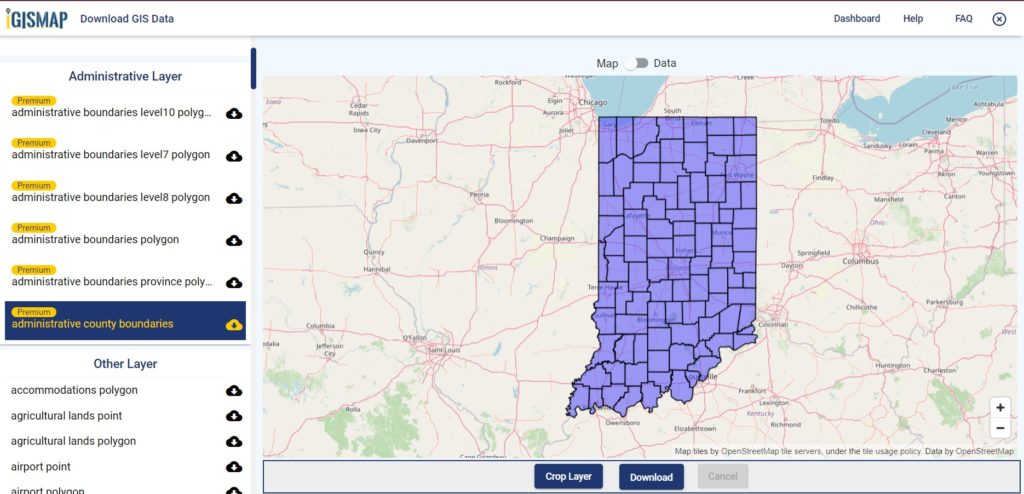 In the above screen polygon map of Indiana state is shown. You can make it more interactive using the Analysis tool. In addition to, formatting you change the style, label, legends.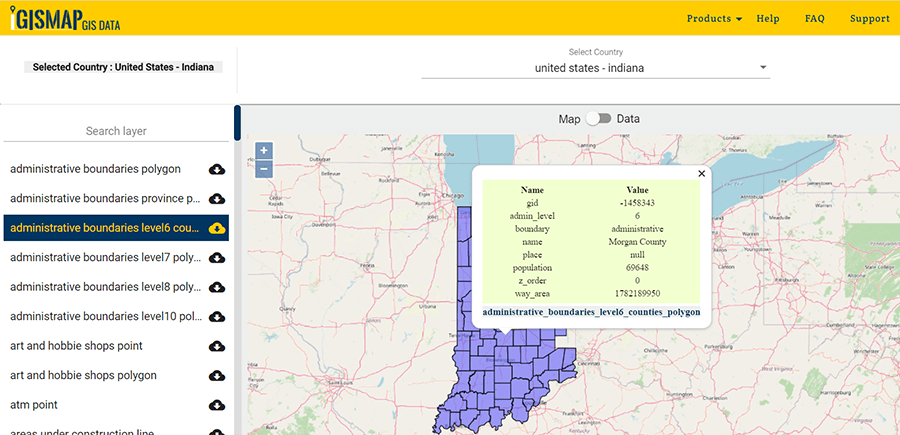 For viewing information regarding any specific location click on the map area for data. You can also add attributes in the data table and customized your map and share map with others.
Above gis data covers following counties –
Adams
Allen
Bartholomew
Benton
Blackford
Boone
Brown
Carroll
Cass
Clark
Clay
Clinton
Crawford
Daviess
Dearborn
Decatur
De Kalb
Delaware
Dubois
Elkhart
Fayette
Floyd
Fountain
Franklin
Fulton
Gibson
Grant
Greene
Hamilton
Hancock
Harrison
Hendricks
Henry
Howard
Huntington
Jackson
Jasper
Jay
Jefferson
Jennings
Johnson
Knox
Kosciusko
La Porte
Lagrange
Lake
Lawrence
Madison
Marion
Marshall
Martin
Miami
Monroe
Montgomery
Morgan
Newton
Noble
Ohio
Orange
Owen
Parke
Perry
Pike
Porter
Posey
Pulaski
Putnam
Randolph
Ripley
Rush
St. Joseph
Scott
Shelby
Spencer
Starke
Steuben
Sullivan
Switzerland
Tippecanoe
Tipton
Union
Vanderburgh
Vermillion
Vigo
Wabash
Warren
Warrick
Washington
Wayne
Wells
White
Whitley
Indiana Highway line Shapefile
Download Indiana Highway Line GIS data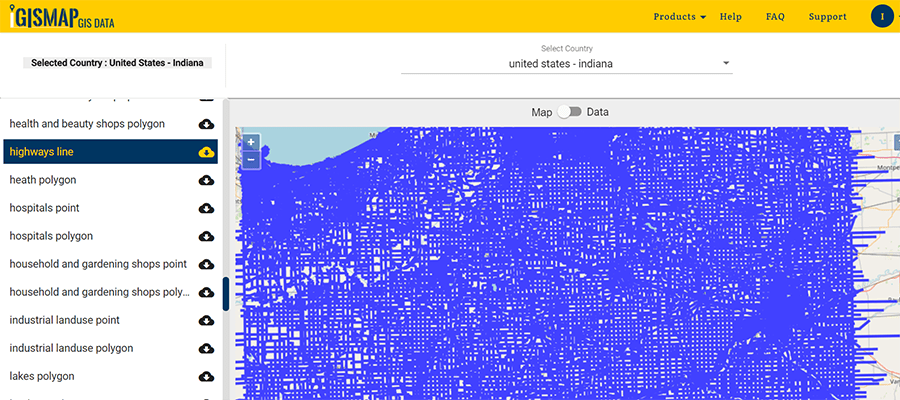 For more clear map zoom in. With highway line map you can also download hospital, household, industrial land use data.
Railways Line Gis data of Indiana
Download Railways Line shapefile of Indiana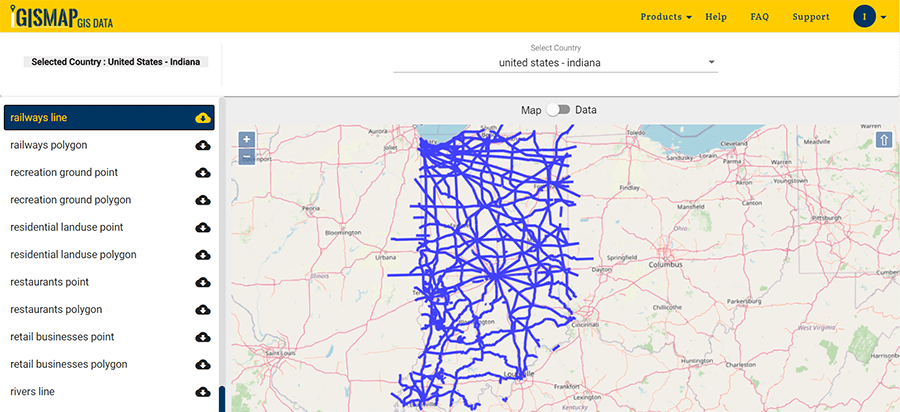 Along with railways line map, you can also check rivers line, water canal data.
Download GIS Data of other states of USA