Navigating Afghanistan's GIS data landscape is a breeze with IGISMAP. Immerse yourself in a diverse repository of over 150 datasets meticulously outlining administrative divisions and key geographic features like rivers, roads, and airports. Seamlessly accessing this wealth of information is facilitated through two integrated tools: Download GIS Data and Add GIS Data. Leverage the Download GIS Data tool to acquire data in various formats such as Shapefile, KML, GeoJSON, or CSV – tailoring it to your needs. For insights into harnessing the Add GIS Data tool, delve into our illuminating guide, "Utilizing IGISMap's GIS Data Collection for Afghanistan." This resource provides step-by-step instructions for procuring administrative-level GIS data using the Download GIS Data tool. Embark on an enlightening geospatial journey through Afghanistan's terrain with IGISMAP as your trusted companion.
We offer an extensive array of data formats, including KML, SHP, CSV, GeoJSON, Tab, SQL, Tiff, GML, KMZ, GPKZ, SQLITE, Dxf, MIF, TOPOJSON, XLSX, GPX, ODS, MID, and GPS, ensuring compatibility and accessibility for various applications and analyses.
Note:
All data available are in GCS datum EPSG:4326 WGS84 CRS (Coordinate Reference System).
You need to login for downloading the shapefile.
Download Shapefile Data of Afghanistan
Afghanistan, officially known as the Islamic Emirate of Afghanistan, is a landlocked nation situated at the crossroads of Central Asia and South Asia. Often referred to as the Heart of Asia, it shares its borders with Pakistan to the east and south, Iran to the west, Turkmenistan to the northwest, Uzbekistan to the north, Tajikistan to the northeast, and China to the northeast and east. Encompassing an area of 652,864 square kilometers (252,072 sq mi), the country is primarily characterized by mountainous terrain with plains in the northern and southwestern regions, divided by the Hindu Kush mountain range. The capital city is Kabul, which is also the largest city in the country.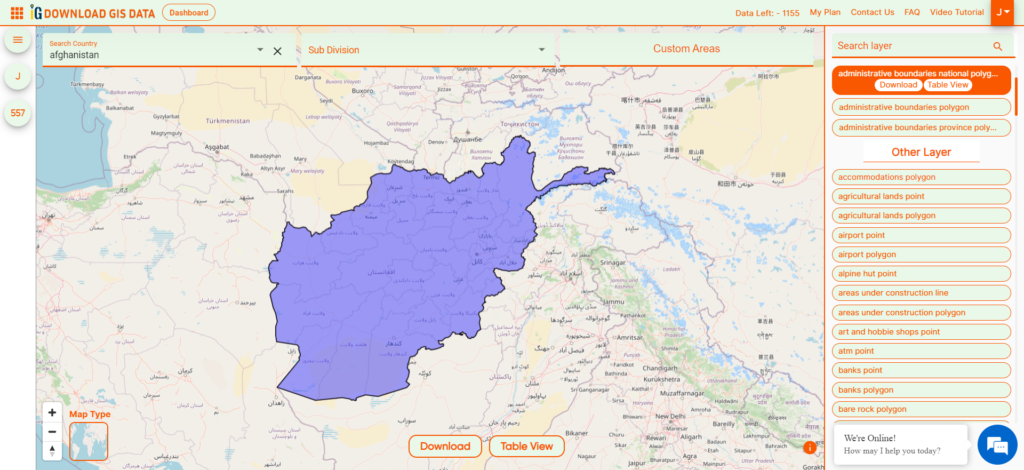 Download Afghanistan National Boundary Shapefile
After successfully logging in with a legitimate email address, select the country you want to work with. Next, choose the specific layer you need and click on the download option. Once that's done, pick the desired format to acquire the essential GIS data. Before proceeding with the data download, make sure to review the data table for any relevant information.
Download Afghanistan Provinces Shapefile Data
Afghanistan is structured into 34 provinces, known as "wilåyat" in the local language. These provinces serve as the fundamental administrative units within the country. Each province is composed of multiple districts, often containing more than 1,000 villages.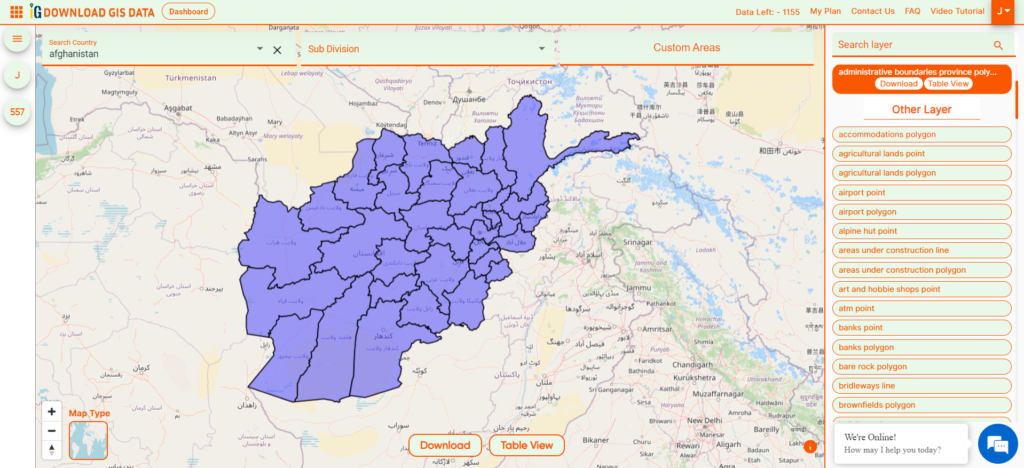 Download Afghanistan Provinces Shapefile
This shapefile covers following Provinces of Afghanistan listed below:
Badakhshan
Badghis
Baghlan
Balkh
Bamyan
Daykundi
Farah
Faryab
Ghazni
Ghor
Helmand
Herat
Jowzjan
Kabul
Kandahar
Kapisa
Khost
Kunar
Kunduz
Laghman
Logar
Maidan Wardak
Nangarhar
Nimruz
Nuristan
Paktia
Paktika
Panjshir
Parwan
Samangan
Sar-e Pol
Takhar
Uruzgan
Zabul
Download Afghanistan Districts Shapefile Data
The districts of Afghanistan are the primary administrative divisions of the country. There are a total of 34 provinces, each of which is subdivided into several districts. The districts are further subdivided into villages. The total number of districts in Afghanistan is 387. This number has been fluctuating in recent years, as the Taliban have created new districts in some areas and the Afghan government has lost control of others.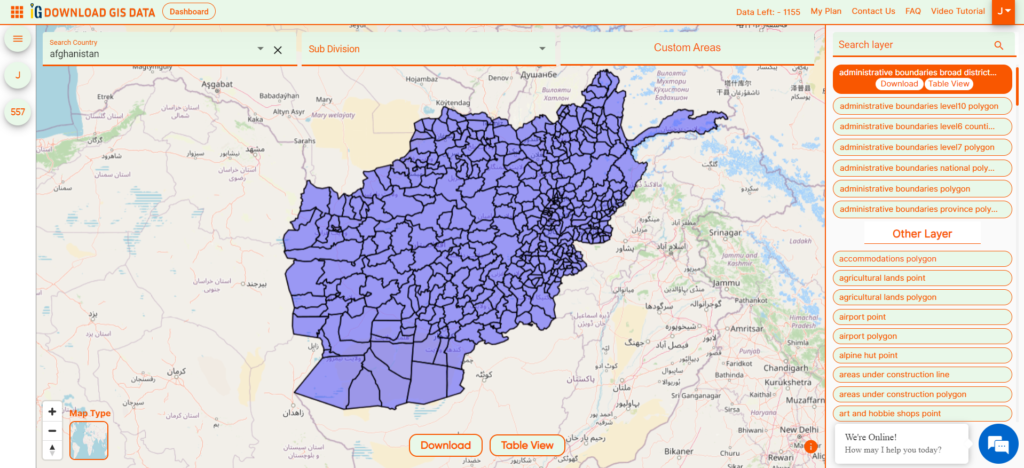 Download Afghanistan Districts Shapefile
Other Administrative Boundary Data:
Other GIS Data:
Above all links are provided for GIS data of Afghanistan if you are looking for any specific data please write us on support@igismap.com
Download Shapefile for the following:
Disclaimer : If you find any shapefile data of country provided is incorrect do contact us or comment below, so that we will correct the same in our system as well we will try to correct the same in openstreetmap.