Shapefile is a vector GIS format developed by Esri. It stores geographical information data. Shapefile have three geometries point, line and polygon. GIS data can be stored in different formats and the conversion of data from one format to other is also possible.
So in this post we convert Shapefile to DXF. Before conversion lets know what is DXF ?
What is DXF ?
DXF is a CAD (Computer Aided Design) fil format and it stands for Drawing Interchange Format or Drawing Exchange Format. DXF files make it possible to share drawing data and text-based formats across different CAD applications. DXF files are supported in several 3D applications and are completely open-source, so users can access AutoCAD files without using Autodesk programmes.
Convert Shapefile to DXF
For Shapefile to DXF conversion, go to IGIS Map Tool, after logging in with your registered email and password. If you are a new user, click the Sign Up button in the Login popup and register to IGISMAP by filling the details.
There are three main steps for using GIS Converter:
Upload the data
Choose the format to which it should be converted
Download the converted file.
Step one is to upload your Shapefile which you want to convert. You can upload your file from system or select from the Recent Files.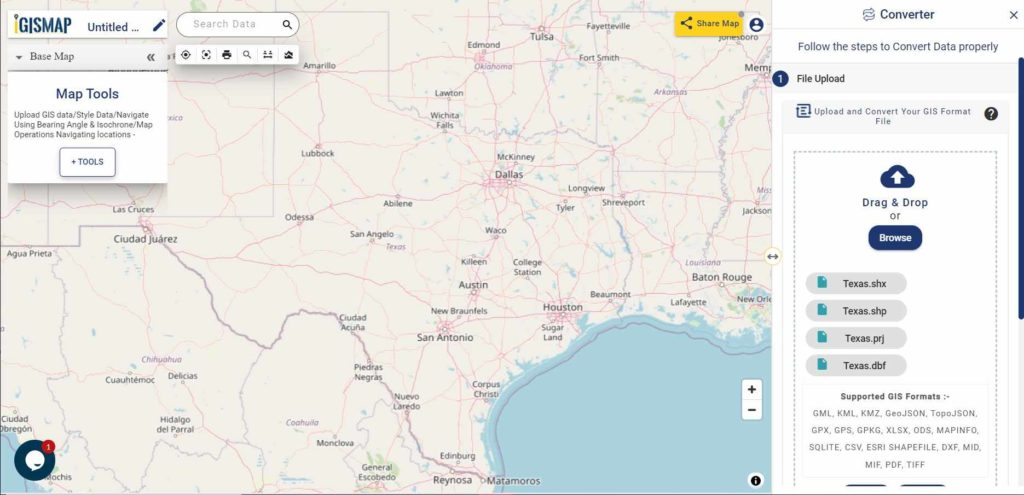 Here we have uploaded the Shapefile of the Texas state of USA.
Step two is to select the output format from the dropdown for the converted file, in this case its DXF. You can also set the Coordinate Reference System of your preference. As a default CRS will set to WGS 84 (World) [EPSG:4326]. Now Click on the Convert File button.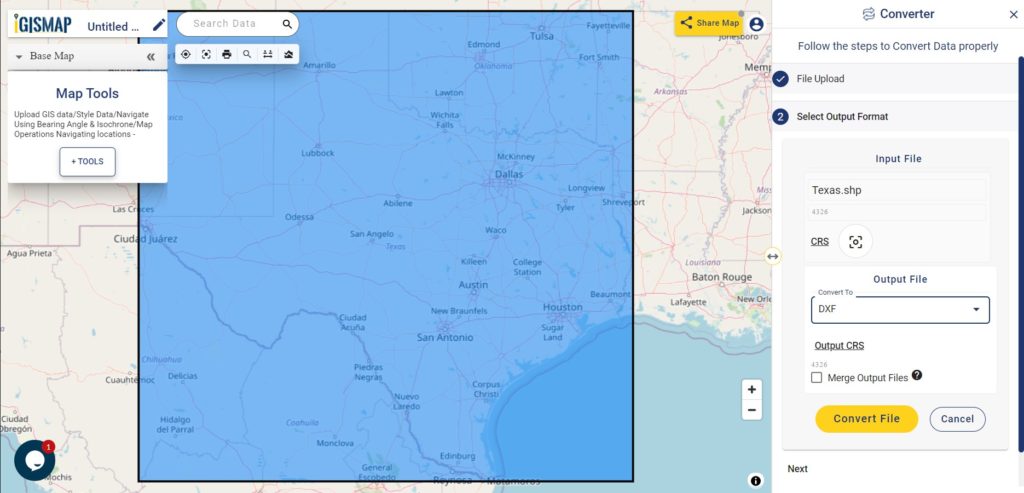 Your Shapefile will then gets converted to Shapefile file after a few seconds and will be available for downloading.
You can also choose to style the layer or continue with further conversion process by clicking the Convert Another File button.
Converted Files section from the dashboard contains the list of the details of all the conversion done in your account, providing both input and output data available for download their corresponding formats.
More on Conversion :
If you are facing any problem in conversion or login then please let us know by mailing at support@igismap.com or drop comment.