GPX is a common GPS data format for software applications supported by major GPS devices and KMZ is a file format used to display geographic data in Google Earth and Google Maps.
Converting GIS data file from KMZ to GPX format is just a few click process with IGIS Map Converter Online.
IGIS Map Converter
IGIS Map converter is an incredible tool for data file conversions. It will translate KMZ data used by Google Earth and GPS devices and convert them by one click to GPX or GPS format which is also used in software like OziExplorer, Google Earth and GPS devices.
IGIS Map Converter also supports more other vectors and raster GIS/CAD formats and more than 4000 coordinate reference systems. If the coordinate system of your input data is not present or not recognized correctly, it is possible to assign the correct one. IGIS Map Converter makes it possible to transform your data to any other coordinate reference system.
IGISMAP to Convert KMZ to GPX
For KMZ to GPX conversion go to IGIS Map Tool, after logging in with your registered email and password. If you are a new user, click the Sign Up button in the Login popup and register to IGISMAP by filling the details.
There are three main steps for using GIS Converter:
Upload the data
Choose the format to which it should be converted
Download the converted file.
Step one is to upload your KMZ file which you want to convert. You can upload the file from your system or select from the Recent Files.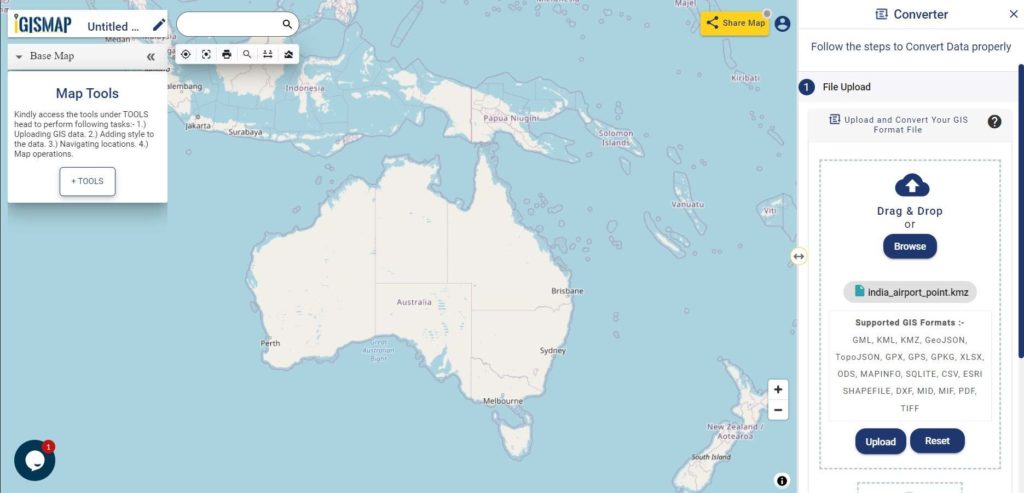 Here we are uploading the KMZ file of the point vector file of the airports in India.
Step two is to select choose the output format of the converted file, in this case its GPX. You can also set the Coordinate Reference System of your preference. As a default CRS will set to WGS 84 (World) [EPSG:4326]. Click on the Convert File.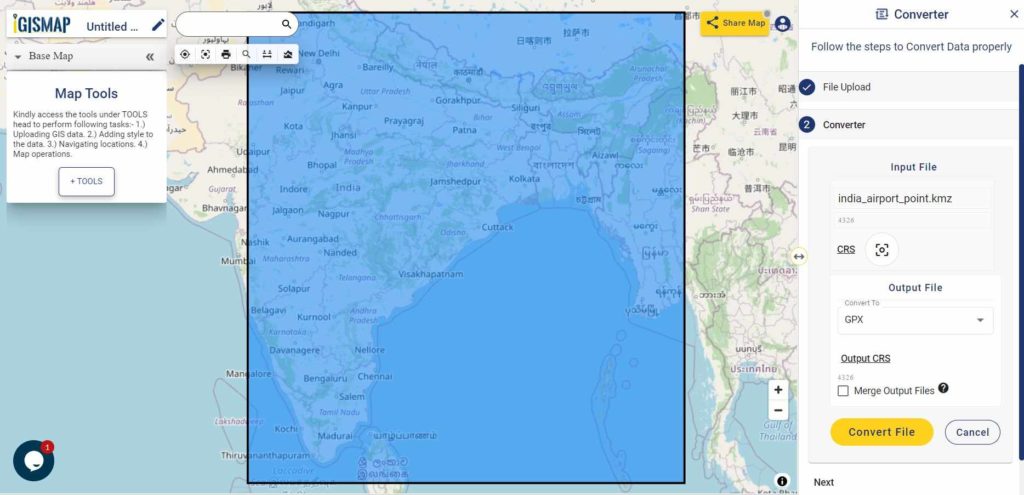 Your GPX file will then get converted to CSV file after a few seconds and will be available for downloading in the Converted Files section from the dashboard.
Converted Files section from the dashboard contains the list of the details of all the conversion done in your account, providing both input and output data available for download their corresponding formats.
IGIS Map Converter Tool provides many benefits other then just conversion of data. This tool provides us to generate this published map in PDF or as image format.
Info GIS Map supports most of the commonly used GIS or AutoCAD files like Shapefile SHP, KML, KMZ, CSV, TopoJSON, GeoJSON, GML, DXF, GeoTIFF, NetCDF, GRIB, HDF5, OSM, PBF, and many more raster and vector files.
Subscribe IGIS MAP channel on Youtube for video tutorials
If you face any problem during implementing this tutorial, drop a mail at support@igismap.com, also feel free to comment in given comment box.
More on Conversion: