Attention GIS enthusiasts! Exciting news from IGISMAP! We are thrilled to announce the expansion of our extensive GIS data collection with over 100 new countries, and one of them is the Republic of Iraq. Now, you can conveniently access and download essential shapefiles of administrative divisions and various geographic features of Iraq using our Download GIS Data tool. These shapefiles are offered in popular GIS formats like ESRI Shapefile, KML, GeoJSON, or CSV. Enjoy exploring and analyzing Iraq's geographic data for your projects and research
GIS data in IGISMAP can also be accessed from Add GIS Data tool, where you can perform geospatial operations and analysis on these data in IGISMAP mapping platform itself. To know more about Add GIS Data, check the article – Add GIS data from IGISMap GIS data collection.
Note:
All data available are in GCS datum EPSG:4326 WGS84 CRS (Coordinate Reference System).
You need to login for downloading the shapefile.
Download Iraq Governorates Shapefile Data
Iraq, officially the Republic of Iraq, is a federal parliamentary republic in West Asia, consisting of 19 governorates. It shares borders with Turkey, Iran, Kuwait, Saudi Arabia, Jordan, and Syria. Baghdad is the capital and largest city. The population is diverse, with Arabs, Kurds, Turkmen, Assyrians, Armenians, Yazidis, Mandaeans, Persians, and Shabakis. Islam is the predominant religion, with minorities following Christianity, Yazidism, Mandaeism, Yarsanism, and Zoroastrianism. Arabic and Kurdish are the official languages, with Turkish, Suret, and Armenian recognized in specific regions.
Iraq comprises 19 governorates, also known as "provinces." According to the Iraqi constitution, governorates can form autonomous regions. Four governorates, Erbil, Sulaymaniyah, Duhok, and Halabja, make up the autonomous Kurdistan Region. Baghdad and Basra are the oldest provinces, while Ninawa (Nineveh) is the second most populous with a cooler climate in the north-west.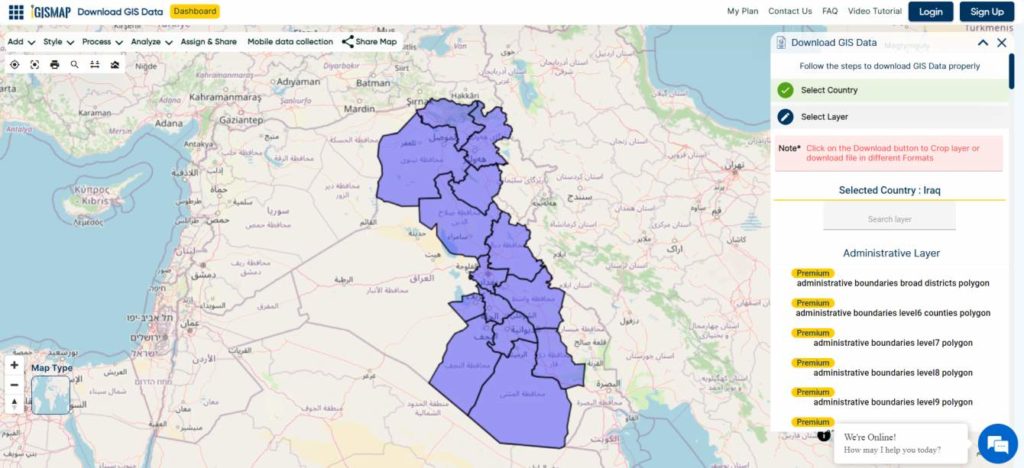 Download Iraq Governorates Shapefile
After successfully logging in with a legitimate email address, select the country you want to work with. Next, choose the specific layer you need and click on the download option. Once that's done, pick the desired format to acquire the essential GIS data. Before proceeding with the data download, make sure to review the data table for any relevant information.
Download Iraq District Shapefile Data
Iraq is subdivided into 120 districts, known as "kaza" in Arabic. The district typically shares the same name as its district capital. These districts serve as important administrative units within the governorates, contributing to the effective governance and organization of the country.
Download Iraq Districts Shapefile
Download Iraq Capital City Shapefile Data
Baghdad is the capital of Iraq and the second-largest city in the Arab world, next to Cairo. Positioned on the Tigris River, it stands close to the ancient city of Babylon's remains. In 762 CE, Baghdad was designated as the capital of the Abbasid Caliphate, leading to remarkable development. In a short span, it emerged as a significant cultural, commercial, and intellectual hub in the Muslim world. Boasting prominent academic institutions like the House of Wisdom and a diverse, multiethnic, and multi-religious populace, Baghdad gained global renown as the "Center of Learning."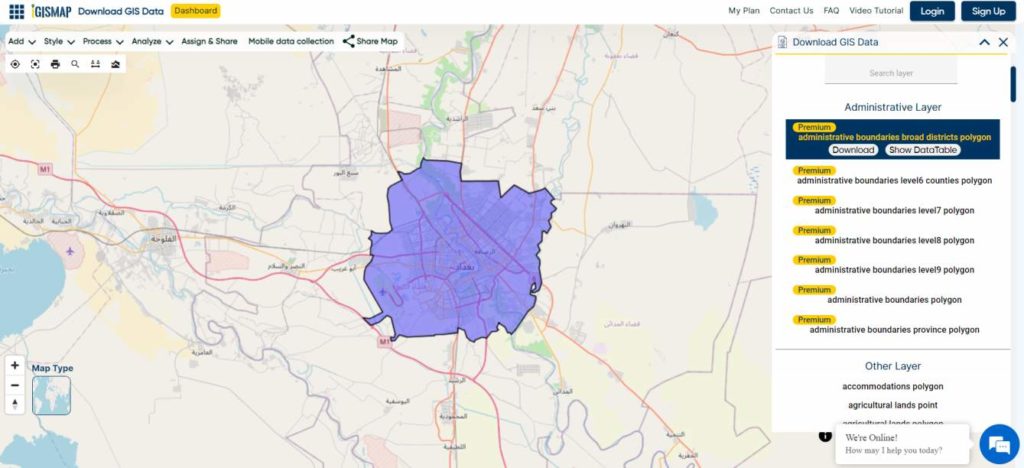 Download Iraq Capital Shapefile
Other Administrative Boundary Data:
Other GIS Data:
Above all links are provided for GIS data of Iraq if you are looking for any specific data please write us on support@igismap.com
Download Shapefile for the following:
Disclaimer : If you find any shapefile data of country provided is incorrect do contact us or comment below, so that we will correct the same in our system as well we will try to correct the same in openstreetmap.