The Map Analysis tool IGISMAP is one of the best alternative to ArcGIS Online. There are many benefits of using IGISMAP over ArcGIS Online. Likewise both tend to achieve the same purpose, i.e., even without GIS Skills you can make a map with your data, share the map and can embed in your website, directly without having external team of GIS specialist. But there are few aspect of which you might be looking for alternative of ArcGIS online especially when it comes to pricing and easiness to use.
Check Alternative of Carto.
Best ArcGIS online Alternative – IGISMAP
Are you looking for an alternative to ArcGIS online? Here are the few reasons why you should choose IGISMAP Tool over ArcGIS online.
Cost Effective:
IGISMAP pricing and cost can be seen online from here. Price are transparent, fixed and affordable. While we don't see the pricing directly in ArcGIS online website. As ArcGIS online didn't provide any direct cost to view, but we can research the price over the internet and is expected to have the price between $300 to 500 per month or $2500 for annual subscription, whereas the pricing of IGISMAP starts from just $15 per month.
You see, the pricing of ArcGIS online tool is 20 times the price of IGISMAP tool. That's a huge sum of amount from ArcGIS online, where IGISMAP Analysis tool has almost all important features for creating, analyzing and sharing maps that ArcGIS Online also cover. IGISMAP tool plans typically offer 5x more upload storage than similarly priced ArcGIS plans. This makes a clear win of IGISMAP over ArcGIS online.
Supports More Data Formats
Data formats supported by arcgis
Shapefile (ZIP archive containing all shapefile files)
CSV or TXT files with optional address, place or coordinate locations (comma, semi-colon or tab delimited)
GPX (GPS Exchange Format)
GeoJSON (open standard format for simple geographical features)
data formats supported by IGISMAP
ESRI Shapefile
CSV /Excel

These formats should have location information either as Latitude and Longitude values in separate columns or should be in WKT Format in a single column

MapInfo TAB Format
MapInfo Interchange Format
KML/KMZ
GML
GeoJSON
AutoCAD DXF
GPS/GPX
TopoJSON
GPKG
SQLite
SBF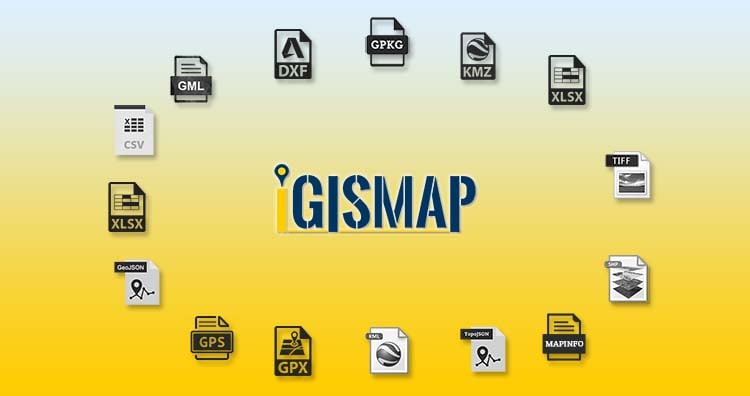 File formats like ESRI Shapefile and Map Tab Format with multiple supporting files can be uploaded in two ways:
Compress all the format files into a zip file and upload
Select all the format files while browsing and upload
Uploading multiple layers of multiple formats or same formats in a single upload is possible in in two ways:
Compress them in a single zip file and upload
Gather the layers in a single folder and upload
Click here to check more Vector Data file formats list in GIS
Create Unlimited Number of Maps and Upload Unlimited Number of Dataset Layers
You can create unlimited number of Maps and unlimited number of dataset in IGISMAP, with broad level of spatial data support. Instead of credit limits, in data limitation in IGISMAP is based on total number of storage space used. If the layers are not used further, you can just delete the layers or maps which free up the space in your account.
Digitize and Create Your Map in IGISMAP:
IGISMAP Analysis Supports to add and create point, line and polygon layer separately and digitized the data. Unlike ArcGIS online and other online mapping system tool, we at IGISMAP tend to provide the same functionality as provided in Other Desktop GIS tools like QGIS and ArcGIS. You can also create a survey system with the layers you provide so that the your developers can add more data on your layer and can contribute easily.
Dedicate Support Service:
IGISMAP support is responsive and make sure to solve each and every query of the customer. Along with that, we at IGISMAP also supports and helps to create Maps for you. A dedicated customer support manager is assigned to every one of the customer and customer will be able to communicate easily if they face any issue. We can be contacted by email or our personalized chat box 24/7. Products such as ArcGIS can only be contacted via email or telephones at specific timing to provide product and server support.
IGISMAP Allows Unlimited Transactions with Querying and Analysis Tools along with Map loading, freeing you from credit limits and additional charges
IGISMAP Analysis tool delivers multiple tools to extract the information or query the data in your map application with a single click. Under Map tools you will be able to do single click customized ways to change the Base Map or remove Base Map, Querying the Database, carry out Proximity analysis over single layer or multiple layers, search on data, search on map and finally print share your map. And It provides unlimited spatial analysis queries per month which is way ahead than ArcGIS online.
Here is the video demonstrating the Query Tool and Proximity Tool in IGISMAP.
Easy to Use User Interface – Simple and Quick Map Creation
User Interactivity is one of the base motive at IGISMAP Tool. Our developers have reached at all extends to create the tool quick and as simple as possible for the user. User can easily create interactive and beautiful web maps quickly within a few clicks. There are no such complex functions while uploading data sets or publishing your web maps.
What Else Makes IGISMAP Analysis Tool a Better GIS platform
Zero coding skills required
Data security and User access control
Easy to work for everyone
Multi roles support – Admin, Developer or Business User
User Cloud data security is our first priority
Scalable and reliable
IGISMAP is flexible enough to create a mapping project like Store mapping, Real Estate properties Mapping, Analyzing the property Behavior, Checking the value of property for insurance assistance by mapping disaster spatial data through raster or vector data, mapping your own customer through your CMS or by general Excel file, Creating routes for your logistic business from your vehicle to warehouse to the delivery addresses. You don't need to have a GIS team sitting with you, neither you need a Developer or Designer.
Manage add and assign different roles to users in your organization, so as to make proper and secure access to your data and maps. IGISMAP is accessible to all and can be operated very easily and all the tools and features are available right in front of you.
Try it for free, Enjoy for Yourself!
Go to the IGIS Map Tool and try it once for free, no obligation 30 days trial of Our Free service plan. You will not be looking back once you used IGIS Map Tool.