Alaska is a northwest state of the United States of America. It is divided into 19 organized boroughs and one unorganized boroughs. Here in this article, you can download the link of Alaska GIS Data – Boroughs shapefile, administrative boundaries. Airport point, atm point, hospital, building shp.
Alaska GIS Data – Boroughs shapefile
Alaska is the largest US states according to area. Juneau is the capital of Alaska state. Link to download gis data of Alaska state is provided below. Please make sure to check the data table before downloading map.
Administrative polygon shapefile of Alaska
For download click on the link –
Download Alaska State Outline Shapefile
For viewing data toggle from Map to data shown in below screen.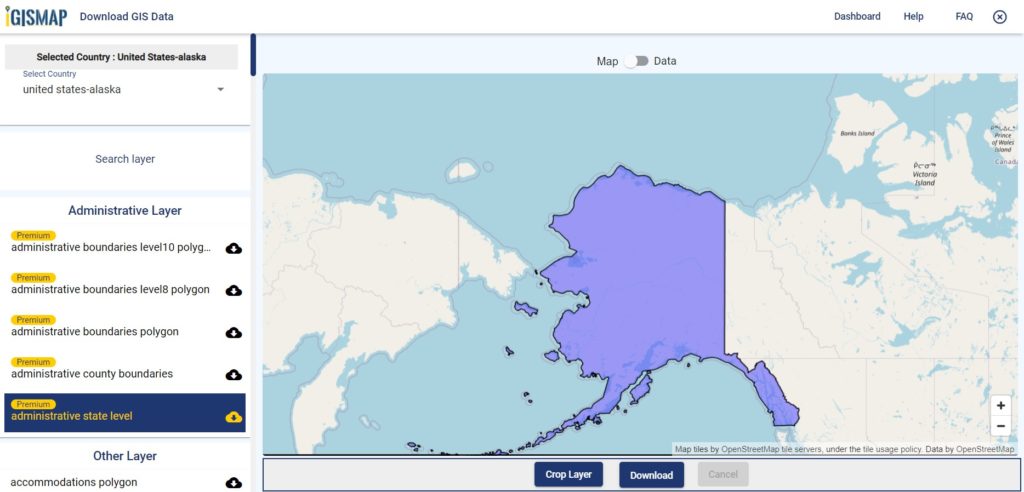 In the above screen, the gis data of Alaska administrative boundary is visible. You can download it into shapefile, kml, geojson, Mapinfo, PostgreSQL, and CSV. And for any other formats try our Gis Converter Tool.

For viewing specific information about the location click on the map.
Alaska Boroughs polygon shapefile, kml, Geojson
This GIS data covers both organized and unorganized boroughs of states.
Aleutians East Borough
Anchorage
Bristol Bay Borough
Denali Borough
Fairbanks North Star Borough
Haines Borough
Juneau
Kenai Peninsula Borough
Ketchikan Gateway Borough
Kodiak Island Borough
Lake and Peninsula Borough
Matanuska-Susitna Borough
North Slope Borough
Northwest Arctic Borough
Petersburg Borough
Sitka
Skagway
Unorganized Borough
Wrangell
Yakutat
Download Alaska Boroughs Shapefile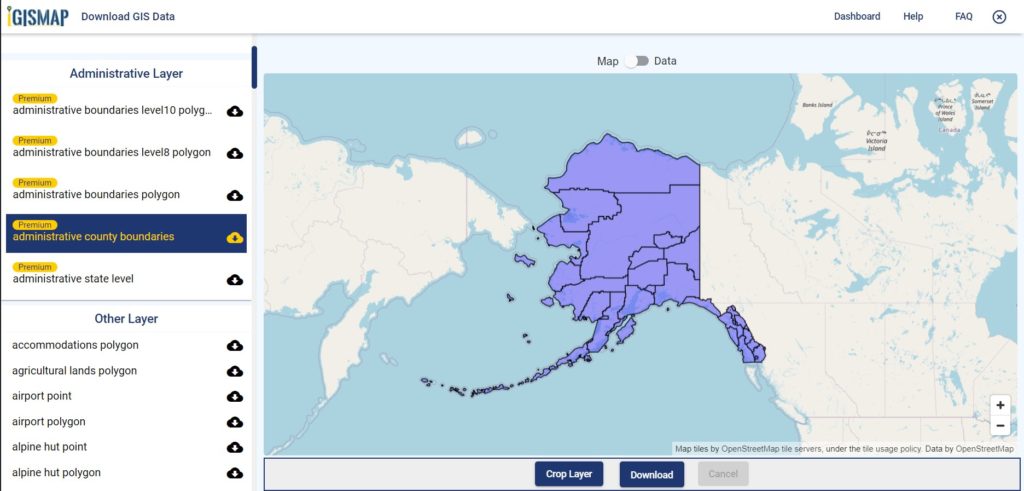 Alaska polygon gis data with boroughs divisions are visible in the above screen. If you want to create more attractive then try formatting in Analysis & Share tool. With a single account, you can perform various operation on Gis data
Airport point Gis data of Alaska State
Click on the link for downloading airport point location data of Alaska state. Location data of Cold Bay Airport, Birchwood Airport, Boswell Bay Airport, Black Rapids Airport, Big Mountain Airport, Bettles Airport, Candle 2 Airport, Brown Low Point, Cantwell Airport, Buckland Airport, Atmautluak Airport, Juneau Harbor Seaplane, etc.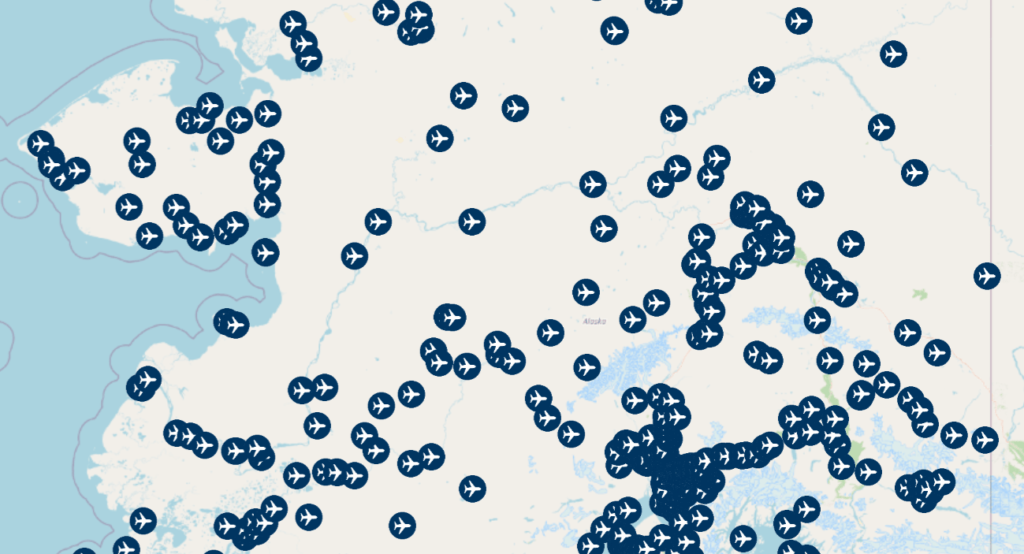 Zoom in or Zoom out for a clear view. Change the color of icons using the Analysis Tool.
Alaska Airport Point Shapefile
Highway Line GIS data of Alaska
For highway line you are only one click away.
Download highway line data of Alaska state

Create your own map and share your map with others.
Download GIS Data of other states of USA